When:
09/19/2020 @ 10:00 am – 2:00 pm
2020-09-19T10:00:00-07:00
2020-09-19T14:00:00-07:00
Where:
Locust Beach, Cherry Point Beach, Semiahmoo Spit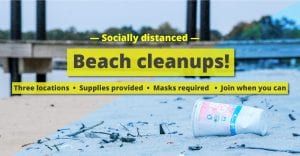 You can keep waterways cleaner during COVID, a time when increased use of single-use items has led to worse plastic pollution. Take part in the annual #InternationalCoastalCleanup with RE Sources, Northwest Straits Surfrider, and Whatcom Marine Resources Committee for a socially distanced beach cleanup at Locust Beach, Cherry Point, or Semiahmoo Spit. A great way to spend time outside, safely, while keeping plastic from polluting Bellingham Bay!
One small group of people picking up trash on Bellingham's beaches can regularly collect hundreds of pounds of plastics in a single morning. Plastic left in our waters has broken down and seeped into everything from drinking water to table salt and craft beer. If you would rather gather trash on your own during Whatcom Water Week, that is also great! Please consider reporting where and how much trash you picked up using the Clean Swell App.
Location details: Multiple locations. Visit https://www.re-sources.org/events/ for maps
Locust Beach: Cleanup supplies will be located In the small parking lot that is located on Locust Avenue off of Marine Drive.
Cherry Point Beach: Cleanup supplies will be available at the end of Gulf Road.
Semiahmoo Spit: Cleanup supplies will be located at Semiahmoo Park on Semiahmoo Parkway.