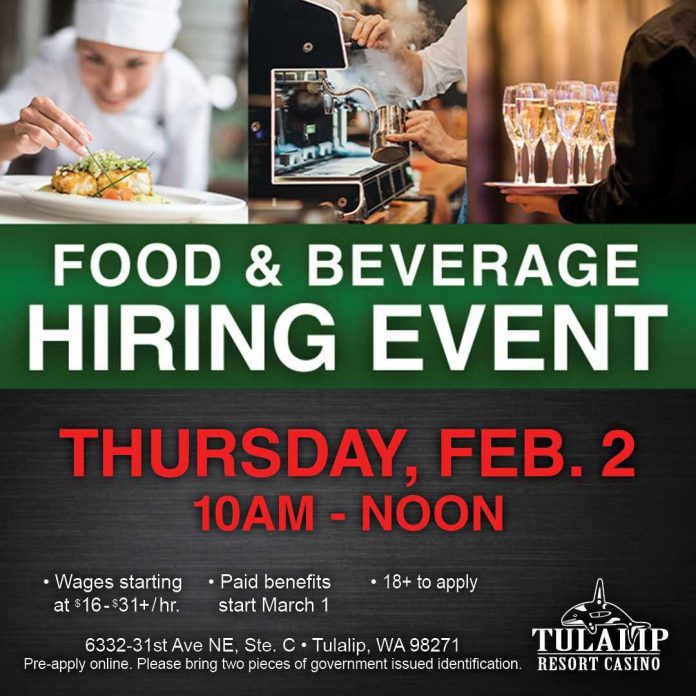 When:
2023-02-02T00:00:00-08:00
2023-02-03T00:00:00-08:00
Where:
6332 31st ave ne tulalip wa 98271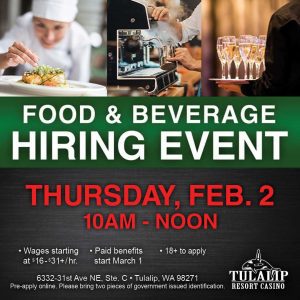 The Tulalip Gaming Organization will be offering on-the-spot hiring with positions starting at $16.00 an hour and higher. Select jobs will also include additional "Hot Job" signing bonus up to $1,000!
Bring a friend and check-out which exciting careers are being offered to you! We have a great variety of careers open to fill! Click "APPLY NOW" to pre-apply and register today!
In order to be job ready, you will be required to provide two forms of government issued ID to the Hiring Fair. You will need your Social Security Card plus one of the following: Driver's License, WA State ID, Tribal ID, Passport, Birth Certificate, or Permanent Residence Card, to complete your paperwork and background check.
Requirements
You will be required to meet the minimum job requirements and experience (if applicable) of the job you select. A Hiring Professional will review your online application and prescreen you at the event. Please make sure you fill out your employment history in detail so that we can better assist you in finding your best job match!