When:
10/24/2021 @ 3:00 pm
2021-10-24T15:00:00-07:00
2021-10-24T15:15:00-07:00
Where:
Mount Baker Theatre
104 N Commercial St
Contact:
Mount Baker Theatre
3607346080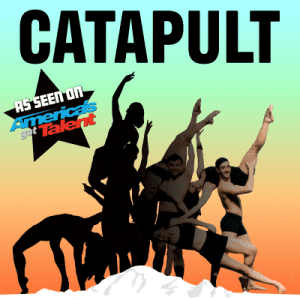 An America's Got Talent finalist from Season 8, CATAPULT is a magical production that features world-class dancer-athletes who work behind a screen to create shadow silhouettes of shapes from the world around us. Be amazed as you watch their bodies transform into a mountain, an elephant, a dragon, even a helicopter! You'll thrill at trying to figure out how they did it, and you'll never know what's coming next. Packed with hundreds of shape transformations, comedy, music, and engaging stories, CATAPULT is a captivating show that will be loved by audiences of all ages.
"There is no other act like them. I think they're very unique, they're very special." —Heidi Klum, America's Got Talent
"A genius!" —The New York Times, on CATAPULT Creative Director Adam Battlestein