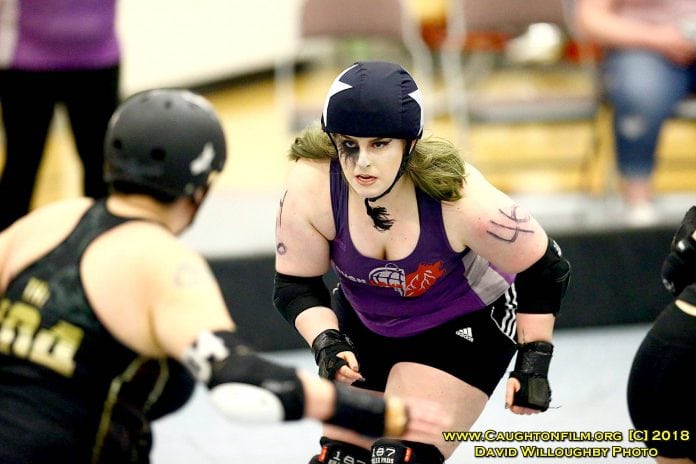 When:
04/21/2018 @ 5:00 pm
2018-04-21T17:00:00-07:00
2018-04-21T17:15:00-07:00
Where:
Whatcom Community College Pavillion
237 W Kellogg Rd
Bellingham, WA 98226
USA

Contact:
Bellingham Roller Betties
651-442-5986
The Bellingham Roller Betties continue Season 11 with the last regular bout on Saturday, April 21 at 5:00 p.m. at the Pavilion on the campus of Whatcom Community College.
The evening features a doubleheader with home team The Cog Blockers battling it out with a visiting team followed by a bout between the Season 10 Champions Tough Love facing off against the Team F.L.A.S.H.
Team F.L.A.S.H can secure their spot in the Championships if they come out on top against Tough Love, but that isn't going to be an easy feat. Coached by Mincemeat Outtaya, Tough Love has some power players – Bertha Beatdown and Jenacide have been owning the jammer line this season, and blockers Izzy X and Red Rum have been landing some great hits.
Team F.L.A.S.H. is coming in after a hard loss to the Canadian team the Smokin' Laces, but captain Tornado Ally says that she knows her team is ready to play their game and bring in the win. The team has a great core strength with blockers Shreddy Bruiseavelt and Nona Nonesense, and their jammers Crumpet Crusher and Rampaige have been delivering the points.
The Cog Blockers are coming into this game after a nice win against Tough Love in the last bout. They will be playing against the Queer Squad Washington. The Queer Squad is a pick-up team that offers a safe, encouraging and inclusive environment to skaters that identify as LGBTQA+.
If Team F.L.A.S.H. wins this bout, they guarantee their spot in the Championship game this season. After coming in last place in Season 10, the skaters are certainly hungry for the win.
The Bellingham Roller Betties have a Merchandise Booth, Snack Bar and Beer and Wine Garden at all of their bouts at Whatcom Community College. Most extras are cash only, so come prepared. There is 21+ and Family Seating options in the stands. There will also be a food truck outside for those looking for dinner options.
Tickets for this event are $14 for adults, $6 for kids ages 8-12 and free for kids seven and under. Tickets are available at your local Community Food Co-Op, online through Brown Paper Tickets or at the door. Season tickets are also available online: https://www.brownpapertickets.com/event/3382677.
Doors open at 4:00 p.m. and the first bout starts at 5:00 p.m.
Photo credit: David Willoughby