When:
2016-12-10T14:00:00-08:00
2016-12-10T14:15:00-08:00
Where:
The BAAY Theatre
1059 N State St
Bellingham, WA 98225
USA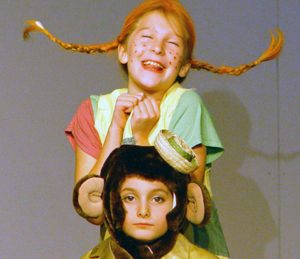 Pippi is the high-spirited, warm-hearted incarnation of every child's dream of freedom and power. Dressed in strange clothes and living with her horse and pet monkey, she possesses supernatural strength and untold wealth. And now the rollicking adventures that put her at odds with the demands of life in a small town fill BAAYs stage. Directed by Lisa Markowitz and musical direction by Evan Ingalls.
About BAAY:
Founded in 2006, Bellingham Arts Academy for Youth is a nonprofit arts education organization that offers quality instruction in theater, choir, dance, music, and visual arts to youth, ages 5-18. A beloved fixture in Bellingham's thriving arts community, the company has produced over 100 musicals to date. In addition, the organization strives to reach new members of the community through its other two branches: Bellingham Preschool of the Arts and the EduArts enrichment program, which offers over 30 arts classes per quarter to elementary and middle school students throughout Whatcom County.