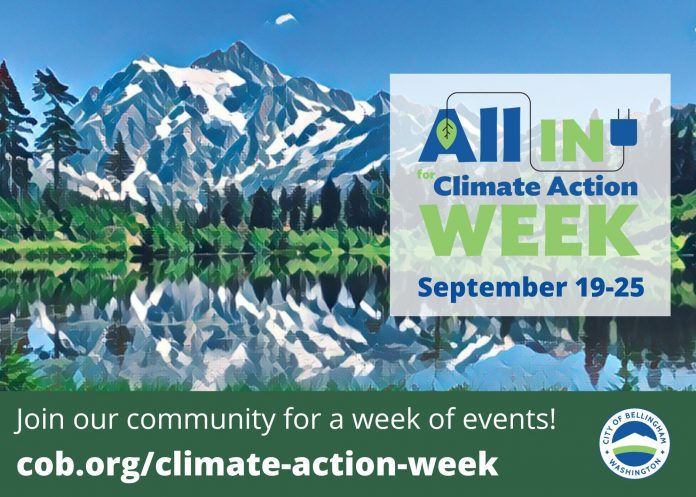 When:
2022-09-23T00:00:00-07:00
2022-09-24T00:00:00-07:00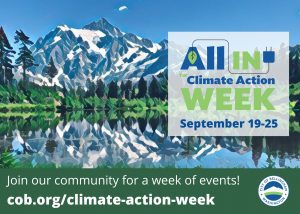 This September, join the City of Bellingham for its 4th annual ALL IN for Climate Action Week, a week of events hosted by the Bellingham community to celebrate and increase awareness of local climate action. Start the week at our kickoff celebration on Sunday, September 18 from 3-7 p.m. at the Downtown Waterfront and Kulshan Trackside Beer Garden. This free, fun, all-ages event will include live music, a circus act, kids zone, educational booths, e-bike demos, food trucks and more!
Then check out some of the 20+ events hosted by the Bellingham community between September 19-25. Local organizations, businesses and entities have partnered to create virtual and safe in-person events for all ages and diverse interests, including:
– Art contest for kids and youth art display
– Volunteer work parties (Squalicum Creek Park and Whatcom Falls Park)
– Recycled art supply sale
– E-bike demos
– Virtual webinars:
– Climate Emotions Fueling Climate Action
– International Day of Peace
– Embracing Resilience and Igniting Imagination
– Heat Pumps: Save Emissions, Energy, and Money!
– Let's Talk About Electric Vehicles
– Climate-friendly cooking demo
– Film showings (The Magnitude of All Things and Pom Poko Film Screening)
– Sunset social on the waterfront
– Green Building Slam
– WWU climate tour and Climate StoryWalks®
– Climate action book lists
Find a full list of events at www.cob.org/climate-action-week.