Submitted by Assistance League of Bellingham
At a time when we are all affected by economic forces and the world seems to be lurching from one crisis to another, we at Assistance League of Bellingham, through our mission, offer our members and our community the path to celebrate what is meaningful for all of us.
Working together toward our common goals, we are busy this holiday season.
It began with the Yule Boutique on November 4th. Our annual gift and baked goods sale was a huge success. A festive gathering of friends meeting friends enjoying the offerings available. Members work year round to offer handmade items, jewelry, soup mixes and, of course, a tempting variety of cookies and cakes. Added to the festive atmosphere was the music provided by Enrichment Scholarship Program students. If you missed this year's celebration, mark it on your November calendar for next year.
While we would like to think of our friends and relatives enjoying their golden years, many living in care centers can feel alone in their memories and isolated from this festive holiday season.
The core of our Care Center Support program answers the need to bring joy this season with our members shopping for 121 residents in seven care and skilled nursing centers. Each team works with the center's activity director who provides us with a personal gift request list for each resident. We work very hard to fill each request, no matter how difficult it may be. In the past we have had requests like old Mexican songs, Prayer Book in Russian, and old John Wayne movies — all of which we were able to fill. If we have funds remaining in our budget after our Christmas purchases, we use that money to buy a spring gift for each facility that all residents can enjoy.
Don't let your holiday season go by without visiting the Old City Hall's Rotunda Room, filled with decorated uniquely crafted Christmas trees. Assistance League of Bellingham is honored to be included in showcasing our tree. Look for a new design this year that will bring delight to your visit. Deck the Old City Hall viewing times are Friday, November 24 through Saturday, December 31 from noon to 5 p.m.
This holiday season is a celebration of hope and joy. There are many volunteer opportunities in Bellingham, either as a family or individually. Make your holidays more meaningful for all.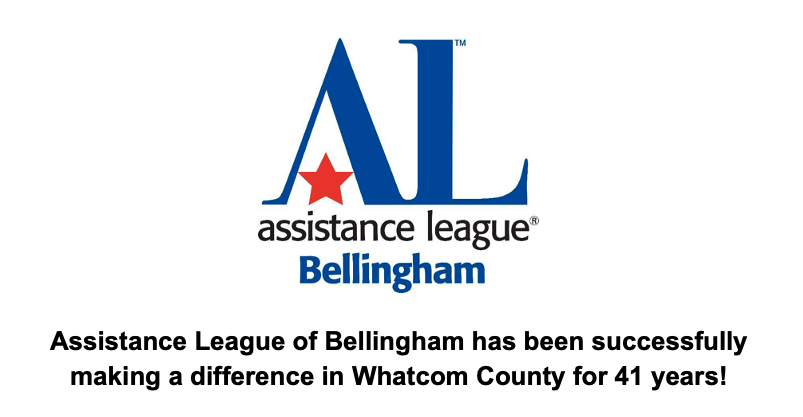 You can support us by:
shopping at our Thrift & Gift, 2817 Meridian Street in Bellingham.
making a donation on Assistance League of Bellingham's website "Donate" page.
mailing a check to Assistance League of Bellingham, P.O. Box 2998 Bellingham, WA 98227.
becoming an Assistance League of Bellingham volunteer.
All funds stay in Whatcom County to support our five community programs.
Learn more about us at assistanceleague.org/bellingham.