Since its founding in 1998, Pickford Film Center (PFC) has been a cherished member of the downtown Bellingham community.
From its former location in the Allied Arts Building along Cornwall Avenue to its present iteration at 1318 Bay Street, the Pickford continues to be an invaluable resource for showcasing independent, foreign, and documentary films, as well as local film festivals, special events, and more intimate showings of popular big budget films.
Soon, the Pickford will take its next step in celebrating cinema, opening a second location with three screens at 105 Grand Avenue — the former location of a skateboard shop and tattoo parlor. The new location is being made possible by a commercial property loan from Bank of the Pacific.
PFC has lacked a third screen since March 2020, when The Limelight space on Cornwall closed at the onset of the COVID-19 pandemic. That summer, PFC's board decided to permanently shutter the rented theater space.
Susie Purves, PFC's executive director, says they've been looking for another location ever since.
"Our entire business plan was based on having three screens," she says.
Although initially focused on renting a space, Purves says PFC's board treasurer, James Willson, encouraged the organization to buy the Grand Avenue location in 2021, while the commercial real estate market was still in a pandemic-related lull.
Good Timing
The new need for financing led PFC to Bank of the Pacific. The center and the bank have a warm relationship due to a previous loan that made its current location possible. Bank of the Pacific also sponsors "Kid Pickford," the theater's monthly Saturday matinee of family-friendly movies with $6 ticket prices.
Back when PFC was seeking financing to buy its Bay Street location, Purves says that finding a bank to support them was tough. In fact, the only other bank willing to lend them enough money to buy the space, she says, wanted Pickford board members to secure the loan by using their own homes as collateral.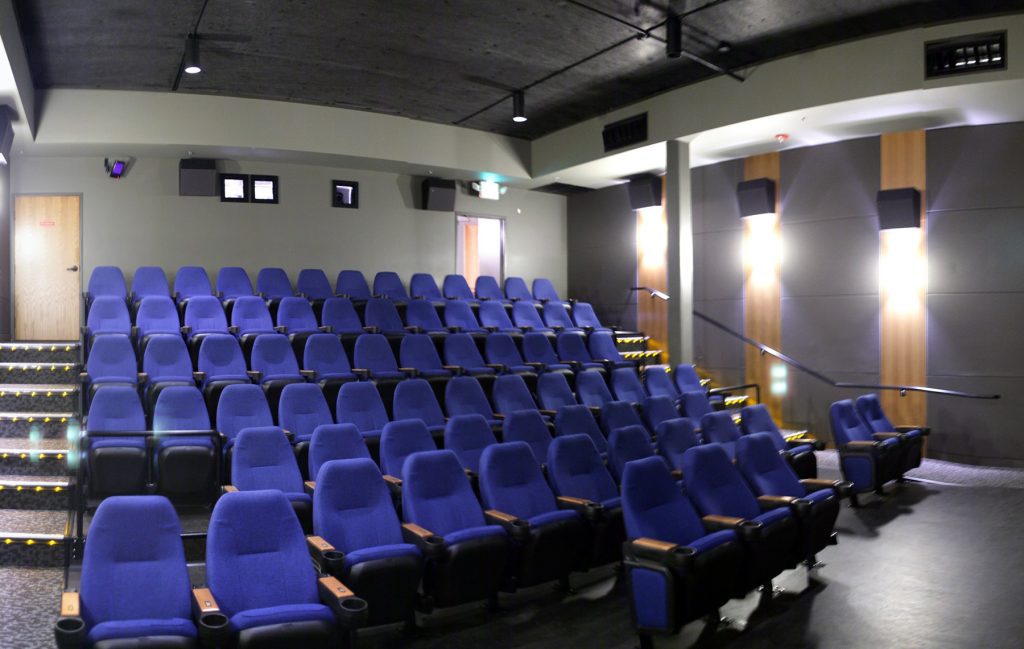 The board didn't find this feasible — but then Bank of the Pacific came along.
"Bank of the Pacific was willing to take a chance on the Pickford," says Purves. "They took a look at the books, and they decided it was a solid business, and it was growing. And that it was a good idea to not only have more theaters, but to have the Pickford own its own building."
Because the Bay Street building has a second floor with over a dozen artist's studios, PFC was able to use rent from those spaces to help pay its mortgage, while continuing to fundraise and keep The Limelight space showing films.
PFC paid off its loan well ahead of the maturity date. That proved critical when the pandemic hit, as Purves says PFC likely would have gone under if they'd not owned their space.
Camryn Boulette, a Senior Credit Analyst for the bank, says that when the Pickford again sought funding, it wasn't hard to be convinced.
"It's just been an incredible opportunity to work with them," says Camryn. "Applying for a commercial loan is a process that can be very cumbersome. The Pickford was on top of things and went above and beyond to make sure our jobs were easy, and the process was smooth."
Boulette, who loves the Pickford's popcorn and ability to purchase adult beverages, was able to bask in the fun of seeing "Barbie" at the theater this summer.
"The atmosphere that the Pickford creates made it more of an experience than just going to a movie," she says. "We feel incredibly proud and thankful that we're able to assist them with their continued success and positive contribution to Bellingham through celebrating film."
Coming Attractions
The Grand Avenue location will add three screens to PFC's movie-showing capacity, for a total of five screens. Two of the new screens will have 61 seats, while a third will seat 20 people.
These additional screens will allow the Pickford to extend movie runs for longer periods at either location, while also expanding the variety of what can be shown. The new location is also conveniently close to the existing theater.
While an exact opening date isn't set, Purves says they're hopeful the new space will be projecting films within the next year — hastening the next reel in PFC's storied history of providing affordable and diverse movie-going experiences.
She is also grateful for Bank of the Pacific's support, which has helped turn cinematic dreams into heartwarming realities.
"It's really good," Purves says. "It's like the way it's supposed to work in a Jimmy Stewart movie."
Sponsored