The origins of the labyrinth — a complex coiled pathway with only one way in or out of its center — are shrouded in mystery and mysticism.
From their earliest known examples in Ancient Greece to the good-luck rituals of Scandinavian fisherman and the vision quests of Indigenous Americans, labyrinths have been discovered in the historical record of cultures around the world.
And Bellingham's Kristen Winn finds them absolutely fascinating.
"Historically, labyrinths re-emerge in times of upheaval and transition," she says. "They gain popularity with individuals when individuals are facing transition. They provide certainty in uncertain times because you follow the path. And if you follow that path, you will get to the center of the labyrinth, and you will find your way back out."
Winn — a longtime artist who moved to Bellingham in 2017 — now builds labyrinths and facilitates guided experiences with them.
She sees the modern labyrinth as a tool to connect the mind, body, and spirit. Unlike mazes, which require choices of right or left to find one's way out, labyrinths provide a trusting path along which to contemplate and center the self.
"A labyrinth really opens up an opportunity to experience meditation while moving the body," she says.
Following Her Path
Winn was born into a creative family outside Anchorage, Alaska, but didn't really claim the label of artist until she was in her 20s. At the University of Florida, where she graduated with a Bachelor of Fine Arts degree, Winn learned painting and sculpture techniques.
She lived in Seattle for 19 years before moving to Whatcom County and worked in the Washington wine industry for 16 years — most recently as the manager for Chateau Ste. Michelle Winery's summer concert series. All the while, she continued painting and illustrating in her spare time.
About a decade ago, Winn had a labyrinth tattooed on the underside of her left wrist while going through significant personal transition. It was, she says lightheartedly, a symbol of her destiny to come.
Roughly two years ago, Winn says she felt a calling to center her art on labyrinths, and to build them across the world. She left her job to travel the world and began researching the history and purpose of the labyrinth.
She built her first labyrinth — a public, semi-permanent structure — in Morocco last year. She also raised $10,000 to construct a labyrinth at the 2022 Burning Man festival in Nevada's Black Rock Desert, assembling it with three other people and lighting it to be walked at night.
It was, she says, an "amazing, intense, crazy experience."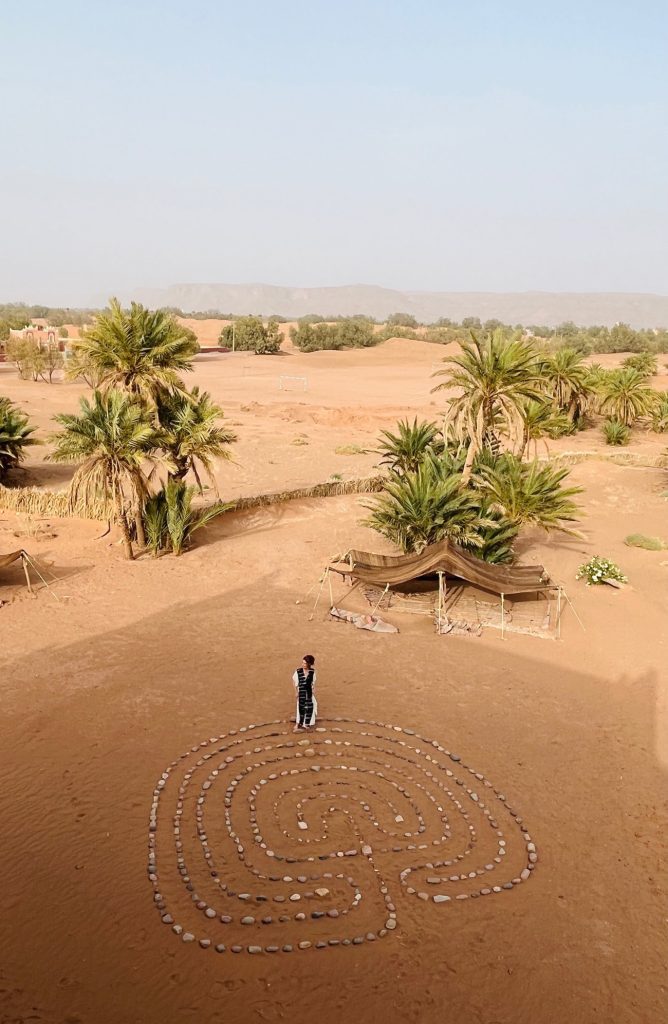 A Labyrinth Close to Home
On the evening of September 22, 2023, Winn celebrated the dedication of her first permanent public labyrinth: a 39-foot by 42-foot creation on the grounds of Bow Sanctuary, a Skagit County wellness center. About 50 people attended the ceremony, which included a candle-lit walk along the labyrinth's path.
Winn's labyrinth is made from reclaimed paving stones and took about six weeks to complete. Its intention is to provide a space for community gathering, wellness, and meditation in nature.
The labyrinth can be accessed anytime during the sanctuary's daily hours between 10 a.m. and 3 p.m. It takes about 7 minutes of walking, on average, to reach the center, and an equal amount of time to get back out. For the purposes of walking meditation, of course, Winn says you're encouraged to take more time.
While there aren't a ton of publically-accessible labyrinths in our area, there are several good ones, including at an Eastsound church on Orcas Island and another at Park. Winn suggests using the World-Wide Labyrinth Locator website or app to find labyrinths you might want to visit.  
In addition to building both permanent and temporary labyrinths, Winn hosts labyrinth experiences for individuals and groups. These experiences guide people through the use of labyrinths, whether for meditation, relaxation, fun, or to aid in navigating a life transition.
A State of Flow
Winn is currently in talks to build several more labyrinths — one on Camano Island and another in Sweden.
And just as people can be centered or grounded by walking one, Winn says the process of building a labyrinth affects her and others in similar ways.
"It's a very in-the-flow moment for me," she says. "It also brings community together because people love to be a part of it. And so they volunteer their time, to either help dig the ditch, or place the stones. There's something about [labyrinths] that really draws people to them."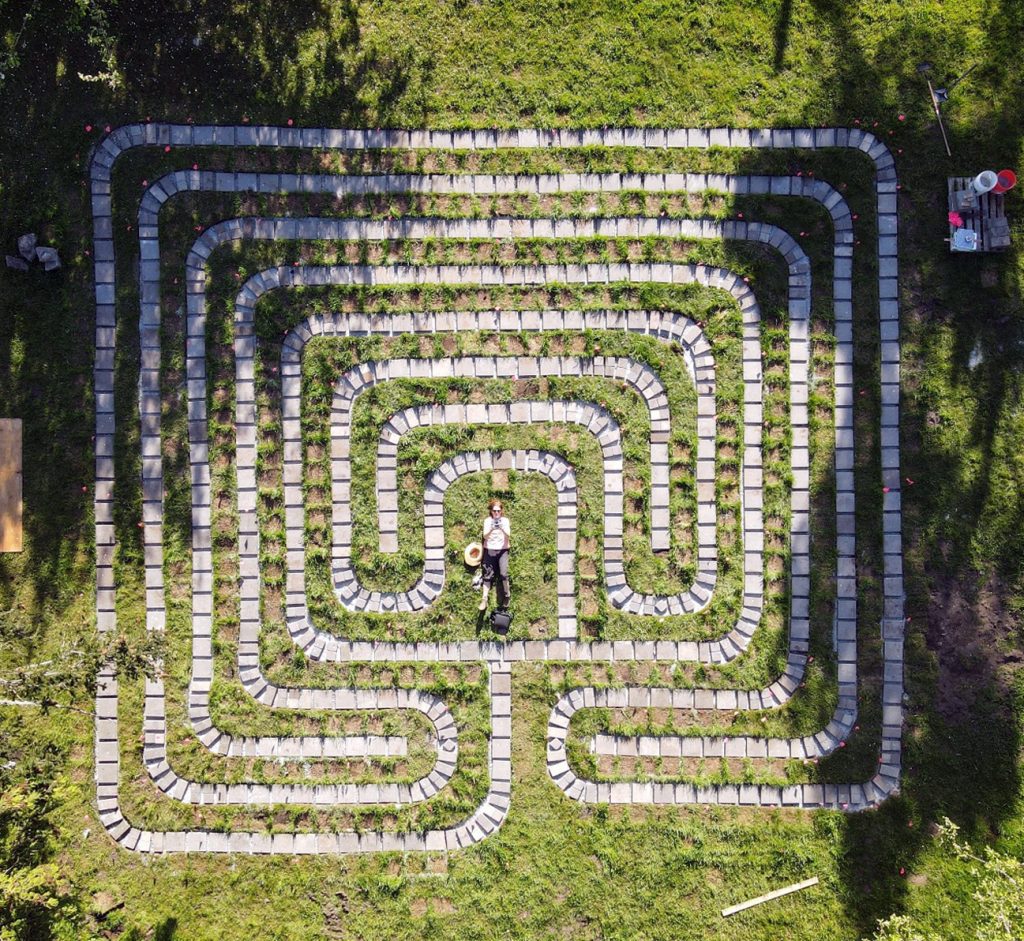 Each time a person experiences a labyrinth, Winn says, they can build a stronger connection to that labyrinth — and to themselves.
"Like anything, the more you do it, the more you learn," she says. "There's a rhythm, going out there, having the walk. If I'm trying to find an answer to something, I'll begin my walk with an open-ended question versus a yes-or-no question, so that while I'm walking, the mind has an opportunity to think through it. It's like when people find an 'ah-ha' moment when they're in the shower."