You're not likely to discover Bellingham's Northwater restaurant while just driving around town — but it's worth searching out and is easy to find. Located inside the Holiday Inn and Suites at the Bellingham International Airport, Northwater offers a unique, high-quality, sit-down experience. Before the pandemic hit, Northwater had been one of the area's favorite newer restaurants. And now the team is ready to make it happen again.
Regulars from a few years back will recall a high-end, farm-to-table operation, but the pandemic shut them down. They used the time to rethink their operation and reopened slowly, focusing on the kinds of services most needed by the hotel's guests. But now, after quietly building, testing, and refining the menu over the last couple of years, Northwater is happy to announce they are again operating at full strength.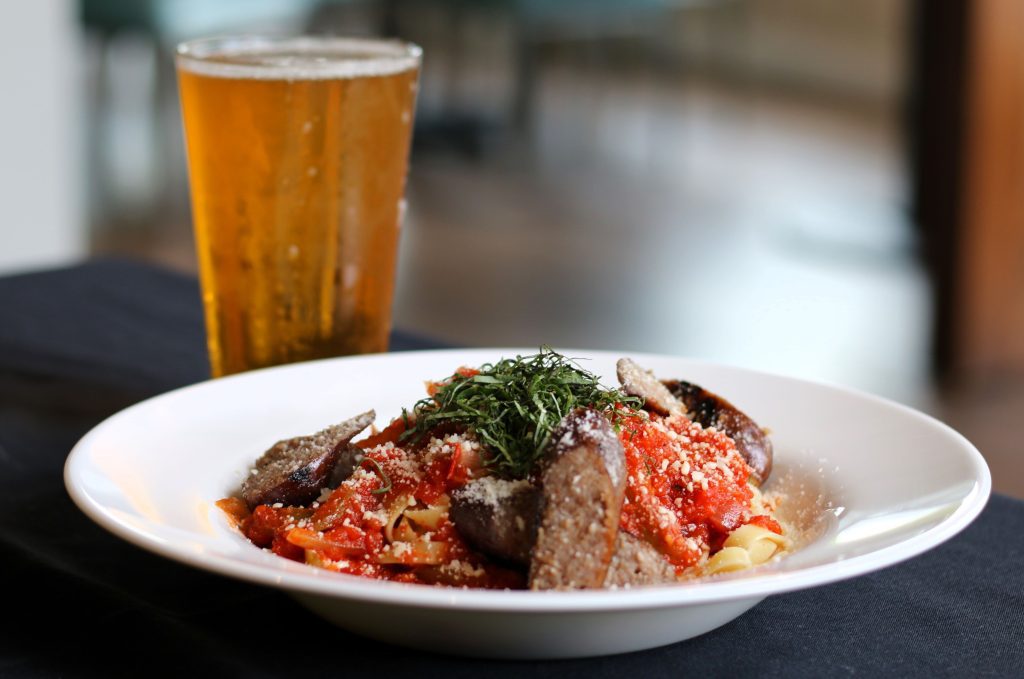 Playing To Two Audiences
Being inside a hotel and directly across the parking lot from an airport, Northwater sees a certain amount of foot traffic, simply because of the location. But Food and Beverage Director Nick Barrett has made sure Northwater presents the kind of food and service that makes them a destination that diners are happy to travel to.
"It's an interesting sort of balancing act," he says. "We want to stay approachable and familiar, but at the same time, 'familiar' isn't going to pull in that 'destination' business."
To Barrett, the key is starting with high-quality choices that assure diners will be satisfied, then adding unique and memorable touches that draw them back again and again. To cover all the bases, Northwater offers a breakfast menu that features Corned Beef Hash alongside a classic Florentine Eggs Benedict, and dinner choices range from the Northwater Dip (our take on the classic French dip) to Hanger Steak served with garlic mashed potatoes and grilled wedge salad. They've also recently perfected the crusts for the pizzas they cook in their oven from Bellingham's own Wood Stone.
Catering To Large Groups
As if relaunching such a wide-ranging restaurant weren't enough, Northwater has reopened its catering enterprise, as well. General Manager MegAnne Offredi is excited she can once again invite larger groups into a space that can be customized to a variety of events.
"We have finally opened up our ballroom, and we're staffed for banquets," she says. "We're booking holiday parties, we're doing higher-end buffets, and we want the community to know they can count on us to help host corporate events or social events. Whatever their need, we're here."
Spreading the word is key to Offredi, because not many area venues feature a large meeting space, as well as high-quality food provided in-house. People interested in learning more details and booking the space for an event, can contact the hotel directly 360-746-6844. You can also find Northwater on Facebook and Instagram.
Making the Experience Count
With menus squared away and dining rooms and banquet halls open, the last piece of the puzzle is the right group of people. Barrett sees a plethora of experience and talent in the kitchen crew, a group that genuinely wants to help build up the restaurant. That enthusiasm is the first step towards the elevated dining experience Northwater brings to Bellingham.
"We just did a couple of days of research and development on a brunch menu, and some of the dinner menu, and that brings the energy up so much," Barrett says. "Those experiences create so much internal momentum. The team in the kitchen are excited to learn, and they're super proud of the food, and you can feel that. Then the servers get excited to try it, and then they're excited to present the food. In turn, the guest is having a great experience, and they're excited to eat here."
Winning Formula
Helping people make the decision to travel off the beaten path can be a challenge, but Barrett knows Northwater has what it takes to bring people back. "Customer experience is what makes this industry, and we have to create something that's memorable and joyful for people," he says. "We're fortunate this team is super talented and really eager to go in the direction we want to go. You can't start off any better than that.
Sponsored