The slogan for Bellingham nonprofit HomesNOW! Not Later reads: "ending homelessness one person at a time." They run Unity Village and Swift Haven Village, two tiny home villages, which have a rehousing rate of 50% for all residents.
"We have no paid staff, we're all volunteer, and most of those volunteers are the people that live at the village themselves," says HomesNOW Board Chair Doug Gustafson. "People who are homeless and need a place to live, but they're willing to work and willing to manage the place and keep it running smoothly."
Homelessness continues to rise throughout American cities, exacerbated by low vacancy rates and housing availability. To help people get off the streets and into permanent housing, the City of Bellingham supports the HomesNOW villages and the Low-Income Housing Institute's Gardenview Tiny House Village.
"This is an option that's like a stepping stone," Gustafson says. "It's in-between being homeless, because everybody has their own place. There's not really rent, per se — there's a resident agreement, [not a] lease agreement, but it gets people out of survival mode so they can get where they need to go."
For former residents in permanent housing, HomesNOW has certainly lived up to "not later."
Resident-Run Villages
The City of Bellingham covers utilities and facilities for Swift Haven Village, while Unity Village covers its own costs. Whatcom County provides emergency supplies, such as power generators and air conditioners.
"Both of our sites are on City of Bellingham land, and the partnership is such that the city allows us to use the land," says Gustafson. "We are the operator. We don't take any funding from the city, at least majorly, and by majorly I mean we don't take funding for operations. But we have taken in-kind stuff such, as building materials or infrastructure."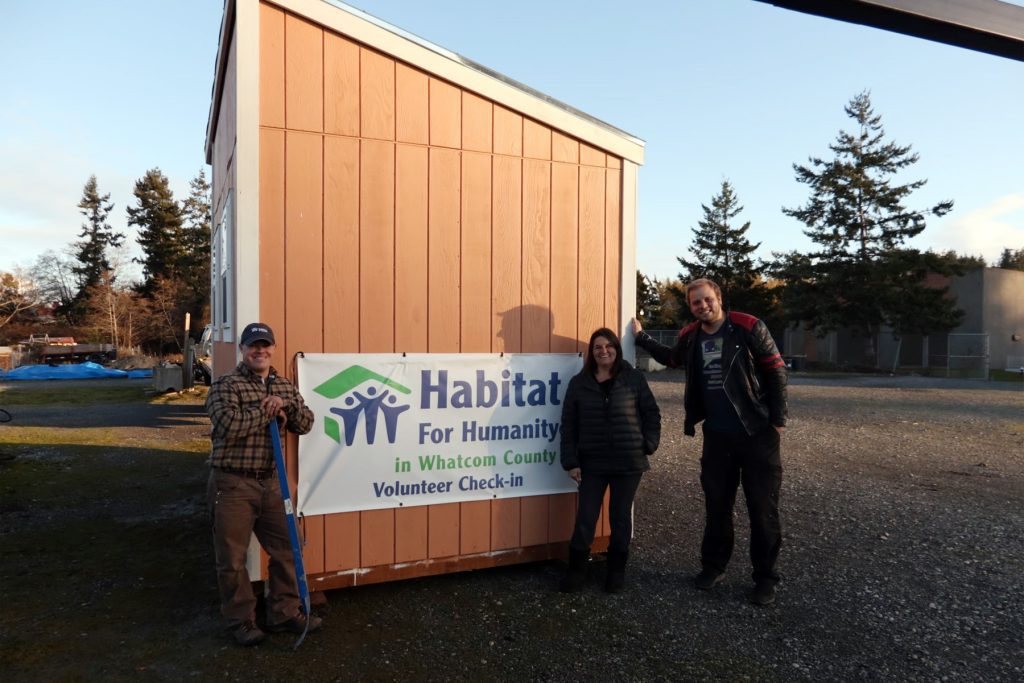 Each village has its own democratic structure, allowing residents to vote on communitywide decisions and develop skills they need for permanent housing and employment.
"In a lot of models, when it comes to homelessness, there tends to be a loss of autonomy," Gustafson says. "You have the staff in that model say, 'This is what you've got to do, this is where and when you can sleep, this is when you can eat.' And it kind of prevents people from becoming self-sufficient and independent and working with others on their own. Whereas our model relies on people who are homeless and need a place to live. 'This is on you guys: You need to help build this to make it a better place.' And they do."
Getting Involved
HomesNOW partners with various organizations to provide additional services residents need. These include Bridge2Services for referrals, Opportunity Council for rental assistance, and Compass Health for behavioral, mental, and physical health appointments
"People fill in when we need those services and need that help for people, whatever their situation," says Gustafson.
The organization also updates its social media with new projects open to volunteers, which soon close after all the work is done.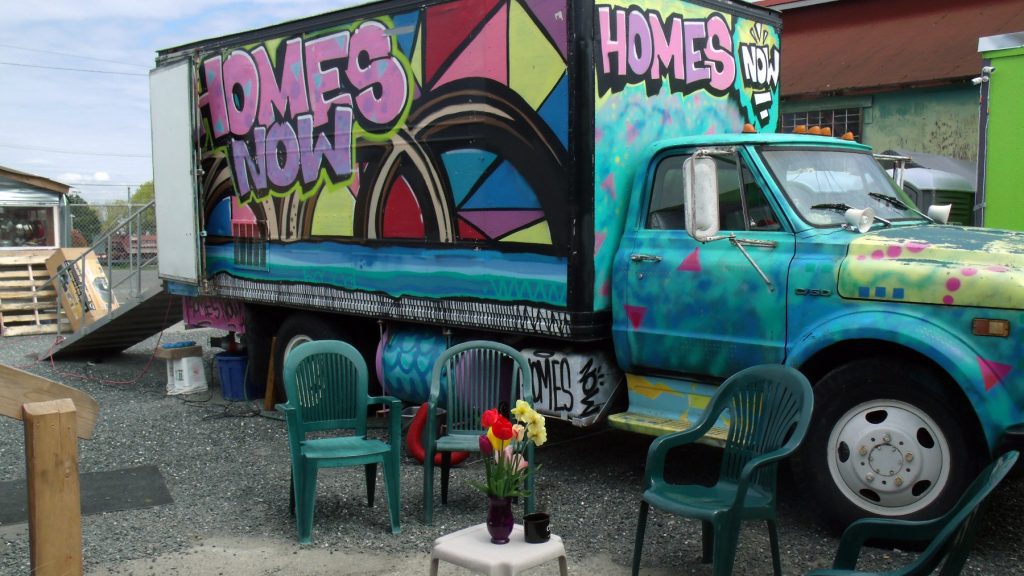 "I think we've had a positive impact on the community, and I feel we have strong community support," Gustafson says. "We don't get people complaining about problems at our sites, we clean up the local neighborhood and stuff, so we're basically helping to make it a better place. We have our cameras — we're keeping an eye out — so we help with reducing crime in the local neighborhood."
HomesNOW plans to increase its capacity from roughly 50 to 60 people upon moving both villages to 4447 Meridian Street. They will enlist volunteers to rebuild the infrastructure.
"When we do the move, it's going to be a hybrid model, meaning two different villages," says Gustafson. "But we have shared responsibilities, such as front desk or storage for donations."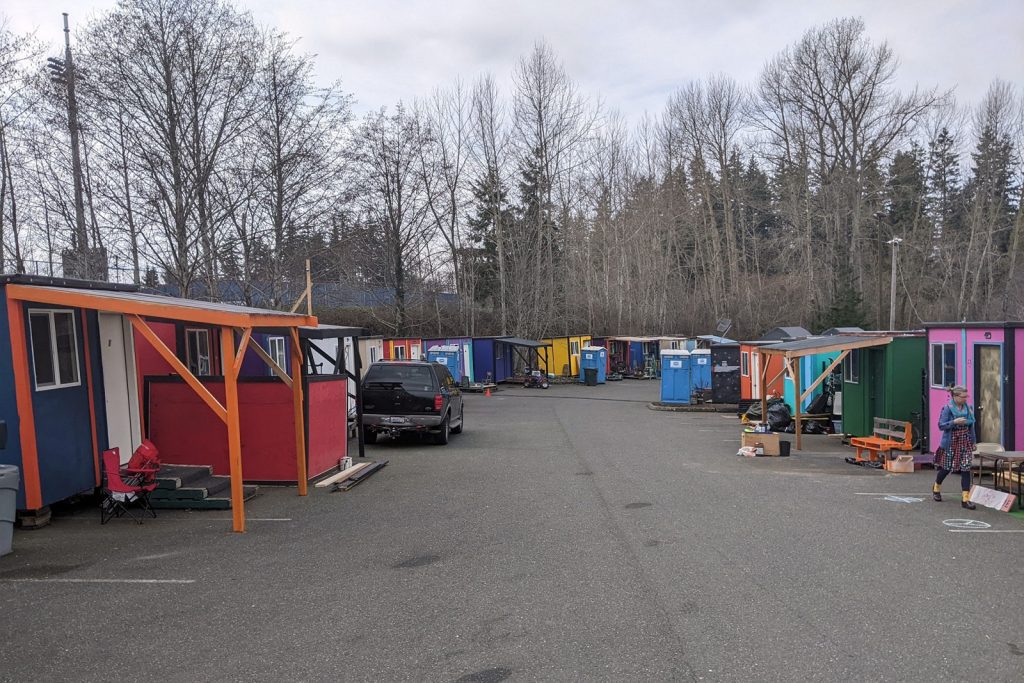 Ending Homelessness
With the rehousing rate growing from 30 percent at the organization's start, Gustafson projects that it will soon increase to 75 percent.
"I feel like the perception of us has been positive, and especially the longer that we last," Gustafson says. "We're still a relatively new organization; we started in 2017. And over the years we've proven that we've been able to last for multiple years and cover our costs and get people into housing — and at very minimal overhead, very little money to do so. We're not perfect, but we think we have a very viable bang-for-buck option that shows real results and gets better over time and the community sees that."
HomesNOW developed its resident-run model during the COVID-19 pandemic, and its proven results have allowed them to expand their efforts.
"To get involved, come on down, visit our villages — we're open to the public," Gustafson says. "If you're looking to do something [similar], we're looking to help you, too. If you want to start your own organization or you have an idea, we want to work with everybody to get things done."