Every August, Lynden is host to Whatcom County's largest multi-day event, the Northwest Washington Fair.
For many residents, the fair is a celebration of community, the region's agricultural heritage, and all that is wonderful about summer. And it's no different for Peoples Bank, which like the fair, has been a part of the Lynden and Whatcom County community for more than a century.
New this year, Peoples Bank is serving as a sponsor in two capacities: offering a free admission day on August 13, and as the sponsor of the fairgrounds' newest building, the Peoples Bank Farm Pavilion.
Located just inside the main fairgrounds gate along Front Street, the spacious, high-ceilinged pavilion has 9,500 square feet of rentable space and is complete with restrooms, heat, and air conditioning.
Connecting to Community
Bob Fraser, commercial market leader at Peoples Bank's Lynden Financial Center, says putting the bank's name on the Farm Pavilion associates it with the fair's outstanding reputation.
"We're both iconic institutions," he says. "We're known for our integrity and values, and we're dedicated to making a long-term investment in the community."
Sponsoring the Farm Pavilion also means helping promote the fundamental importance of agriculture and ag literacy.
"That underlies everything that the fair does," Fraser says. "It celebrates our agricultural community and recognizes the importance of agriculture as it impacts the quality of our lives."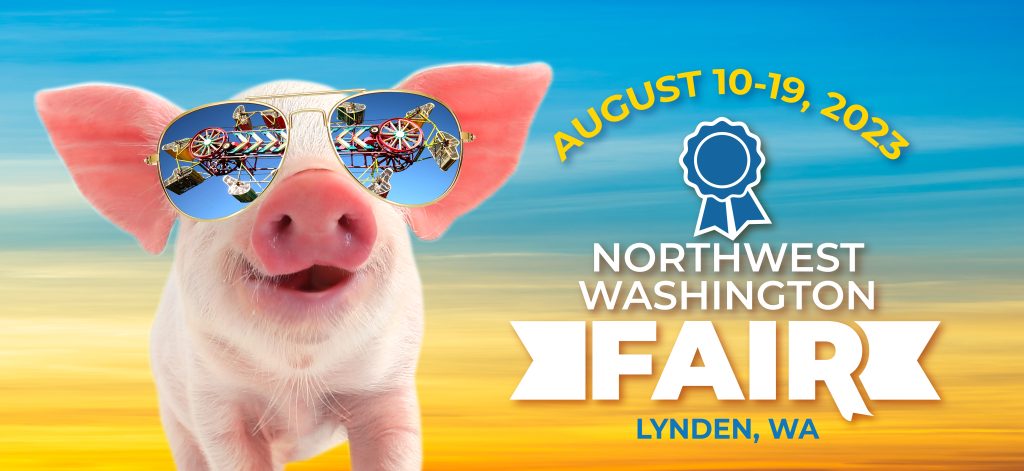 The connection that many residents have to the fair is also a generational one.
The family of Karen Kildall Occhiogrosso, the fair's director of sponsorships, has long been involved with the agricultural aspect of the fair.
"My grandfather showed cows here," she says. "My dad showed cows here. I was a 4-H member, and my kids were 4-H and FFA members. I know many people have similar stories."
Mary Compton, branch manager of the Peoples Bank Lynden Financial Center, also has fond memories of showing farm animals during her childhood. Many of the bank's current employees and customers also share that connection, whether it's in having exhibited animals, flowers, vegetables, quilts, photographs, or assorted hobby collections.
Even the late country music legend Loretta Lynn won a blue ribbon for canning at the fair decades before returning as an entertainer. And over the years, incredible performers have graced the fair's grandstand: everyone from Johnny Cash and Garth Brooks to Huey Lewis and "Weird Al" Yankovic.
While the fair has traditionally lasted a week, it expanded to a 10-day event in 2021, which continues this year when the fair will run from Aug. 10 to Aug. 19.
"Extending the length of the fair to 10 days has enabled us to provide so many more opportunities to the community," says Selena Burgess, manager of the Northwest Washington Fair. "We are very excited to open our gates, gather together, and celebrate the end of summer."
Free Admission Days
This year, Peoples Bank will offer free admission to all community members at Gates 1 and 5 on Sunday, August 13th from 9 a.m. to 11 a.m. This is just one of a series of free admission days, including those for military members past and present, first responders, and children ages 12 and under. Reduced gate admission will also be available for Western Washington University students, staff, faculty, and alumni on Aug. 17.
Occhiogrosso says they especially hope for a strong turnout for Food Drive Friday on August 11. That day between 11 a.m. and 3 p.m. at Gates 1 and 5, anyone who donates four food items to benefit the Whatcom County Food Bank Network will get in free. Canned proteins, fruits and vegetables, and dried beans and pasta are the most needed items.
With all this in mind, this year's Northwest Washington Fair should be an absolute blast, while also reminding all of us of the importance of community ties.
"We are proud of who we are, what we do, and what we celebrate," Occhiogrosso says. "The Northwest Washington Fair celebrates the talents of our entire community."
Sponsored