It's a beautiful Friday afternoon in Fairhaven, and the Barbershop at Fairhaven is hopping. Diane Philips, the barber, gives a hot lather shave with a straight razor to Western Washington University student Michael Flo. His twin brother, Sean, waits his turn. Local optometrist Spencer Young walks in early for his appointment, clearly unperturbed about the wait. Why wouldn't you want to hang out here? As many chairs as can fit in the small waiting area encourage people to stay past their appointment time. Diane's dog walker returns with rescue beagle mix Bruno, both of them flushed from the workout. Bruno flops into his dog bed next to Lulu, an elderly beagle, who opens one sleepy eye and sighs happily.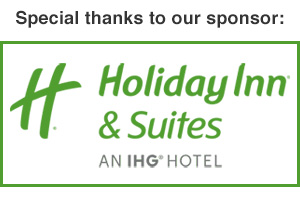 Entering the shop at 1010 Harris Avenue, is a two-step process: first you walk through the front door (which is usually open), and then you step through the dog gate and close it firmly behind you. "There have always been dogs here," Diane says. Once inside, you're taken back in time to the early 20th century, when the local barber shop provided both a social hub and a spa-like experience for men. Four 1920s-era barber chairs line up along one wall, with Diane's chair positioned in the front window so she and her client can people-watch over the busy sidewalk.
"I've been doing this for 40 years now," Diane says to Michael Flo to reassure him before she applies the straight razor to his neck. "That's longer than you've been alive." She asks questions of the Flo twins, about what they're studying in school and what they hope to do when they're done. The brothers hail from Hoodsport, and they're excited to experience Ski to Sea weekend in Bellingham. For young people like the Flos, the old-timey barbershop is not a trip down memory lane, but an education about the old days.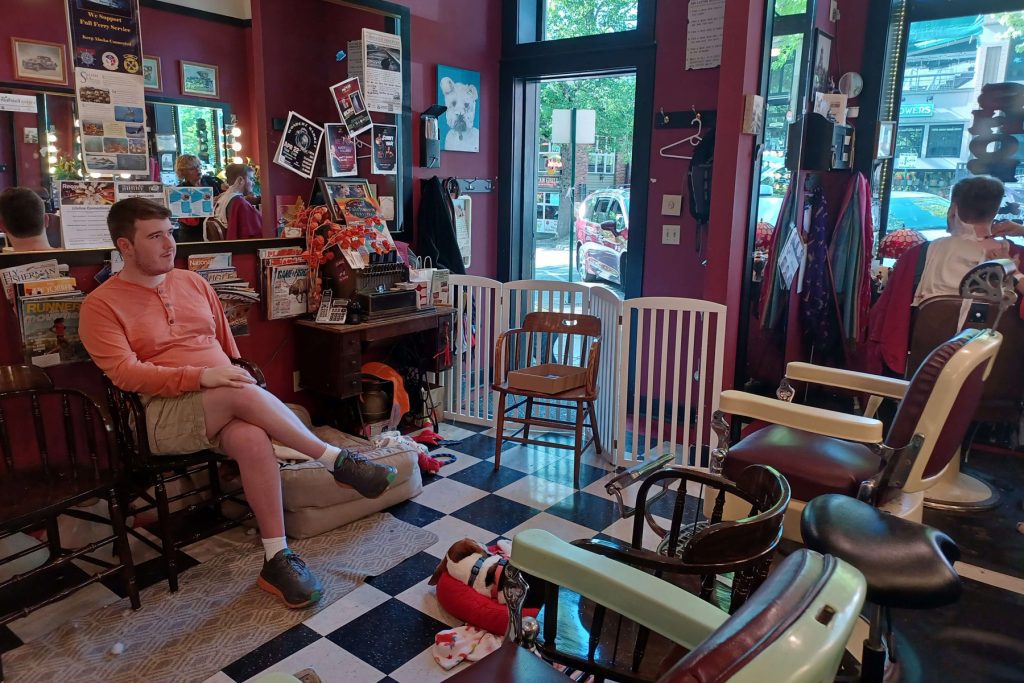 "This is a great experience," Michael Flo says as Diane begins the final shoulder massage. "It's great to get to know Diane, her dogs are adorable, and I will definitely come back." The student discount makes that a little easier for him to do.
For older people like Paul Noreen, who got a haircut while visiting family here a few years ago, the shop is pure nostalgia. The 75-year-old remembered neighborhood barbershops from his youth and found the experience a delightful contrast to his suburban Supercuts in Blaine, Minnesota. In a world of increasingly impersonal service, the Barbershop at Fairhaven provides an old-school relationship and social opportunity that inspires loyalty.
"It's a great little community," Dr. Young, when it's his turn, says from the chair.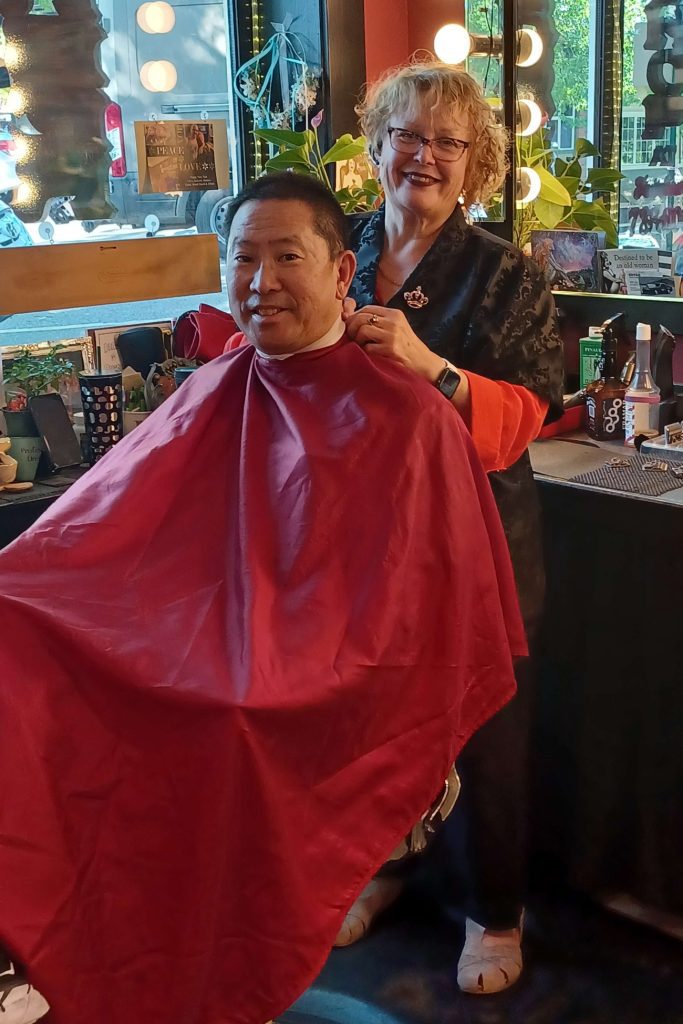 The Barbershop at Fairhaven opened in 2000, after the Fairhaven renaissance that began in 1973, when the run-down historic district was revived under the direction of investor Ken Imus and the newly formed Fairhaven Association. Imus welcomed Diane with a "handshake lease."
"He was a beautiful person," says Diane. "His vision for Fairhaven was for it to be 'the next Rodeo Drive.' He wanted to showcase up-and-coming new trends, but to anchor it with stable businesses, like a bookstore, a pharmacy, and a barbershop."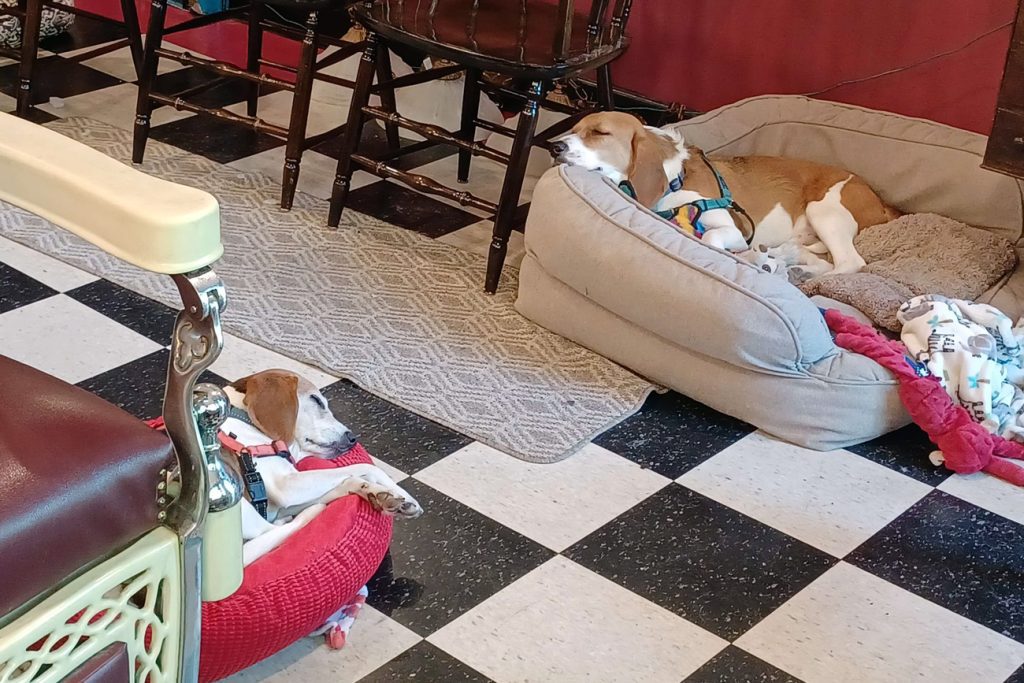 The word "barber" originates with the French barbe, for beard, and barbering is traditionally associated with men's grooming — but modern barbers tend to be more versatile. With two grown sons of her own, Diane says that caring for men comes naturally, but she cuts hair for women and children too. Children coming to the Barbershop at Fairhaven for their first haircut get a certificate to commemorate the day.
Diane has been in business long enough to have lifetime customers like Cameron Hill, 38, and Nate Gill, 27. They started coming at age 14 and continue to this day. "I love watching them grow into the men they've become," she says.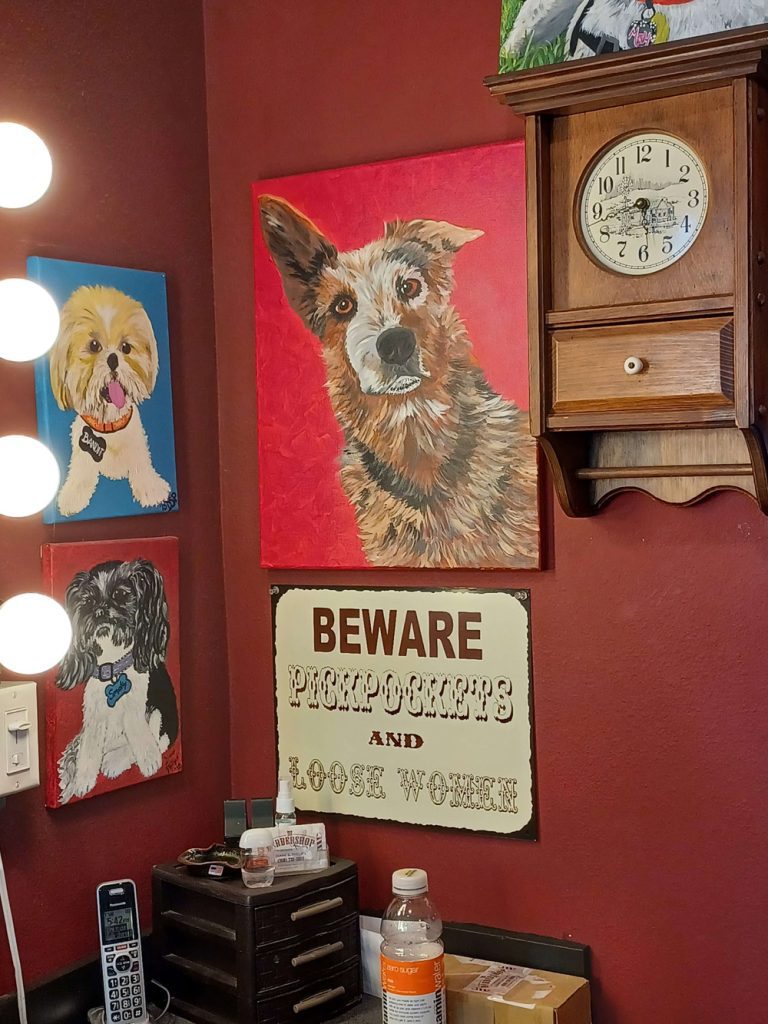 Diane has spent years gathering a mix of kitschy and authentic memorabilia to decorate the shop. A sign in one corner warns patrons to "Beware of pickpockets and loose women." Her involvement with the Fairhaven Ladies of the Evening Society, a group of women and men who dress as Victorian-era madams and founding fathers to celebrate Bellingham's bawdy history, has helped her find many of these items while hunting for vintage clothing. Clients and friends also bring in antiques as gifts.
The pandemic was hard on Fairhaven, and the barbershop was no exception. It was closed for almost three months. Diane wasn't eligible for any of the government relief programs ("Dyslexia made the paperwork a nightmare," she adds), and she had to drive deliveries for Viking Food to keep going. That was hard work with a lot of stair climbing, and Diane needs a hip replacement. Still, she worked long hours, with poor tips, because everyone was struggling.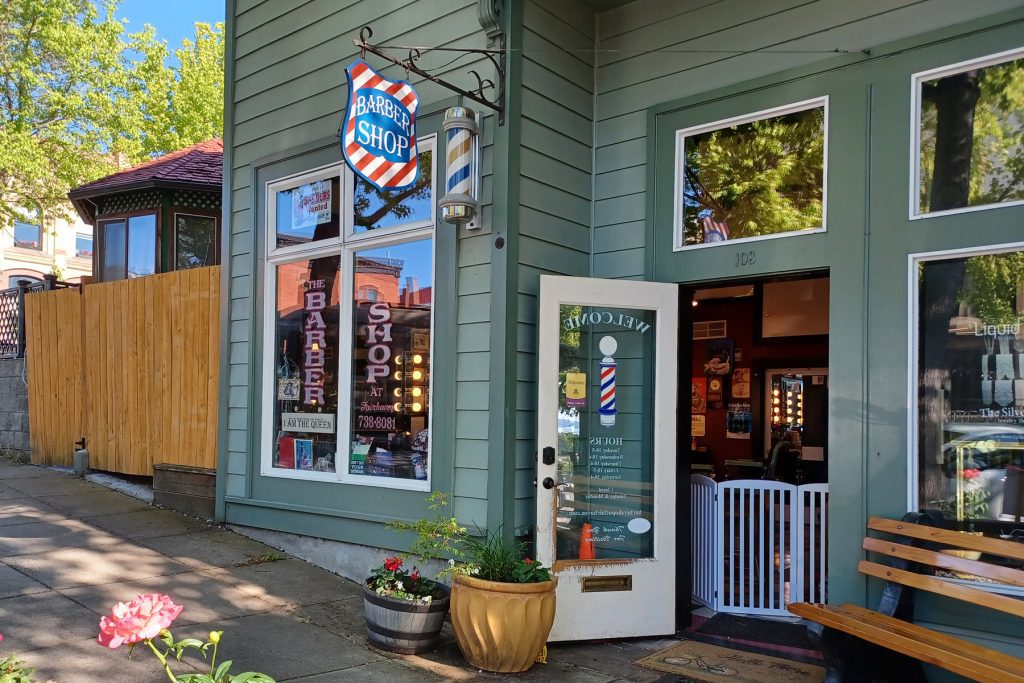 When the shop finally reopened, Diane had 20 clients a day, and all her other barbers had moved on, so she handled as many clients as she could by herself. Two weeks after the reopen, "the phone just stopped ringing," Diane says. People scuttled back inside as new viral variants surged. Diane revived her interest in art as a creative outlet, painting dog portraits for friends while she waited in the empty shop for walk-in clients. When she got good at the painting, she added a side hustle, doing pet portraits for a fee. Eventually business came back as people began to trust that the worst of the pandemic was over. Now she's looking for licensed barbers to join her and help meet the demand (contact info can be found here).
This stable, necessary business survived the pandemic because of Diane's resilience and resourcefulness. And it will thrive into the future as the next generation of well-groomed young men, like the Flo twins, learn to appreciate the old ways.
The Barbershop at Fairhaven
www.barbershopatfairhaven.com
1010 Harris Avenue, Suite 103
360.738.8081
Hours: Tuesday–Saturday 10 a.m. to 6 p.m.