Over the years, a handful of NFL players have heralded from Whatcom County. Some won Super Bowls, while others endured journeyman careers in the football world. Here's a look at some of the NFL talent to emerge from our area.
Taylor Rapp
Rapp — a 2016 Sehome High School graduate — is a safety for the Los Angeles Rams, with 41 NFL games and counting under his belt.
After playing for three seasons at the University of Washington, Rapp was taken in the second round of the 2019 NFL Draft. In 2021, he started all 17 games and made four interceptions, along with 94 tackles, six pass deflections and 1.5 sacks.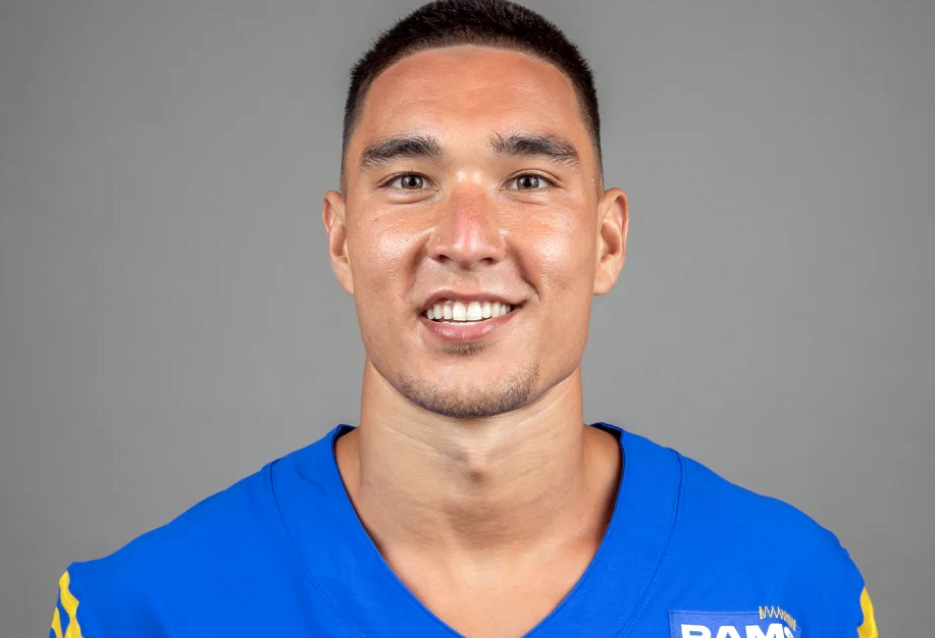 Rapp's terrific season culminated in a Super Bowl ring in February 2022, when the Rams beat the Cincinnati Bengals 23-20 in Super Bowl LVI. After the game, Rapp proposed to high school sweetheart Dani Johnson.
Doug Pederson
The 1986 Ferndale High School grad has two Super Bowl rings — one apiece as a player and coach.
Pederson entered the NFL as an undrafted free agent with the Miami Dolphins in 1991. He endured multiple cuts and re-signings over five years with Miami and appeared in just seven games — all in 1993. In 1992 and 1995, he spent time in the World League of American Football (WLAF) and was drafted by the Carolina Panthers in a 1995 expansion draft before being cut.
Pederson became the Green Bay Packers' third-string quarterback in 1995, picking up a Super Bowl ring in 1997 when the Packers defeated the New England Patriots in Super Bowl XXXI. Pederson was promoted to backup quarterback and primary placekick holder in 1998 before becoming starting quarterback for the Philadelphia Eagles in 1999.
He made just nine starts, with eight more the following season for the Cleveland Browns. He returned to Green Bay in 2001 for four more seasons as placekick holder and backup to Brett Favre, replacing Matt Hasselbeck.
As a player, Pederson participated in 100 NFL games, throwing for 2,762 yards with 12 touchdowns, 19 interceptions, and a 54.8 completion percentage. After retiring, he became a high school football coach before returning to the Eagles as an offensive coach in 2009.
After serving as Kansas City Chiefs offensive coordinator from 2013 to 2015, Pederson became the Eagles' head coach in 2016. His five seasons there resulted in a 42-37 record, highlighted by Philly's Super Bowl LII win over the Patriots. Who could forget the Philly Special?
Pederson is currently head coach of the Jacksonville Jaguars.
Jake Locker
The 2006 Ferndale High School grad mesmerized as a Golden Eagles and Washington Huskies quarterback before being drafted 8th in the first round of the 2011 NFL Draft.
Signed by the Tennessee Titans, Locker served as Matt Hasselbeck's backup for a year before assuming starting duties in 2012. Despite great promise, Locker's time in Tennessee was marred by injuries. He started 11 games in 2012, just 7 in 2013, and 5 in 2014 — his final season.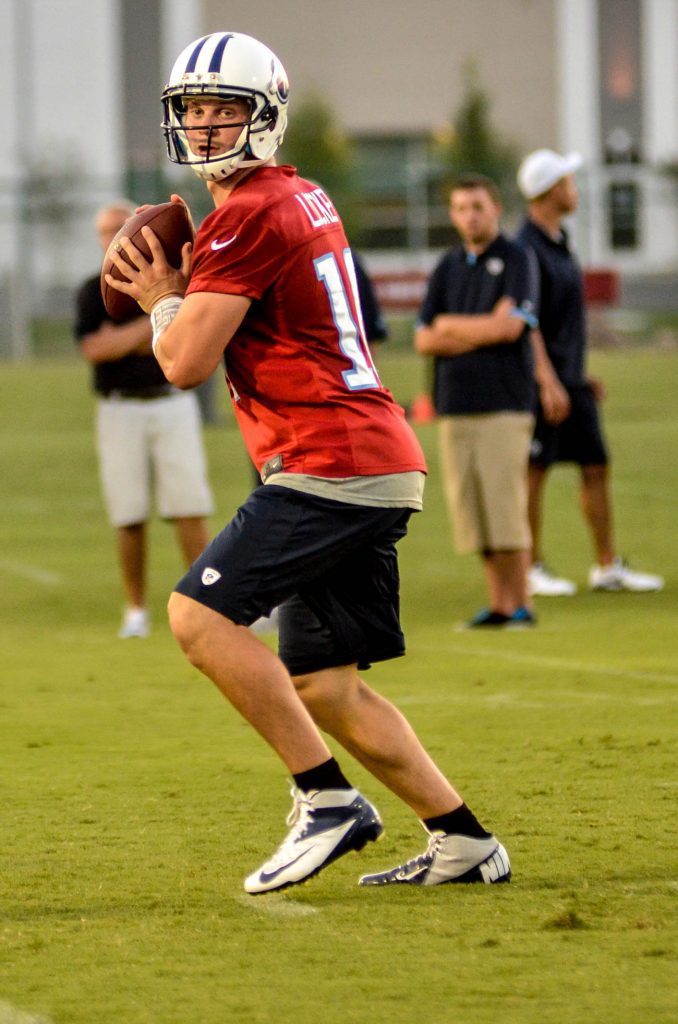 The Titans declined a fifth-year option on Locker, and he retired in March 2015. In total he played 30 NFL games, throwing for 4,967 yards with 27 touchdowns, 22 interceptions, and a completion percentage of 57.5.
Today, Locker resides in Ferndale with his wife and children, and co-owns Locker Room Fitness with fellow NFL alum Michael Koenen.
Michael Koenen
A 2000 Ferndale High School grad, Koenen was an all-star punter and placekicker for the now-defunct Western Washington University football program. In 2005, he signed with the Atlanta Falcons as an undrafted free agent and became the team's starting punter.
Koenen appeared in all 16 games, and even kicked a 58-yard field goal in a game against the New England Patriots. In a 2006 preseason game, he punted, kicked-off and made four field goals — all from 40 yards or more.
Koenen spent six years with Atlanta and is probably best known for having a punt blocked by Saints safety Steve Gleason in the first post-Hurricane Katrina game at the New Orleans Superdome. In 2011, Koenen signed with the Tampa Bay Buccaneers, where he spent four seasons.
Appearing in 160 NFL games, Koenen recorded 748 punts for 31,964 yards. He made two regular season field goals, both from more than 50 yards, and had a punting average of 42.7 yards. He currently lives in Whatcom County with his wife and children.
Tom Ackerman
A 1991 Nooksack Valley High School graduate, Ackerman played college football at Eastern Washington University before being selected 145th overall in the 1996 NFL Draft by the New Orleans Saints.
Ackerman spent six years with New Orleans as a special teams player and offensive lineman in both starting and backup capacities. In 2002, he signed with the Tennessee Titans and played in 11 games before becoming a full-time backup for the team in 2003.
In total, Ackerman played in 105 NFL games, starting 21. After his playing career, he served as an offensive lineman coach at Eastern, and also helped coach the now-defunct Spokane Shock, an arena football team.
Anthony Newman
The Bellingham-born Newman was drafted by the Toronto Blue Jays while still a high school senior in Beaverton, Oregon. Instead of entering the majors, Newman chose football at the University of Oregon.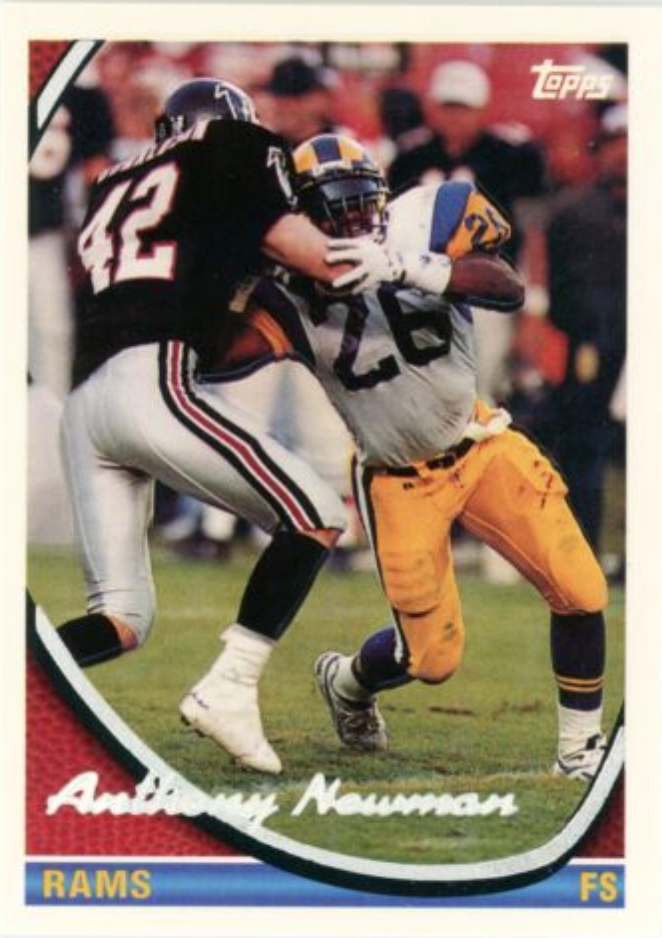 Drafted by the Los Angeles Rams in the second round (35th overall) of the 1988 NFL Draft, Newman played as a defensive back and safety for the team from 1988 to 1994. He spent 1995 to 1997 with New Orleans and played his final two seasons with the Oakland Raiders.
Newman played in 178 NFL games, recording 21 interceptions for 256 yards and a touchdown. After retiring, Newman worked as a commentator for Oregon Sports Network coverage of Ducks football, and also served as a defensive coordinator for two high schools in Portland. He also operates Anthony Newman Sports Camps, a series of seasonal youth athletic camps.
Steve Alvord
The 1983 Bellingham High School grad was an all-star athlete who was voted Washington State Lineman of the Year in 1982.
After playing at the University of Washington, Alvord was taken by the St. Louis Cardinals in the 9th round of the 1987 NFL draft. A defensive tackle, he played in 27 games between 1987 and 1988 — the Cardinals' last season in St. Louis and first in Phoenix.
After his NFL career, Alvord played two seasons (1991 to 1992) as a defensive end for Spain's Barcelona Dragons in the WLAF. In 2018, he returned to his high school alma mater for induction into the school's athletic hall of fame.
Don Warren
The Bellingham-born Warren grew up in California and played football at San Diego State. Drafted in the fourth round of the 1979 NFL Draft by the Washington Redskins, Warren became a tight end known primarily for this blocking.
Between 1979 and 1992, he played in 193 NFL games, recording 244 receptions for 2,536 yards and 7 touchdowns. From 1981 to 89, he didn't miss a regular season start.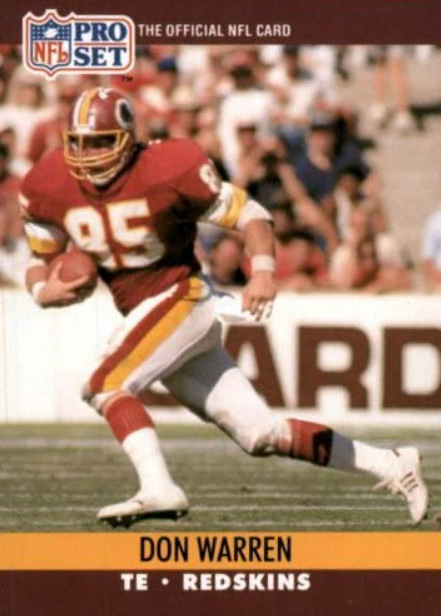 Warren was an original member of "The Hogs," the nickname of Washington's stellar offensive line during its heyday under head coach Joe Gibbs. He started on four Super Bowls teams (1983, 1984, 1988, 1992), collected three rings, and played in two of them (Super Bowl XXII and Super Bowl XVII).
After retiring, Warren became a high school baseball and football coach before returning to the Redskins as a scout from 2005 to 2009. He spent another 10 years as a scout with the Carolina Panthers before three more years as senior scout with the Washington Commanders.
Warren officially retired from the NFL in June 2022.