From its beginnings in the alley next to the Wild Buffalo to its current location in the middle of Holly, Bay and Prospect Streets, Downtown Sounds has grown into a major event that heralds the beginning of summer. Families and music lovers have helped make the series one of the most recognizable programs of the Downtown Bellingham Partnership.
The annual event is managed by Lindsey Payne-Johnstone, who has been involved for the last 14 years and seen incredible growth. In 2020, for example, the live event had to be canceled, but Payne-Johnstone and her team were able to successfully move it online. "We did three events and raised money for venues and were able to support musicians who couldn't play gigs," she says. "Then last year we were able to put on Downtown Sounds in person, so we expedited 10 months of planning in about six weeks."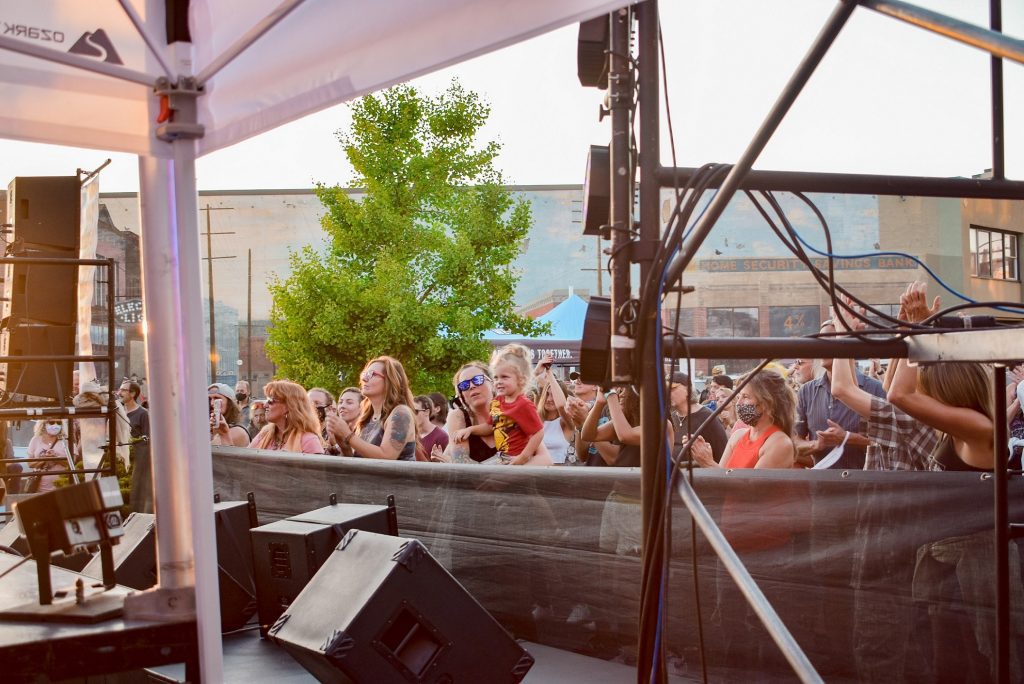 Those changes continue with this year's event kicking off a week earlier than usual. "For several years it's been that second Wednesday in July, but we're more concerned about smoke in August than a little light rain in July," says Payne-Johnstone. "I think our community will brave some raindrops, as we've seen before, but if it's smoky, it affects people's health."
Another change will affect the crowds that like to gather in the beer garden. "The bottleneck has been growing between the Bayou patio and the stage, so this is the year to shift the layout a little bit," Payne-Johnstone says. "We're going to guide people to the Champion Street end of Bay Street to get their 21+ wristbands at the main entrance."
At the main entrance, attendees can also look for the Downtown Bellingham Partnership's INSIDERS table. Special perks including a dedicated, shorter entry line and VIP lounge within the beer garden for Downtown Bellingham INSIDERS. The loyalty program also offers members discounts at over 20 downtown retailers and restaurants all year long in addition to exclusive perks at Downtown Sounds and DBP's other signature events. Locals and visitors alike are encouraged to become new INSIDERS, starting at a donation level of $10 per month to skip the line and receive a complimentary drink, and $25+ monthly donors are also welcomed to the VIP lounge. Program information and registration can be found here.
The beer garden will once again be sponsored by Boundary Bay Brewing, as it has been since the very beginning. It will also feature offerings from Aslan, Wander, Kulshan, Menace, and Stemma this year. "Bellingham Cider Company is helping us out a ton this year," says Payne-Johnstone. "We're going to have their cider on tap, and their hard seltzer, which is new."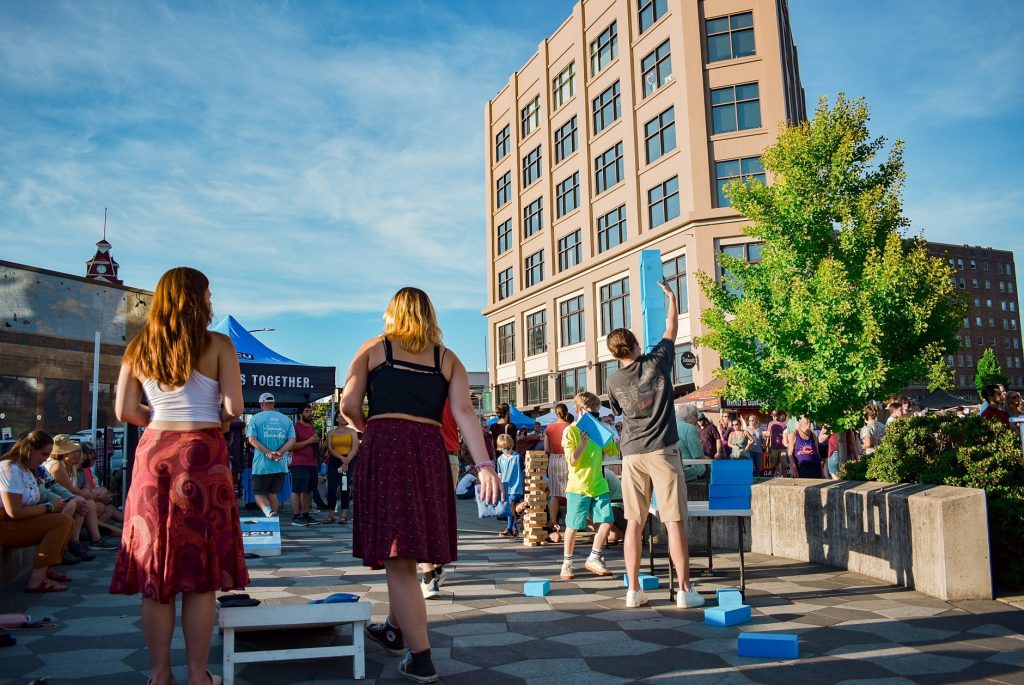 Plenty of other attractions ensure that Downtown Sounds is attractive to the whole family. "This is WECU's fourth year as our premier sponsor, and they'll be on site with their Game Zone, which is always super popular," Payne-Johnstone says. "They have cornhole and giant Jenga, and pass out free offerings like popsicles or sunglasses." Street chalk — always a big hit with the kiddos — will also return.
And, of course, there's the music.
Every week, opening bands play from 6 p.m. to 7 p.m. and headliners play from 7:30 p.m. to 9 p.m. It all kicks off on July 6th with Nightwave, a new-wave '80s band that played last year and promises to turn the street into one big dance party. Long-time attendees will recognize Sam Lax performing with the opener, multi-instrumentalist Brian Hamilton's project, döp.
On July 13th, The Cumbieros will bring their cumbia fusion, South American Ska, and rock, complete with horn section. Locals the Bilongo Quintet will open for them. July 20th brings Outer Orbit, a funk and soul collective from Portland, who will also bring some special guests. A smaller, five-piece version of the local Yogoman Burning Band is up first.
July 27th will deliver the LowDown Brass Band, and dance-able representation of Chicago's music culture that blends conscious hip hop, jazz, reggae, and soul. The Mostafa Live Band, who played the virtual Downtown Sounds in 2020, will warm up the crowd.
"Then we end on August 3rd with Miles Harris and the Deep cuts," says Payne-Johnstone. "Miles and his band play a range of styles of music, including covers, originals, funk, R&B, and improvisation. The Diego Rivera Band is opening for them, and they're a younger funk band that's super high energy and really fun to watch."
The success of Downtown Sounds relies on a network of community support and Payne-Johnstone is quick to point out the help they receive from Bayou on Bay. "They feed our headlining bands every year and bands who travel to Bellingham always compliment the restaurant, the staff, and the food," she says. "Our traveling artists stay at Hotel Leo, and it's really great to be offer that hospitality and encourage them to experience downtown."
The Spark Museum has been a partner since the event's fifth year. "They support us in so many ways, from being our green room to providing power," says Payne-Johnstone. "Eddie Hernandez and his crew at Groove Merchant Northwest are the production team. Eddie's been with us since year one, and he's been a key partner in growing the event."
Support also comes in the form of individuals who want to join in and become an even bigger part of the party. "Last year, the amount of people who answered our call for volunteers was so amazing. They were so ready to get out and be a part of something," says Payne-Johnstone. "We do need a few more volunteers [this year], and if folks want to get involved, they can email us or go on our website. People love showing up to this event and helping out — it's pretty cool."
Sponsored