Micah Evangelista, who turns 25 on March 7, was born and raised in the small town of Glacier, nestled at the foot of Mount Baker in the heart of the North Cascades. He and his family members—mom, Julianne; dad, James; and brother, Mattias—are all enthusiastic skiers.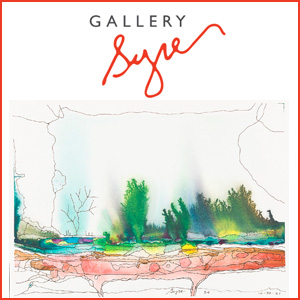 "My folks met in Jackson Hole, Wyoming," Micah says, "where they began to fall in love—not only with each other but also with the mountains. Eventually they made their way to Glacier, where they discovered the mysterious Mount Baker."
Micah's father volunteered on the ski patrol, so naturally Micah and his brother were taken to the mountains as soon as they were old enough.
"Learning to ski wasn't a conscious decision for me," Micah says. "It was a natural part of my upbringing. I now consider myself lucky because I don't have any recollection of the multitude of crashes and crying fits that I had as a baby, face down in the snow. They had me strapped into my dad's backpack only weeks after birth."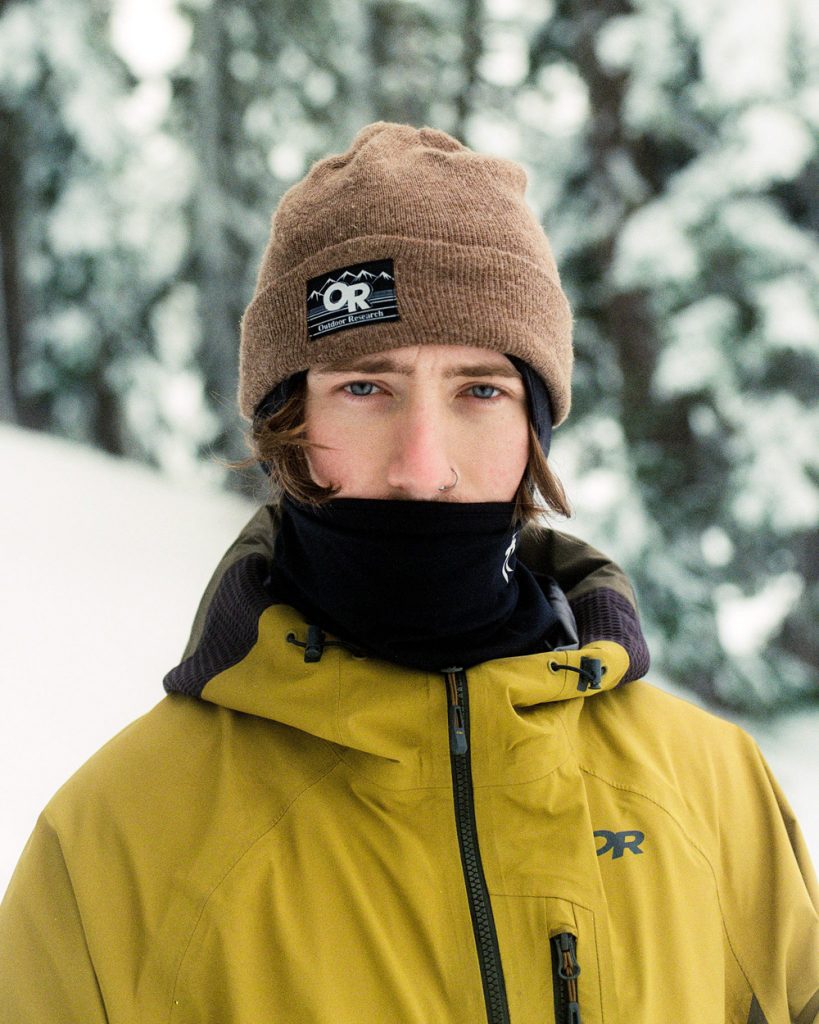 His mom, Julianne, says that Micah was skiing on the leash with his dad at age 2, and by 3 and 4 he had a strong snowplow stance and could rip down blue and black runs. Micah and his brother Mattias began to progress as skiers, and around 10 and 13 years old, respectively, started filming each other with their parents' handycam.
"We would ask our dad to tag along to the little jump we built, where he'd help document our first attempts at trying backflips, 360s, and other tricks."
Micah continued to develop a love for making videos and the process that went into it. "When I look back at some of the first videos we made I can't help but cringe," he admits. "But those experiences are what shaped who I am today."
Studying visual journalism at Western Washington University taught Micah valuable skills in storytelling and video editing.
The seed for his recent film project, "Bourn," was planted in a class at WWU, in which students were tasked to create a multimedia project about home and what it meant.
"This project allowed me to scratch the surface and start thinking about how much the town of Glacier and Mount Baker have shaped who I am today," Micah says.
In the fall of 2019, he reached out to longtime friend Doug Jambor—who had begun a career as a filmmaker—to see if he'd be interested in being involved on this film project.
"Doug hadn't been skiing a ton the previous few years, so he was immediately stoked to get on board and get out into the mountains with me," says Micah. "The idea was that he would film me skiing exclusively at Baker for the season and together we would make a short video out of our explorations."
These kinds of videos, often known as "season edits," are usually a collection of ski footage from a skier's winter, a sort of highlight reel.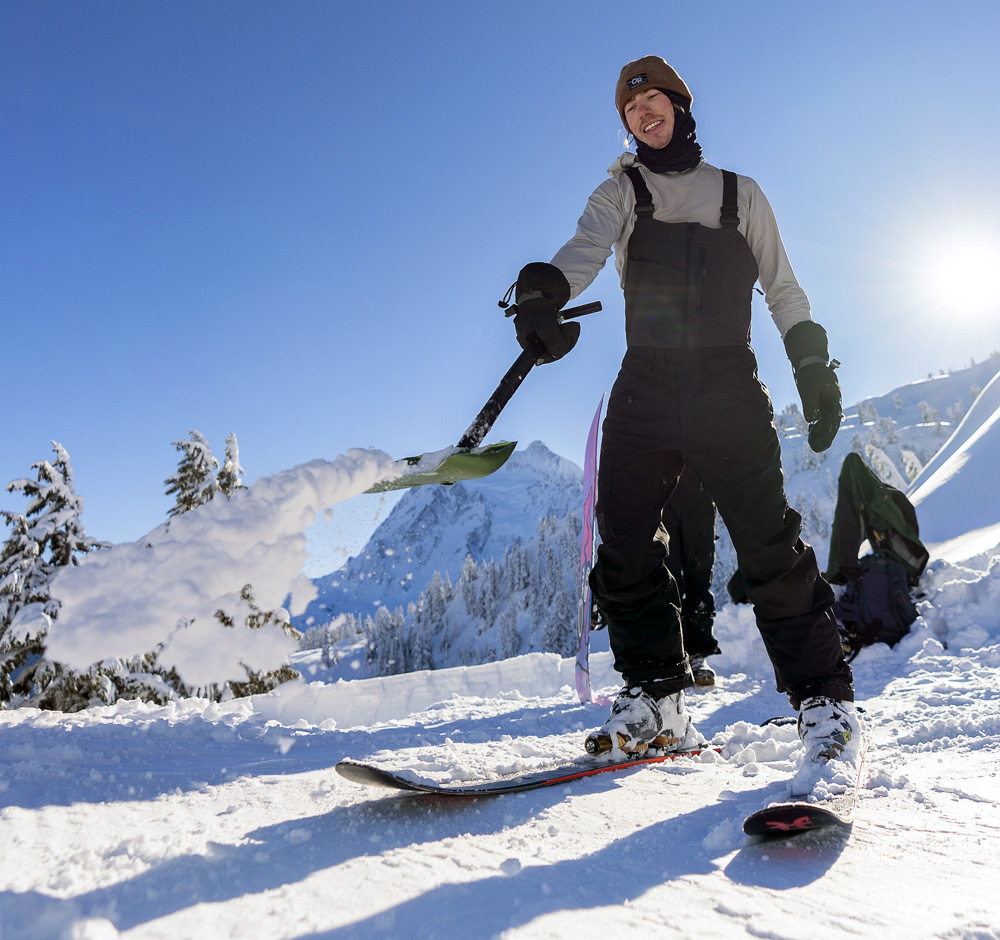 "I knew I wanted it to be slightly more filmic than just ski action, though," he says. "I hoped to subtly tell the story of what my home meant to me beyond just a few minutes of ski action. I wanted the video to be sentimental but also have really strong skiing in it."
The beginning of the pandemic cut the 2020 ski season and they felt they didn't have enough footage to feel really proud of the project, so they decided to turn it into a two-year film. Micah knew that with the extra time they could add more story and really bring the project to life.
"This last winter we hit it hard and got a lot of ski footage that I'm really proud of," he says.
The resulting film, named for the street where Micah grew up, "feels like the culmination of so many learning experiences piled into one 14-minute video. When I watch it, I can't help but feel all of the time and energy I've put into growing as a skier, brother, student, filmmaker, and son."
Micah did almost all of the skiing shown in the film, along with a few guest appearances from friends, so he was spending more time in front of the lens than behind it. The main filming credit goes to Doug, though they also had help from other cinematographers, such as Mattias.
Micah was skier, director, producer, and also did all of the video editing.
"I'm pretty comfortable on the video editing side of things after my time in the visual journalism major at WWU," he says, "so I spent much of my summer working on this project."
And while sorting through two years of footage was exhausting and mentally taxing, Micah is happy with the end result. "Our budget was literally zero for this project; we didn't make a dollar off of it," he says. "Doug and everyone else who helped me did it for free and solely out of passion—and that's something I think is really special."
Micah also says that he owes everything he's accomplished to the support he's received from his family—and he hopes that sentiment is felt by viewers.
"I asked my mother, Julianne, if she would help me tell that story, and together we discussed a lot of the moments and mindsets that have shaped who I am today," Micah says.
Julianne says she was touched that Micah wanted to collect old family videos and incorporate them into "Bourn."
"We had lots of laughs and bloopers and fun recording my section of the movie," she says. "[I] was impressed and proud when he took all my mistakes and made it look so nice in the end."
"I think it's easy to let our passion slip through our fingers as we get older and the reality of life and its natural stressors start weighing on our shoulders," says Micah. "At the end of the day, I decided that since I have only this one life to live, I'm not going to look back and wonder what could have happened had I pursued my love for skiing. Whether I make money or not, I'm going to keep pursuing these things because it's truly what I love to do."
Micah's advice? "Don't be scared about the possibility of failure. Whatever your 'thing' is—the thing that excites you the most—give it your best shot and just go all in. Something good will come of it."
Featured photo by Joe Kunesh