Back in the 1990s when the Asia-Pacific Trade Conference was held in Seattle, comedian John Keister quipped, "The Thai Prime Minister was impressed that there were more Thai restaurants in Seattle than in his own country." The Thai food craze took the U.S. by storm in the late '80s and early '90s, and at least in the Pacific Northwest, Thai and "Pan-Asian" restaurants now outnumber Chinese restaurants.
It seems that everybody loves Thai food, but how much do we know about the people who serve it to us? I've been going to the Thai House weekly for 16 years, and the owner and servers feel like family to me. Indeed, when one of the servers had her daughter's wedding reception there and the restaurant was closed for the party, the door opened as I walked away and I was pulled inside by my sleeve—"Don't be silly, you're family, get in here!" said owner Nimnual Boe.
Jenny, a server, once brought me back an adorable pair of plaid pants after traveling home to Thailand for a visit. We now exchange small treats every time I go in for takeout.
Still, how much did I know about these folks? How much do any of us know about the lives of our gracious Thai hosts? I decided to interview Nimnual (NIM-new-all) to learn how a woman born in Thailand grew up to be the owner of the Thai House in Bellingham.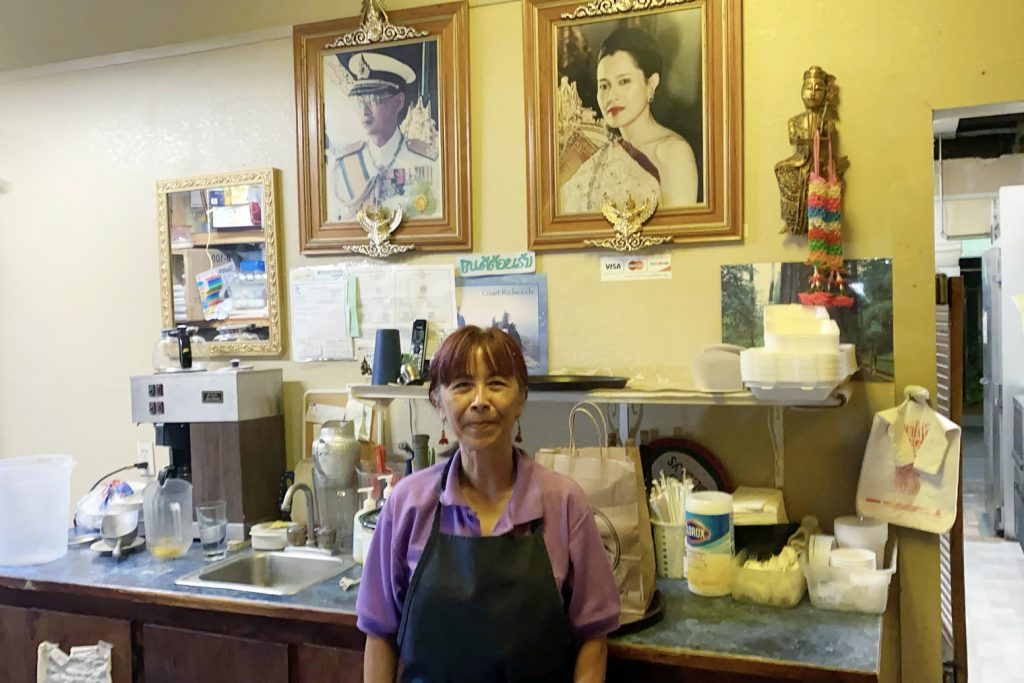 Nimnual was the 10th of 12 children. Opportunities were limited in rural Thailand, and one of Nimnual's sisters, Amorwan, emigrated to Seattle in the 1980s. Amorwan opened the Thai House in Mount Vernon, taking advantage of lower rents and less market saturation, and then opened a Thai House in Bellingham in 1990, in the space currently occupied by Taste of India (across Telegraph Avenue from its current location).
Nimnual visited her sister in the U.S. in 1990 and was inspired by her success. She moved here with her two children in 1994. She wanted to be a bookkeeper, but while she learned English and got acclimated to her new country, Nimnual worked part-time for her sister as a server in both the Mt. Vernon and Bellingham locations, and part-time in the Haggen Chinese Express kitchen. By the time she was ready to attend Bellingham Technical College, she decided she enjoyed cooking more than bookkeeping and began studying for her Culinary Arts degree.
While working at the Thai House, Nimnual had a flirty customer named Dale who kept asking her out. Nimnual was not interested. Finally, Dale asked if she'd go out with him if he washed dishes in the restaurant for a day. Thinking he wasn't serious, she said yes. The next day, when she showed up for work in the Mt. Vernon location, she found Dale in the kitchen, wearing an apron and washing dishes. She held up her end of the deal, and they were married a few months later.
"I never want to get on her bad side," Dale says with a devilish spark in his blue eyes. "She has so many friends, and they'd all stick up for her and run me out of town."
Amorwan decided she was ready to move on in 2002 and sold the Mt. Vernon restaurant. Nimnual bought the Bellingham location from her. Nimnual opened a food stall in the Bellingham Farmers Market as well, in the well-founded hope that people would come to the restaurant after sampling their food there. Like her sister, she has a mind for marketing, and she often has food stalls at local festivals. One year when she did the Bluegrass Festival, a large group of musicians came to eat at the restaurant and staged an impromptu live music event.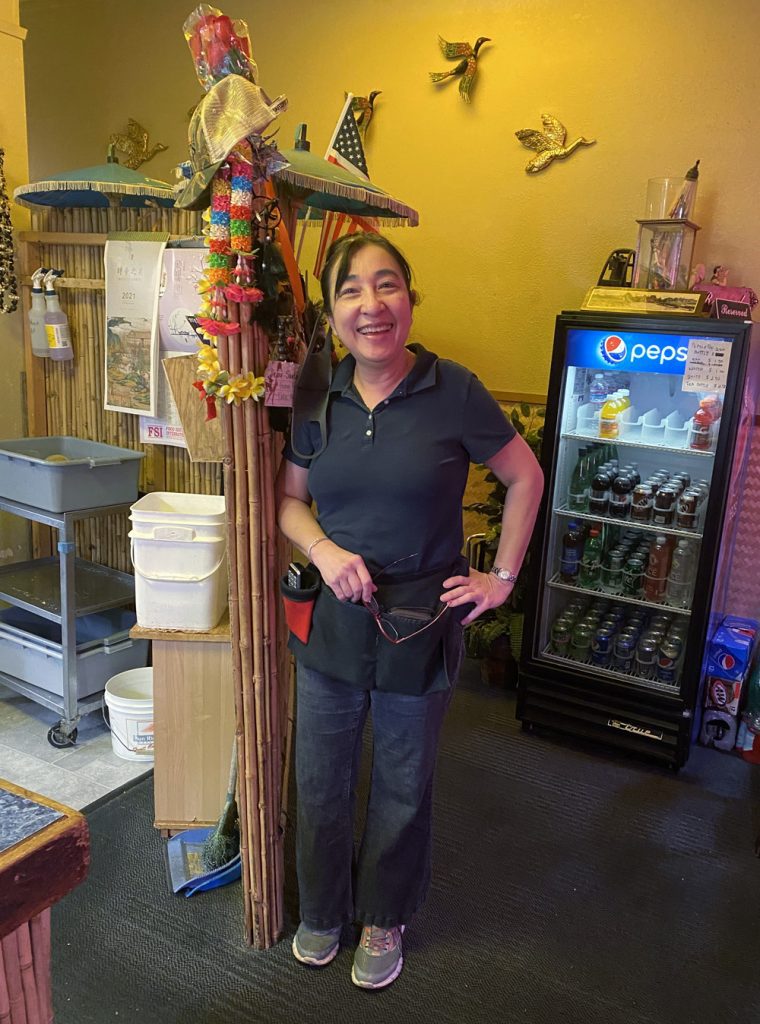 Amorwan has made a career of opening Thai restaurants in Idaho and California, then when their success becomes stable, she sells them and moves on. Nimnual has found a home with her Thai House and loves to use it to foster community. The restaurant has provided starting jobs for family members and other Thai immigrants while they learn the language and get settled.
Jenny, the server I've known the longest, told me about her immigration experience. Jenny grew up in a poverty that few U.S. citizens can imagine. There were no job opportunities in her village, and she remembers coming home from school to spend the evening making cardboard boxes. They bought cardboard in rolls and cut out the boxes with box knives, gluing the flaps and drying them in the sun. This is what her family did together, every minute that wasn't occupied with school or cooking and cleaning.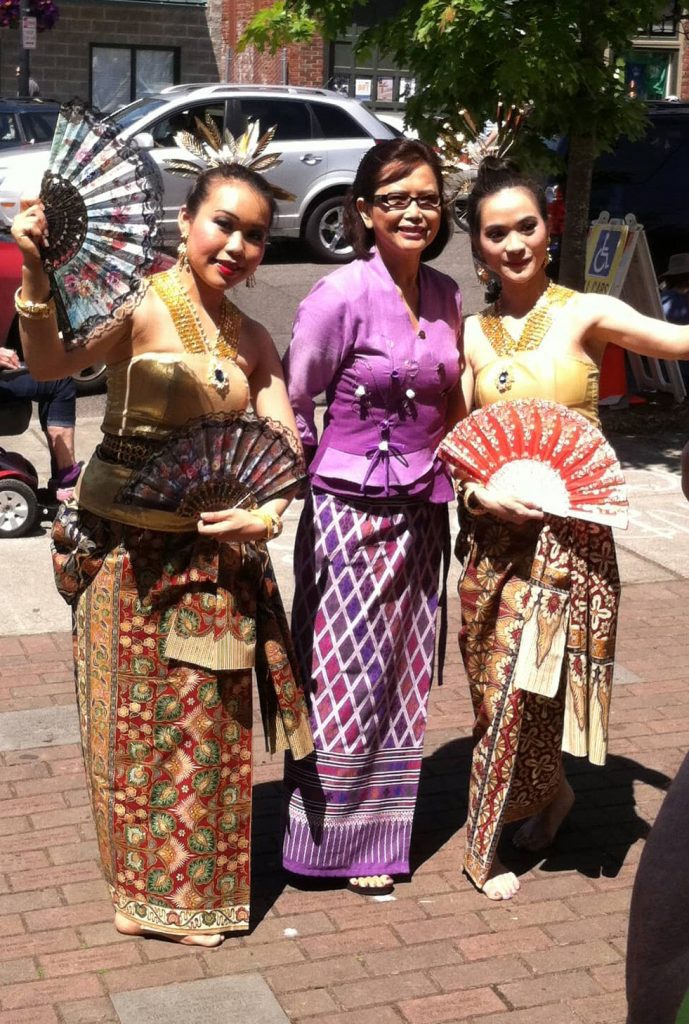 Jenny grew up to sell clothing in an open market, and later got a job with an international cosmetics company. She had two children, and then started working for an insurance company. "I was surprised to have extra money," she says. "I had never had money left over before."
She visited her aunt in the U.S. and later decided to move here. "I could not believe I had a choice," she says, her eyes wide. Jenny works long hours at the Thai House, but she enjoys it, and is grateful for the opportunity to earn money. After 16 years, she's still working to learn the language. She converses easily but says, "When a customer uses a word I don't understand, I look it up or I ask. I want to learn all the English."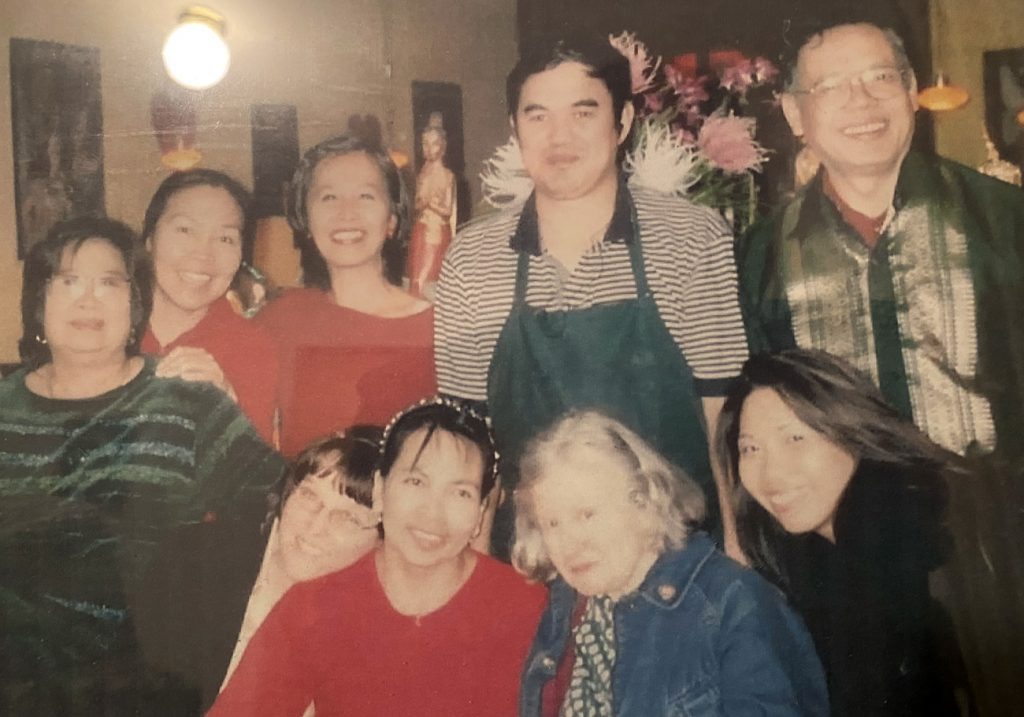 For the restaurant's 25th anniversary in 2015, Nimnual had a huge festival that included Thai musicians and dancers at the farmers market and in the restaurant. She has hosted members of the Thai Consulate in her home. At the Lunar New Year, she hosts a meditation session for monks who visit from monasteries in Olympia and Woodinville.
As much as she loves being part of the Thai-American community, Nimnual thinks it's important to be part of the whole local community, as well. She loves gardening and participates in gardening groups. She grows lots of fruit and slips plums and apples from her garden into the take-out bags of her regular customers. She returns to Thailand to visit family every year, but she also wants to see other parts of the world, and travels when she can. She took a European tour with her daughter a few years ago.
There's a story behind every Thai meal served in the U.S. Learning those stories after all these years of taking their hospitality for granted has enriched my connection with my favorite restaurant and given me a new appreciation for the immigrant experience.