Submitted by Pumped Bellingham
Pumped Bellingham, which opened for business six weeks ago, is settling in just fine. Pumped Bellingham is a mobile refillery offering everyday essentials for home and self-care. Their mission is to offer simple swaps for healthier future, for you and the planet.
You can currently find them every week downtown on the corner of Holly and Cornwall, Wednesdays from 3-6pm; Barkley Market, Thursdays 11-3pm; Carne on Saturdays from 11-2pm; and Goods Local Brews on Sunday from 1-4pm. They also offer home delivery and typically deliver within 24 hours.
Pumped has plans to be at other markets, as well, including the sunflower festival at Home Farm in Blaine on August 28th, and the Red Barn Market in Lynden on November 19-20th. They are available for block parties, office events, and can create custom gift baskets.
Pumped sources from predominately closed-loop companies (packaging is return to manufacturer to be sanitized and used again, eliminating plastic waste). The goal is to offer these products at an affordable price in a way that is convenient to all. Most products are vegan. Companies include Barn Cat Creations from Mt. Vernon, Left Eye Textiles from Bellingham, Puretergent, No Tox Life and City Made Green, among others.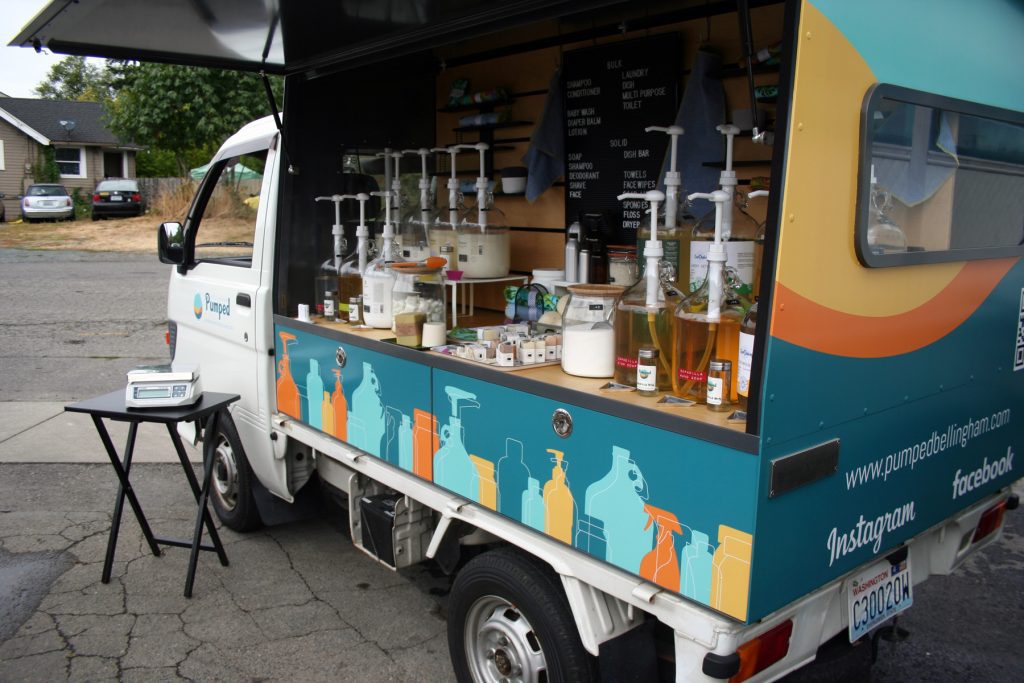 Bring your own clean, dry container, buy one, or take one on deposit. Purchase only what you need, and then bring the bottle back to do it all over again! In addition to soaps, detergents, and cleaners, Pumped also offers other zero-waste items such as refillable floss, sunscreen, reusable paper towels, and toothpaste tabs.
Check them out on Facebook at Pumped Bellingham, on Instagram at Pumped Bellingham, or order online at www.pumpedbellingham.com.
Pumped Bellingham: Making zero-waste cool, one ounce at a time.