Gillian Spilker, a multiple-sport athlete at Bellingham High School, was one of eight incoming juniors from around the state selected to join the Washington Interscholastic Activities Association's LEAP Committee.
LEAP, which stands for Leadership through Education, Activities, and Personal Development, is a student leadership group organized by the WIAA. The committee is made up of student leaders from WIAA member schools throughout the state. Student representatives are involved with WIAA events, meetings and community projects, and have the unique opportunity to be the voice of Washington's nearly 225,000 student-participants.
"Next year in LEAP, I'm most excited to meet the other students from different locations all around the state," says Spilker. "It's an awesome opportunity to compare the experiences of others my age, and make friends with people who live far away but who also value high school activities as a part of lifelong learning experience."
Spilker joins fellow Class of 2023 LEAP Committee members Zeke Akinbade (Prosser), Ayva Broadbent (Lewis and Clark), Avery Brumley (Sultan), Amelia Chiu (Newport of Bellevue), Drew Fialho (Lake Washington), Ciara Mennitto Spanway Lake) and Grace Nelson (Odessa), and becomes the second LEAP Committee member from Bellingham High School and just the fourth from Whatcom County, joining former members Jessica Wallace (Squalicum High School, Class of 2011), Bailey Vallee (Bellingham, Class of 2013) and Roman Schroyer (Sehome, Class of 2021).
Now in its 14th year, the 16-member LEAP Committee is comprised of eight juniors and eight seniors. Spilker and the other junior members will serve a two-year term. The newly selected members will join seniors AuLani Benitez (Grandview), Cole Clark (Freeman), Megan Leitz (Wahkiakum), Maggie Ogden (Clarkston), Aidan Perales (Burlington-Edison), Israel Reyna (Mount Vernon), Austin Seals (Meadowdale) and Michelle Soto Meza (Highland), who all recently completed their first term during the 2020-21 school year.
All applicants completed an extensive application process which included an online application, letters of recommendation, two short essays, and a video personal statement about why they should be selected.
"I really enjoyed the process of applying for the WIAA LEAP committee because it was mainly a video application," Gilker says. "The committee members wanted to see what makes each applicants' community unique. It was fun to make a video not just about me, but about Bellingham as a community and what makes it so amazing."
The Committee will meet five times throughout the school year to discuss and provide feedback on WIAA-related topics and initiatives. The group will also have the opportunity to be involved with WIAA State Championship events, and participate in WIAA Executive Board meetings.
In the summer prior to the start of their senior year, Committee members will participate in a summer retreat that combines team-building exercises, while also evaluating the previous year and setting goals for the upcoming year.
Spilker is a three-sport athlete for the Red Raiders, competing in cross country, gymnastics and track and field.
"I'm so grateful for all the opportunities provided by the [WIAA]," she says. "From football to bowling, the WIAA has lots of sports that encourage lifelong fitness for kids that may not normally be an option due to finances, or because they didn't develop the skills early enough in childhood to make the team.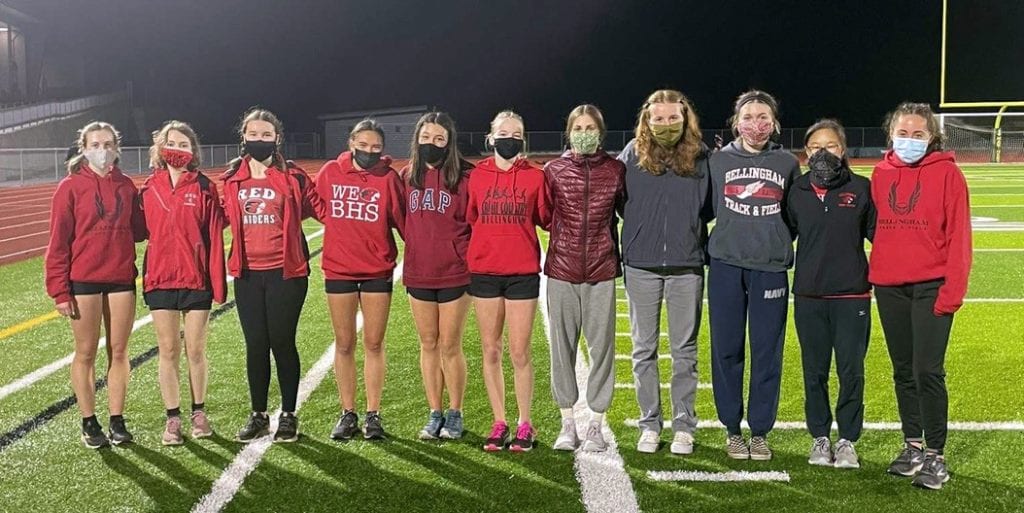 "A personal example of this is when I joined gymnastics [my] freshman year," says Spilker. [Gymnastics] is a highly competitive sport that usually requires an early childhood start. However, with less experience I was able to jump into the sport and gain ability and confidence within the sport. This is one of the reasons I appreciate the WIAA, and wanted to apply for the LEAP committee to learn about others' experiences around the state, and give back the amazing things I've learned from high school sports."
Spilker capped her sophomore season of cross country being named the Red Raiders girls' team most improved runner. She followed cross country by running in the 800, 1600 and 3200 in track and field with her personal record time of 11 minutes, 34.45 seconds tops in the Northwest League and seventh best in the 2A classification in 2021.
"These are all awesome programs at BHS that, besides the sport itself, embody the Bellingham Promise. Being part of a team is an experience everyone should have, because it helps develop skills you'll use for the rest of your life—communication, working collaboratively towards a common goal, and leadership," Spilker says. "This coming year, for sports, I'm most looking forward to being an upperclassman, and taking a leadership role on my teams. I'm especially excited to meet the incoming freshmen and work to make a super inclusive and fun environment."