Submitted by Washington State Charter Schools Association
A Lhaq'temish (Lummi Nation) tribal member, Kwastlmut (Sadie Olsen), who helped launch a new public charter school in Bellingham, Washington, has been named one of the 30 Under 30 Changemakers by the National Alliance for Public Charter Schools (National Alliance).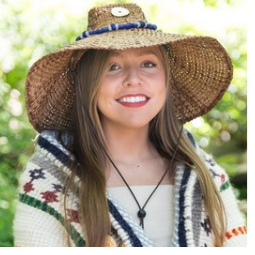 Kwastlmut (Sadie Olsen) is co-founder of Whiteswan Environmental (WE), a Native-led area nonprofit, and was instrumental in the startup of Whatcom Intergenerational High School, the area's first charter public school. Kwastlmut served as a founding board member of Whatcom Intergenerational High School, which is currently enrolling ninth and tenth grade students for its inaugural 2021-22 school year.
Kwastlmut advocates for Indigenous rights, through the restoration of houses of healing and longhouses for Indigenous peoples in their ancestral homelands. She emphasizes that traditional knowledge be included in curriculum, policies, and practices. She also serves as the Secretary of the Tribal Youth Delegates at the Northwest Portland Area Indian Health Board. Sadie co-facilitates diverse groups of students and adults for Western Washington University Center for Community Learning Community Engagement Fellows. To all of her endeavors, Kwastlmut, a 2020 Ferndale High School graduate brings a deep passion for understanding and solving community problems in organizational settings, locally and globally.
"We're so proud of Kwastlmut and the impact she's having in her community by advocating and being a voice for Indigenous peoples," said Cindy Reuther, Chief Executive Officer at Whatcom Intergenerational High School. "She has been extremely instrumental in helping us build a school that will best meet the unique needs of Whatcom County students looking for a nontraditional public high school experience."
Whatcom Intergenerational High School is an innovative, progressive public school option designed to bring together diverse students with elders and other members of the surrounding community. The school offers a culture of inclusivity that prepares every young person for college, career, and life and to be ready to contribute to a more just and sustainable world. Like all charter schools in Washington, Whatcom Intergenerational High School is a free, public, nonprofit, and open to all.
"Kwastlmut's leadership has helped ensure that teens in Whatcom County have an education option that supports and centers their needs, and increases equitable and multigenerational engagement in the community," said WA Charters President Patrick D'Amelio. "We are thrilled that Kwastlmut is receiving recognition for her many contributions and ongoing work to improve her local community and our broader world."
"The students, teachers, and advocates that make up our 30 Under 30 Changemakers reflect 30 years of the tremendous success of student-centered charter schools," said Nina Rees, president and CEO of the National Alliance for Public Charter Schools. "I am grateful for our Changemakers and the thousands of teachers, leaders, and families across the nation who work tirelessly to support their communities and improve education opportunities for all students."
Click here to learn more about the 30 Under 30 Changemakers. On May 13 at 1 p.m. PST you can watch the National Alliance's Virtual Awards Ceremony featuring interviews with several awardees. Watch the ceremony here.