Experience International is a local non-profit, celebrating its 33rd year, that focuses on cultural and technical exchanges related to the agricultural and natural resource sectors around the world. Offering skills and expertise in group travel "with a purpose," Experience International strives to further passion for and commitment to experiential learning.
In January of 2020, the group had more than 15 study tour groups confirmed with the mission of engaging in cultural exchange and service learning. Then COVID changed the world.
With much reflection and soul searching, Experience International founder Charlie Walkinshaw and his team asked themselves how they could continue to do their work in a socially responsible and now socially distanced manner. "And with this," he says, "Bike Northwest was born."
"All our small group bike trips are oriented around one or more of the resources that make the Northwest so unique," he continues. "The trips are in collaboration and partnership with neighbors, businesses, and local organizations that seek to protect and conserve farmland, estuaries, and businesses that depend on clean water. Bikers will see, hear, touch, feel, and listen on every trip, as well as visits with the people in these organizations."
Connor Harron is the Bike Northwest director at Experience International.
"After nearly an entire year of being separated from one another," Harron says, "I want people to know that Bike Northwest is here to help get us safely back together again by using bicycles and the outdoors to explore the earth and sea, food systems, ecology, cultures, people, and organizations that make this bioregion such a special place to call home."
There is a cost to join tours but, Harron says, "Bike Northwest excursions are so much more than a bicycle ride or normal tour. Each of our trips have been specially crafted in partnership with leading organizations in our community to combine world-class adventures and gourmet local food with visits that highlight collaborative partnerships, innovative approaches to agriculture, cultural preservation, and environmental protection."
Bike Northwest offers experiences ranging from one-day to week-long all-inclusive adventures and specializes in developing customized adventures for private groups and teams.
The excursions are designed for a wide range of riders with varying levels of experience. Most of the trips require minimal previous biking experience, and most are family-friendly, although those younger than 18 must be accompanied by an adult.
Some trips, such as Barley to Brewery, are designed around age-restricted themes (e.g., beer tasting!) and are restricted to those 21 and older.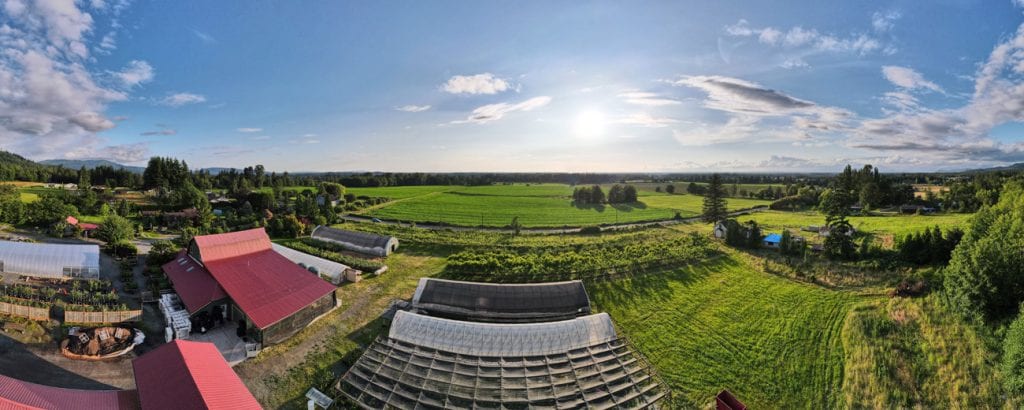 Many clients prefer to ride their own bikes, so bicycle rentals are not included in the cost of most trips. If customers do not have a bike or would like to try an electric pedal assist bicycle, Bike Northwest partners with local bike shops and can arrange a rental for the trips. If someone is unsure which option is best for them, reach out to Bike Northwest at either BikeNW@expint.org or call 360-966-4059 to speak with one of the experienced guides.
Bike Northwest was designed directly in response to this challenging time of social distancing and travel restrictions. The organization is tracking Washington state guidance and regulations for outdoor recreational activities. All group activities will take place outdoors while maintaining social distance between parties. Mask wearing will be enforced when not eating or socially distanced from others. For meals, organizers are working exclusively with licensed food providers to ensure all proper precautions are taken to ensure the health and wellbeing of participants.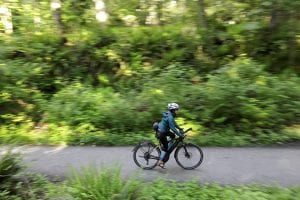 Katie Pencke and Matthew McDermott—owners of Alluvial Farms, one of the host farms and dinner spots—hope that by bringing folks to the farm to meet them and learn about their pork, hemp, and grape enterprises and how to purchase directly from farmers, they can increase cultural exchange conversations between farm product consumers and farm producers. The goal is to form a more sustainable and regenerative food system.
Amanda McKay is the philanthropy project manager for Whatcom Land Trust,  which offers "Estuaries to Oysters: A Conservation Ride with Whatcom Land Trust."

"We're very excited about this opportunity for our community to interact with Whatcom Land Trust in a new and fun way all while enjoying the beautiful nature Whatcom County has to offer," she says. "We hope to educate and inspire those who attend this tour about the importance of protecting the lands we love for future generations."
Katherine Garrah is a biologist with Drayton Harbor Oyster Company in Blaine, the other organization for the "Estuaries to Oysters Conservation Ride" with Whatcom Land Trust.
"Drayton Harbor Oyster Company will be providing some of our signature fresher than fresh oysters, harvested minutes from the picnic area, at the end of the ride—not a bad way to replenish the minerals after a good day of cycling," she says.
The tours are not limited to Whatcom County. Blake Vanfield, Director of Genuine Skagit Valley, says that through their relationship with the Port of Skagit, they became familiar with Experience International.
"As a program established through the Innovation Partnership Zone," Vanfield says, "fostering partnerships that support impactful, educational and memorable agritourism experiences furthers the relevance and value of farms and farm products. It's our pleasure to support the outreach and tours of Bike Northwest in 2021 in the beautiful Skagit Valley."
It's also important to Experience Northwest to sustain local businesses and organizations in these tough economic times.
"We hope these tours give locals and visitors alike an inside view of our agriculture, ecology and Northwest culture," Walkinshaw says, "but, of equal importance, help these neighbors, businesses, and organizations gain higher visibility—and that these bike trips help them promote what they are doing."
As Katherine Garrah, the biologist with Drayton Harbor Oyster Company says, "Bike Northwest and Experience International's approach to learning, teaching, building relationships, and building community combines cycling with storytelling, highlighting relevancies to the watershed and the people that live here."
"They make important connections interesting and enjoyable, and highlight ways everyone can help take care of the natural capital we value in this area so much."
Visit Experience International Northwest or call 360-966-3876 for more information.