It can be easy to take the marvels of Whatcom County for granted. People travel from all over the world to explore our outdoor wonders, yet often as residents we never get around to exploring our most incredible spots.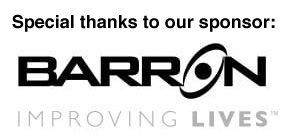 This was the case for me when it came to the North Cascade National Park in winter. I knew that at some point on Highway 20 there's a gate, and past that point the road isn't clear until spring, so I have to take the long trip around on Highway 2 to get to Winthrop. With no access through, it never dawned on me that the route I frequent in the summer would have anything to offer in the winter. That changed when my wife, Lindsey, saw pictures on Facebook of friends snowshoeing on Highway 20 itself.
Lindsey and I decided to plan a day trip to check out the park and do some snowshoeing. We borrowed snowshoes from my parents and, on a sunny winter morning, loaded up the truck with gear and lunch and headed out. Prior to leaving, we checked the avalanche risk level on the Northwest Avalanche Center website.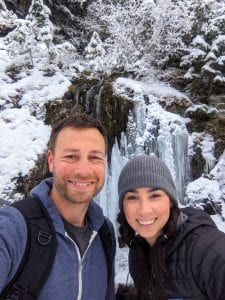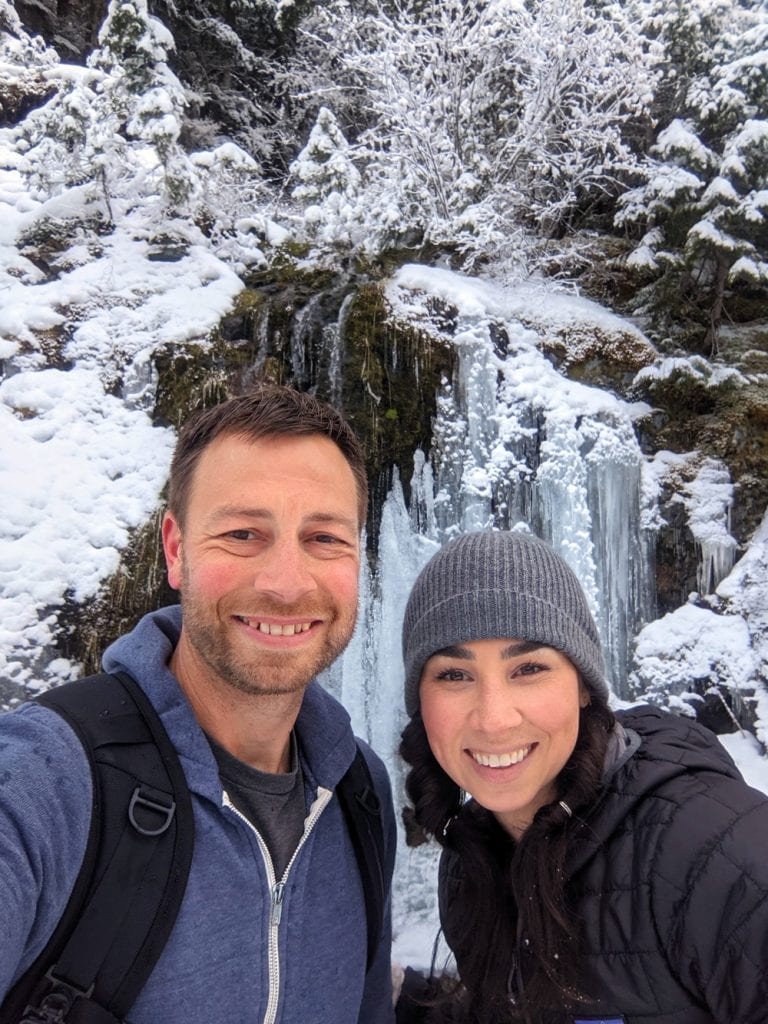 I'd heard the spot where we were headed was popular for outdoor recreation and often filled with snowshoers, cross-country skiers, and snowmobilers. As we made our way up the North Cascades Highway, we expected to have lots of company when we reached the gate.
The North Cascade Highway begins in Sedro-Woolley—yes, you leave and then re-enter Whatcom County—and is a beautiful winding road that takes you along the Skagit River and through the small towns of Concrete, Marblemount, and Newhalem. The route offers beautiful spots along the way to take in a view or discover a new hike.
We chose to pull off at Gorge Creek, which in the summer is usually packed with people taking in the sights. On this winter day, we had the frosty place all to ourselves. We walked the short Gorge Overlook Trail, which gives you a bird's-eye view of Gorge Lake and the Skagit River separated by the Gorge Dam. This stop also offers a view of Gorge Falls, an Instagram favorite, from a walking bridge that runs along the road.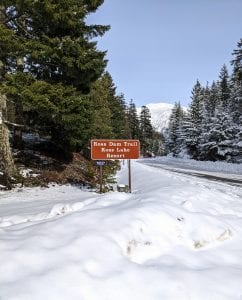 Back in the truck, we continued toward our destination. As we passed Diablo Lake, the road became steeper and quickly covered in compact snow and ice. Winding our way up the mountain, we took in the cascading waterfalls, melting icicles, vast views of mountain peaks above, and lakes below.
We reached the gate and were surprised to see only a few other cars in the parking lot for the Ross Dam Trail, the last pullout that's just a couple hundred feet from the gate. We pulled into the sunny parking lot, excited to begin our snowshoeing adventure.
Strapped into our snowshoes and ready to go, Lindsey took off and I quickly followed when, three steps in, I noticed something missing. My right snowshoe had been left behind, the rear strap having snapped. I investigated the situation and found that the straps on my dad's old snowshoes were so brittle they crumbled in my hands as I tried to adjust them to make them work. It became clear very quickly that my efforts were not productive, so I left the snowshoes behind. With Lindsey breaking trail for me, I followed in her footsteps up Highway 20, determined to not let an equipment malfunction ruin the day.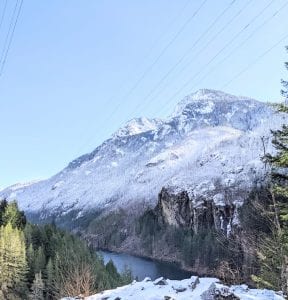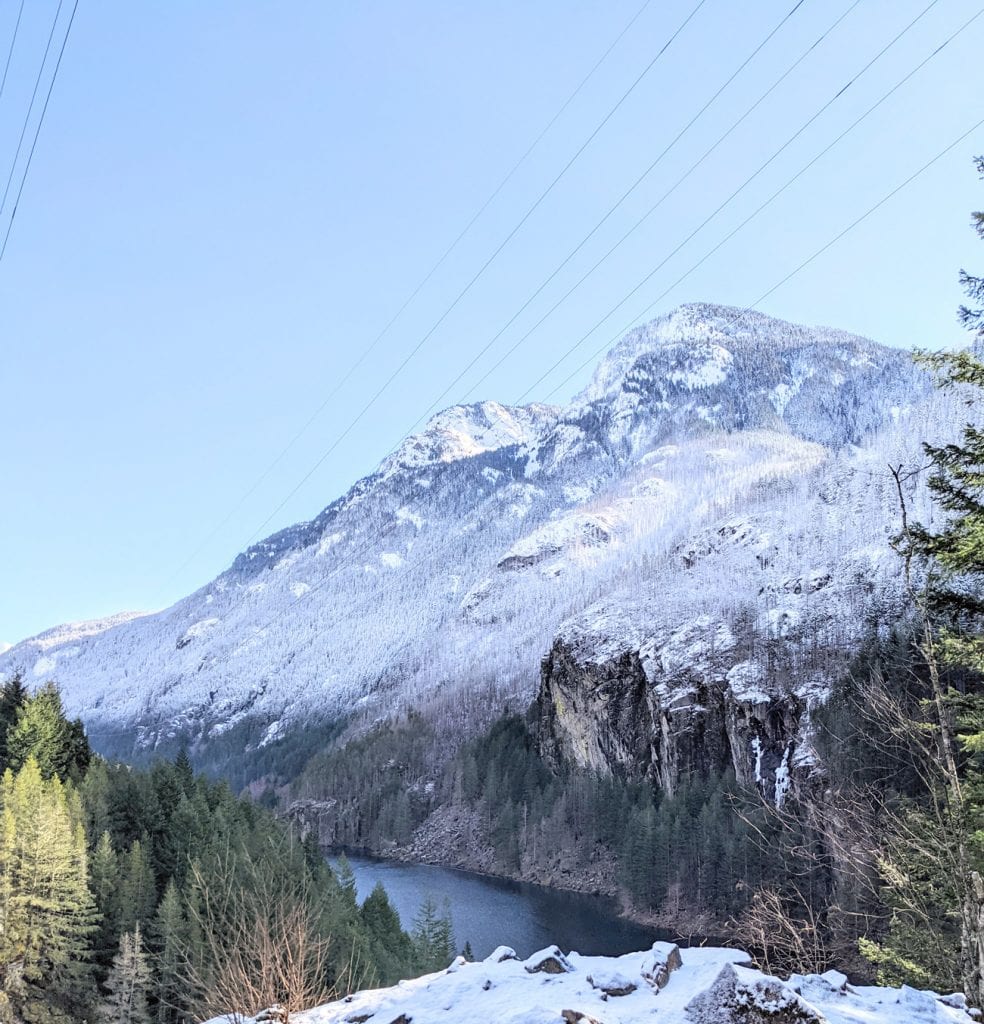 We had the road all to ourselves. Other than a few footprints at the start, the snow was untouched aside from the cross-country ski track, which we were careful to leave undisturbed. The first long, steep incline offers incredible wide-open views of Ross Lake below and Desolation Peak far off in the distance. In the past, I had raced by these points while headed to my destination in Eastern Washington, never truly enjoying what this national park in my backyard had to offer.
Crunching through the snow, we made our way a couple miles up the road, stopping frequently to snap pictures of the views and listen to the music provided by melting snow and ice coming off the mountain. Even with Lindsey clearing the way, step after step of sinking into the snow had my claves burning, so we called it a day and headed back toward our truck and camper.
Reaching our truck, we popped the top on our camper and enjoyed lunch before heading back down the road. In total, we saw four people: three cross-country skiers and one walker; maybe her snowshoes broke, too. We didn't see a soul while hiking and had a national park blanketed in snow all to ourselves.
See a video of our trip on You Tube.
The view of Ross Lake below and the mountains above. Desolation Peak can be seen in the distance. Photo credit: Tony Moceri

Photo credit: Tony Moceri

Lindsey Moceri starts her way up Highway 20, past the gate. Photo credit: Tony Moceri

Author Tony Moceri and his wife, Lindsey Moceri, enjoying their snowshoe adventure along snow-covered Highway 20. Photo credit: Tony Moceri

From the Ross Dam Trail looking up Highway 20 towards the gate. Photo credit: Tony Moceri

From the Gorge Overlook Trail, Gorge Lake is below with snow covered mountains above. Photo credit: Tony Moceri