Sometime during the early days of quarantine, I picked up my roommate's guitar and plucked a few strings. I had never played, but something compelled me towards the instrument.
Maybe it was a desperate desire for novelty in a string of weeks that had quickly become the same, or the need to learn something, or simply a reminder of the way that listening to music had always been a balm in difficult times. To put it plainly, I felt inspired, for the first time in a long time.
Local luthier Devin Champlin believes that following your inspiration is essential for any beginning musician. "Do what inspires you," he advises, "and don't worry too much about the rulebook, because there is none. People often ask me, 'Is this a good guitar for a beginner?' I'll try to help someone in the right direction, but if you're inspired, you're doing it right."
Champlin followed his own inspiration to a career in luthiery. A luthier is someone who builds and repairs stringed instruments. Back in the 15th century, this mainly referred to lutes. These days it's mostly violins and, as in Champlin's case, guitars.
Champlin found his way into the art of guitar-making through two different interests: music and woodworking. He started woodworking for fun while employed as a carpenter and never had any formal training. He attended at the Roberto-Venn School of Luthiery in 2006, and never stopped. That's because, for Champlin, luthiery is a practice of "lifelong learning."
Champlin has brought what was once a solitary practice into the Bellingham community. His downtown storefront, Champlin Guitars, attracts experienced players and newbies alike. "It feels so rewarding," Champlin says. "I get this instant feedback from the community. People come in and say they love it, and that's the best feeling in the world."
Music has brought Champlin many unexpected gifts. "Music has ended up being one of the most important things in my life. I didn't plan it that way, I'm totally untrained. But I've met some of my best friends through playing music. The most important things have connections to the music. It's been the foundation of all the best things in my life."
That comes across in his store and in all the guitars he handcrafts and repairs. I stopped by Champlin Guitars on a rainy Friday afternoon and found a warm place with friendly employees and passionate clientele. A young man took down a beautiful guitar and played some foot-tapping blues; the love of music, and the community it can create, was immediately apparent.
Since the first shutdown back in March 2020, the team at Champlin Guitars has noticed a skyrocketing in the number of people coming in for guitar repairs. He's not the only one. Will Bright, another local luthier, has seen the same thing.
Bright is the founder of Bright Guitars, a shop for custom guitars and repair. "As soon as the shutdown happened, I got swamped with repair work," says Bright. "It tells me that people are turning to music during this time. It's something they can do at home. I've seen people using stimulus money to buy guitars. People are starting to pick up where they left off 10 years ago, pulling the guitar out of the closet and dusting them off. Or they're starting new. It's kind of like a little boom."
While the pandemic has inspired a whole new wave of musicians, Bright found his own musical inspiration as a child. "I started playing guitar when I was 11," he recalls. "I took guitar lessons at school, and that's how it all began. My dad had a woodshop, so I had access to tools. Along the way, I got my hands on some books. Whenever I could get my hands on a friends' instruments, I did what I thought was necessary and would give it back to them."
Bright was living in Mammoth Lakes, California, when a friend came to him with a mandolin in need of fret work. "I took his broken mandolin and fixed it, and as payment he gave me a broken banjo."
Bright took this fateful banjo to a guitar shop in Santa Cruz. "This was a mom and pop kind of place," he says. "They had an inventory of guitars I had never seen before. I kept thinking about it as I was walking home, and the next day I went back and asked if they were hiring." Two weeks later, he was doing sales. Three years later? Bright was running the repair shop alongside the owner.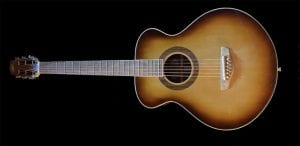 Bright eventually relocated to Bellingham, where he opened his own shop. "Inspiration has just found me," he says. "If I didn't do this professionally, I wouldn't sleep—because I would do it after work!"
Music has a way of finding us when we least expect it and when we need it most. Whether that's through a career as a luthier or as a beginning player, it has the power to bring us joy, even—and especially—during challenging times.
Featured photo of guitar forms at Champlin's shop by Jo Vidrine