From marketplaces to city streets, gardens, and historic sites, Bellingham abounds with picturesque urban landscapes. For the artistically inspired, Bellingham Urban Sketchers provides opportunities to recreate this panorama on paper.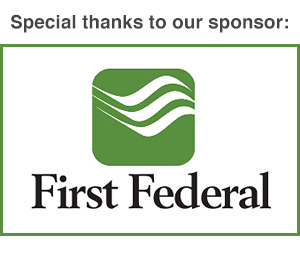 During the COVID pandemic, the group has done Zoom sessions to share sketches of suggested topics, such as holiday decorations and other things that can be safely sketched from inside one's car. They also encouraging sketching things spied outside one's window.
Urban Sketchers is an international nonprofit connecting artists who sketch their home cities' sights on-location. The original group, Seattle Urban Sketchers, started in 2007. The Bellingham group began in 2017 with Karen Ver Burg and Katharine Engh, who first joined San Diego Urban Sketchers.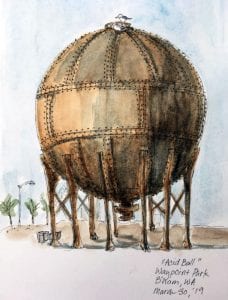 "The mantra is to show the world our town one sketch at a time," says Engh. "So you go out and you sketch by observation, and we go as a group to different locations within Bellingham and Whatcom County and sketch different areas and share our work with each other."
Urban Sketchers enables dedicated artists to hone their craft through international events. Bellingham chapter organizer Marta Raaka attended the 2019 symposium in Amsterdam, annually held in different countries each year.
"They had a four-day gathering where people could take workshops if they signed up ahead of time, and then in the afternoon they'd kind of have a map of places to go," says Raaka. "It's a really big gathering, so there'd be like 60-100 people at a spot…spread out because Amsterdam is a big city, but they'd kind of have a spot to sketch and you ran into sketchers all over the city."
As part of the wider organization, Bellingham Urban Sketchers show the world Bellingham's local character.
Group Activities
Anyone can join Bellingham Urban Sketchers by emailing their website and joining their Facebook group.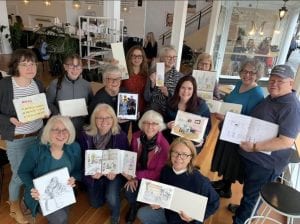 "We are always looking for people who want to join us to sketch, and you don't have to be at any level of expertise," says Engh. "We have everybody along the spectrum. We have people who are starting out and just getting used to the tools and the methods, and we have more experienced people that have taken classes with sketchers all over the world."
During non-pandemic times, members receive Facebook announcements for "sketch crawls": weekly trips, typically at 10 a.m. on Saturdays.
"People show up and sketch whatever they want and have about two hours to just kind of sketch," says Raaka. "At the end, we all come together and put our sketchbooks down and take a few pictures of the sketchbooks and the sketchers."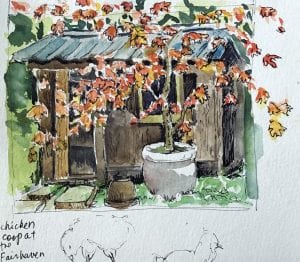 Bellingham Urban Sketchers has amassed more than 100 members on Facebook, with over 20 actively engaging at most times. Organizers strive to keep the group free to all comers.
"There isn't any formal membership that has to be renewed, you don't have to show up in order to be on our Facebook page," says Engh. "It's very open."
In addition to camaraderie and sightseeing, members share informal art lessons.
"We're good resources for each other," says Raaka. "We'll share information about art materials and what we like and if we found a workshop online that we think is useful."
Sightseeing Around Bellingham
Bellingham Urban Sketchers capture natural landscapes and urban cityscapes throughout Whatcom County. Nurseries such as Kent's Garden & Nursery and Gardens at Padden Creek are among the most popular vistas.
"There's so much to sketch there," says Engh. "There's usually a combination of buildings and structures along with beautiful colors and bright objects to paint."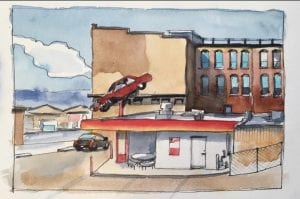 In winter, Bellingham Urban Sketchers take their craft indoors. Favorite venues have included Village Books, Bellingham Farmers Market, and 20th Century Bowl.
"Whenever we ask somebody if it's okay if we can come, we've been welcomed very warmly by all of the different venues," says Raaka. "People in Bellingham are very welcoming of artists that come and sketch."
Several urban sketchers have gotten into the habit of sketching their everyday environments.
"It's a really good way to experience your traveling experience, because you actually sit and observe and record a picture of it, which is so much better than just taking a bunch of photographs," says Engh. "It's just a wonderful thing to do. All the senses are involved, so it's great to have sketchbooks when you're taking a trip no matter how far or near."
Building a Sketching Community
Bellingham Urban Sketchers' work has had a warm reception on Facebook, as well as on-location.
"We're welcome anywhere we ask if we can go sketch," says Engh. "They're usually thrilled at the end of our session to see what the sketches look like, too."
The group has plans to showcase sketches at venues such as Bellingham Public Library in the future. In the meantime, they continue to inspire each other to share the city's scenery.
"It keeps me motivated to stay with my practice of sketching and trying to improve my art," Raaka says. Engh adds, "It inspires you to keep sketching and keep sharing and it's a whole genre unto itself. I mean, you can just really get into this forever—being with the people forever."