The Good Time Girls guide travelers through the thoroughfares of old town Bellingham and Fairhaven. In corsets and makeup, they discuss life in the not-yet-subdued-city (or towns) with sass and class. But this isn't Victorian-era Bellingham—these are the "BellingHistory" guided walking tours, an educational trip through time.
The history of BellingHistory began with Marissa McGrath and Sara Holodnick in 2011. They created a costumed, in-character tour of nineteenth-century Bellingham's underbelly based on Brothels Of Bellingham by Curtis Smith. Current owner Kolby LaBree joined in 2012, adding all-ages tours.
"It's a similar history to other cities in the area and in the west in general," LaBree says of Bellingham, adding that connecting to landmarks "that are iconic to us in the area, and knowing the stories behind them, really deepens people's sense of place and connection to that place."
Most tours run from an hour to 90 minutes, in under one mile. Between Sin and Gin for adults, Gore and Lore for teens and up, and BellingHistory tours for all ages, the Good Time Girls have something for everyone.
Sin and Gin Tours
The Good Time Girls' original summer tour remains their most popular.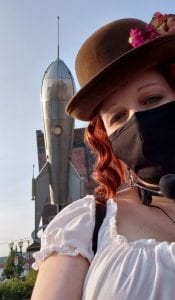 "Those focus on stories from the sort of saloon, Wild West days of the towns on Bellingham Bay," LaBree says. "Fairhaven was its own town once, and so because it has a very unique history and strong presence, we have a Fairhaven version of that tour as well as the Gore and Lore Tour. And Bellingham downtown kind of spans a longer time period."
The tour chronicles Bellingham's saloon culture from the original towns' founding through Prohibition. The tours highlight locations of former brothels and stories of the women who worked there.
"A lot of people don't know that there were licensed, legal red light districts in the towns of Whatcom and Fairhaven," says LaBree. "That was where the brothels were, and it was actually written into the City charter, where they could be and where they couldn't be, and how they paid regular fines and fees to the City coffers, which was a large part of the budget of the town. So that's a fun fact!"
The Good Time Girls often take tourists to local bars at the end. Visitors under 21 enjoy other options, such as sweets.
Gore and Lore Tours
Typically only held in October, the Gore and Lore Tours in Bellingham and Fairhaven are a Halloween favorite.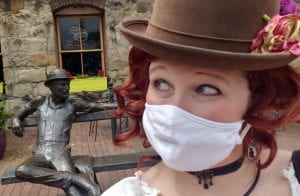 "Fairhaven is considered Bellingham's haunted hotspot," LaBree says, adding, "We tell mostly history, but we have lots of ghost stories from ghost hunting friends and other people."
Bellingham Observers of the Odd and Obscure (BOOO) join the tours with ghost hunting accounts. Downtown Bellingham, in particular, features gory details of murder mysteries, hence the "PG-13" recommendation.
"There's also some really gruesome true crimes in Bellingham," says LaBree. "So those tours are not for the faint of heart. I usually say parental guidance suggested. Teenagers probably like it… probably a little too much, a little too scary, for the younger kids."
BellingHistory Tours
The all-ages BellingHistory Tours run year-round and cover particular locales.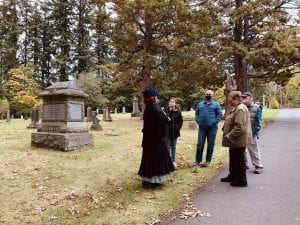 The Whatcom Creek tour discusses old town and Maritime Heritage Park in relation to Bellingham's foundational history.
The State Street tour explores how the town of Sehome developed around Sehome Coal Mine.
The Columbia Neighborhood tour covers beautiful historic homes and local pioneers of the Columbia and Eldridge neighborhoods.
Tours in development include Bayview Cemetery, Fairhaven historic markers, and Holly Street.
Additional Good Times
The Good Time Girls also offer custom tours through their website. During the COVID-19 pandemic, they've also conducted virtual tours.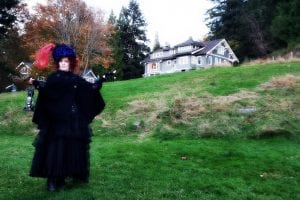 "We're getting a lot of daytrip people from Seattle, Tacoma, et cetera, so people are wanting to get away in a safer way," LaBree says. "Since we're outside and masked and everything, it seems like a pretty popular option for a lot of people."
The Good Time Girls have gained notoriety as Bellingham's only guided historical tours.
"Those who know us and know what we do tend to love us," LaBree says. "We have some superfans out there that come on a lot of our tours and events." They have brought attention to overlooked stories of sex workers, immigrants, laborers, and others at the margins of history.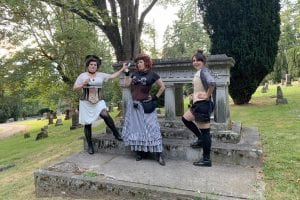 "I mean, we are the Good Time Girls, and we do things a little bit differently," LaBree says. "We can talk about controversial topics, I guess, depending on who you are. Some people would say they're important topics."
The Good Time Girls coordinate with local businesses, the Parks Department, Whatcom Museum, Historic Fairhaven Association, and other sources of history. Their blog, Facebook, and Instagram guide viewers to more history and events.
"We're not trying to pretend we're anything we're not," says LaBree. "We have a good time, and you will have a good time on our tours. That's our mission: to have fun with it. While you're learning some interesting history, you're also gonna enjoy yourself."