As we descend into cooler and wetter weather, it's critical to ensure your home is ready for you to spend more time inside of it.
Regular maintenance and inspection of your home's plumbing, heating and air quality equipment can help spot developing issues before they become big messes, helping you save time and money while keeping you safe. Gary's Plumbing's Healthy Home Maintenance Program offers some terrific options for helping maintain a healthy environment this fall, and Mary Gibb, co-owner of Gary's, has some excellent tips on where to start.
#1: Get ahead of the curve…and the leaks
Setting up an appointment for a Gary's technician to visit your home and professionally inspect your plumbing system isn't difficult. Trying to clean up after a major leak, however, can be, and that's why being proactive about plumbing is a good idea. A plumbing inspection from Gary's includes a water pressure check, as well as inspection for any and all leaks.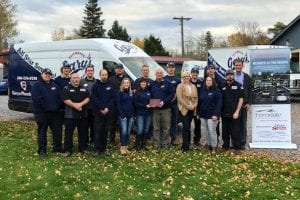 If a tech does find a small or developing leak before it becomes a monster mess, you'll have peace of mind by the time relentless rain and freezing temperatures are happening outside. Having a tech in your home is also a great way to develop a working relationship with them, Gibb says. Once they've seen and come to understand your specific plumbing and heating setups, they can provide more helpful advice and recommendations.
And in case something does go wrong later, that technician might have a clearer understanding of how to fix it. After all, Gibb says, Gary's techs don't want the first time they see your home to be during an emergency.
"Why not think ahead?" she says. "Maintenance, just like an oil change, is really important to your equipment."
#2: Scrub the air
After a late summer period of terrible air quality outside, it's a good idea to check the quality of the air inside your home. As a general rule, any air filters in your home—whether from a heat pump or furnace— should be cleaned or changed at least every six months.
The Environmental Protection Agency cautions that indoor environments can often be two to five times as polluted as outdoor air, meaning that air filtration systems are frontline defense for your home. Replacing or upgrading filters not only helps you breathe better, but also improves the efficiency and life of your equipment, saving you money in the process.
One option for air quality improvement is the installation of the "Air Scrubber," a unit that installs to your existing HVAC system. Its high qualify filter oxidizes airborne particles to clean the air, and is the same technology used by NASA on the international space station. Gibb says she has an air scrubber in her home, and couldn't be happier with it.
#3: Flush it out
Your home's various tanks and pumps can be stressed when the weather changes, so now is a great time to get those types of equipment inspected.
Gary's does sump pump inspections and replacement, as well as hot water tank flushes. With the latter, technicians look for small leaks or rust inside the tank, and gauge the remaining lifespan of the tank. Sometimes people who forego water tank inspections find they need a new one in the worst way possible: when their tank bursts. Don't be one of those people.
And of course, Gary's also offers tankless water heaters, if you'd like to forego these issues entirely.
#4: Unclog safely
Many drain cleaning liquids contain extremely toxic chemicals that could harm you or your family members if used improperly. Fortunately, there are effective and safer alternatives to clear clogs.
Gary's is proud to offer "Total-C," a 100-percent natural drain line treatment and conditioner for at-home use. It uses citrus-based liquefiers, fast-acting enzymes and long-lasting bacteria to digest organic materials, keeping drains clean and odor-free. It's also safe to use in septic systems, and is non-flammable, non-corrosive, and 100% biodegradable.
This is in addition to Gary's slew of professional drain cleaning services.
#5: Preach purification
With the flu season and continuing pandemic overlapping this year, air purification may be as important as it's ever been before.
Gary's technicians have many suggestions for how to purify your home's air. Heating, ventilation and air conditioning systems (HVAC) can all collect contaminants like mold, fungi, dust and other bacteria. That's why a professional duct cleaning is the best way to flush these issues from your home's airways.
Gary's also offers water purification technology for both drinking water and laundry. The latter is a device called the Laundry Pro, which attaches to your washing machine with hoses. It activates oxygen in the water, lifting additional dirt from clothing without needing detergent.
Regardless of what services you need or are interested in, Gary's professionals will ensure you're getting the best systems and service for your home. As one happy customer recently noted: "Not only did Gary's fix the problem, but also helped us figure out what to do about the damage caused by the problem. I highly recommend Gary's to everyone!"
Sponsored