In downtown Bellingham, the modern-day Central Business District collides with the "Old Town" Bellingham, which lives on vicariously through historic buildings. Of these structures built before or just after Bellingham, Sehome, Whatcom, and Fairhaven's 1904 consolidation into one city, only a few of the imposing "business blocks" remain.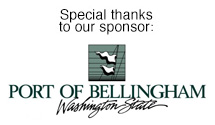 Bellingham has lost many block buildings to fire and demolition. These included Pike Block (First National Bank Building), Sunset Block (various businesses), Lighthouse Block (Seattle First National Bank), and Union Block (Moose Lodge). Other block buildings remain without historic registration. Clover Block (1899) served as offices and a Bellingham National Bank building, the Red Front Block (1900) as offices and apartments.
Only three block buildings are listed on the National Register of Historic Places: Lottie Roth Block, Oakland Block, and Hamilton Block (Flatiron Building). These buildings' façades are largely preserved, yet their various uses remain lively as ever.
Lottie Roth Block
The history of Lottie Roth Block on Holly Street is a tale of two cities: Bellingham and Seattle. Lawyer and State Legislator Charles I. Roth married Charlotte "Lottie" Roeder, daughter of pioneer Henry Roeder, and became the manager and co-owner of the Roeder family quarry. Chuckanut Quarry provided sandstone to rebuild Seattle after the Great Seattle Fire of 1889. Inspired by the Richardsonian Romanesque buildings that Elmer H. Fisher built in Seattle's Pioneer Square, Roth commissioned him to build Lottie Roth Block in 1890.
Lottie Roth Block displays Chuckanut sandstone on its south and east walls toward Holly and G Streets, with north and west walls of brick. Inside, three skylights illuminate the banisters and railings' original woodwork.
Alongside top floors' rental office space, a bank occupied the building's first floor until 1896. Lottie Roth Block then headquartered the short-lived Imperial City News, soon after becoming Chuckanut Hotel. Whatcom and Sehome's 1890 merger into New Whatcom had separated Lottie Roth Block from new downtown developments eastward. However, isolation allowed it to survive where other sandstone giants—Pike, Sunset, and Lighthouse Blocks—did not.
Lottie Roth Block has housed apartments since 1918. These required the addition of another floor, so renovations divided the high ceilings and replaced the original storefronts' wood-framed display windows with small windows and sandstone. Lottie Roth Block was listed on the National Register in 1978.
Oakland Block
Dr. Ambrose Cornwall built Oakland Block in 1890, naming it after his California hometown. The brick and Chuckanut sandstone building forms a triangle between Holly, Prospect, and Champion Streets. Oakland Block stands uphill from the "Iron Bolt" between the original towns of Whatcom and Sehome—and its ties to formative Bellingham history don't end there.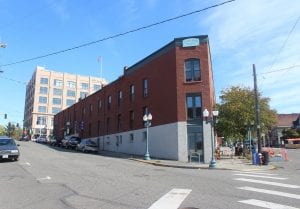 Following the establishment of New Whatcom, Oakland Block housed its City Hall alongside a clothing store, sheet-music store, and hotel. The original County Courthouse hosting the city council, T.G. Richardson Building, is the oldest brick building in Washington. In 1892, the city council moved from Oakland Block to New Whatcom City Hall—now Whatcom Museum.
As twentieth-century Bellingham developed a reputation as a hotel city, successful Oakland Hotel occupied the building's top floor above various commercial spaces. The Old Town Café started in 1904 as one of Whatcom County's only African-American-owned businesses, The Mobile Restaurant. Oakland Block received its National Register listing in 1999.
In 2002, an award-winning Bellingham Housing Authority effort remodeled Oakland Block to provide affordable housing. Honoring Oakland Block's history, all 20 units are named for previous mayors from 1890 to 1910. Present-day businesses on the ground floors include the Old Town Café, Seifert & Jones Wine Merchants, Bellingham Bay Collectibles, and Vintage360.
Flatiron Building
Nicknamed after the famous Fuller Building in New York, Flatiron Building was Bellingham's first skyscraper. It was originally called "Hamilton Block" and "B&B Furniture Building" after its first owners, T.S. Hamilton's Bellingham Bay Furniture Company.
The Bellingham Bay Company planned to build the skyscraper in 1906, but property litigation limited construction. Bellingham Bay Furniture Company bought the block in 1907 for $15,000, although the Panic of 1907 delayed construction.
Flatiron Building was one of Bellingham's first reinforced concrete structures, and its tallest building until 1926. Cornering Champion, Prospect, and Bay Streets, it was originally six stories of reinforced concrete and steel.
A top-floor fire in 1924 damaged Flatiron Building's interior, but the frame survived. Hamilton ran his furniture store under a circus tent during the three-year rebuilding. Renovations added Bellingham's first automatic sprinkler system, a relocated elevator, and a new story rebuilt from the second-floor mezzanine.
Later renamed Van's BB Furniture, the furniture company occupied Flatiron Building until 1979. It received its 1983 National Register listing while unoccupied. Christenson Engineering remodeled it in 1990, occupying it under changing ownership until 2007. Faithlife Corporation has leased the building since 2010. Ground-floor tenants include Woods Coffee and Antler Baking Company.
Bellingham's block buildings are not only impressive, but also not alone; it takes just a walk around the block to see other remnants of Old Town made new.