On June 4, the spa staff of the Chrysalis Inn & Spa came to work for a trial run of new safety protocols that would allow them to re-open to guests the next day.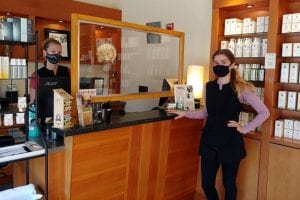 "I think it put the staff at ease," says Sandy Sallee, spa director for the Chrysalis Inn & Spa. "After three months of being on lockdown, everyone was hesitant—staff and guests."
But through a litany of tweaked procedures, they've been able to safely operate under phase two of Governor Jay Inslee's coronavirus reopening plan for the last three months. The spa still offers most of their usual services, including massages—with the exception of couples and hot rock massages—manicures, pedicures, body or brow waxing and body treatments.
They are not offering facials because of a recent state directive requiring clients to wear a mask throughout their facial. They didn't think they could offer the same quality service under those parameters, Sallee says.
Other changes include taking the temperature of all staff and clients and checking in with clients about their health and any symptoms upon their arrival.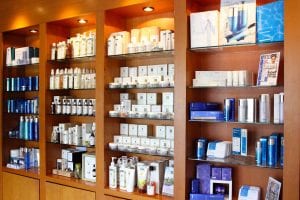 "Right off the bat, that screening process at check-in shows that we're on top of it," says Sallee. "We're aware of how the virus works and we're paying attention."
They're also asking clients to wait in their car instead of coming in early to use the steam room or drink a cup of tea before their appointment.
"Our therapists are all fantastic and still offering the same level of personal service they always have," says Sallee. "We just aren't able to offer those complimentary amenities at this time."
When they first re-opened in June, Sallee wasn't sure what to expect.
"I've had very little negative feedback," she says. "People are leaving very happy, and they feel safe, and that's a huge relief for us; it's very encouraging."
The Chrysalis Inn & Spa is currently booked at over 90 percent capacity, and their restaurant— Keenan's at the Pier—is doing great, thanks to the outdoor patio overlooking Bellingham Bay, a newly remodeled kitchen, and mouthwatering seasonal menu. It helps that the hotel is busy, Sallee says, but about 85 percent of the spa clientele is local to Bellingham.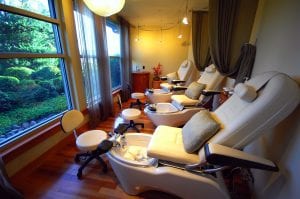 They're grateful to their regulars who supported the spa by purchasing curbside retail products during quarantine and are coming back to the spa now that they've reopened, Sallee says.
Since reopening, the manicure and pedicure department has been booked up two weeks in advance, and their massage department is booked up about one week out.
The positive response makes it tempting to open up more time slots each day, Sallee says, but they remain cognizant of the risks involved if they host more people and relax their safety measures. They're fully committed to protecting staff and guests and avoiding having to close down again in the case of an outbreak.
"Both of those things," Sallee says, "are good incentives to really stick with our guns and make sure we're following these protocols strictly."
To book an appointment or learn more about the spa, please visit their new website www.spaatthechrysalisinn.com.
Sponsored