Kombucha Town is a way of life—a company that brews delicious fermented beverages that keep its fans healthy, hydrated, and energized for adventure. It's also no coincidence that there's a "town" in their name; Kombucha Town truly is a community fixture that wants to welcome, support, and nourish everyone.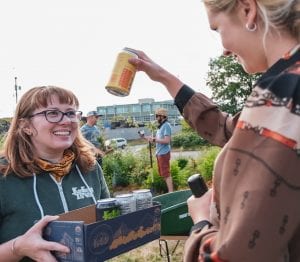 That's why Kombucha Town is launching an equity crowd-funding campaign on August 4th to take their business to the next level—and they want you to be a part of it! This campaign is different from others you might be familiar with (Kickstarter, GoFundMe, etc.). It's rooted in equity, which means that when you participate in the campaign, you can hold shares in the business.
Kombucha Town Marketing Manager Trent Banks explains further. "Equity crowd-funding means you get shares of the company. Eventually, your investment pays off—with interest—from those shares. We're excited to be opening up to a community-owned business model through this crowd-funding campaign and look at it as a way to put the power back in the hands of the people and give our community an opportunity to invest with us in building the world they want to see."
The world Kombucha Town wants to see is one in which people, communities, and environments are healthy and thriving. Kombucha is a functional beverage, which means not only does it taste delicious, it also contains health benefits, such as digestive support. Kombucha Town also is deeply committed to ensuring the health and wellbeing of the planet and the people who live on it.
They're partners with One Tree Planted, an organization that partners with businesses to plant trees around the world. Kombucha Town's tree-planting efforts focus on restoring the trees around Pacific Northwest salmon habitats, making sure the salmon population (orcas' main food source) is vital and thriving. For every case of kombucha sold, a tree is planted.
Their partnership with the environmental organization will extend into their crowd-funding campaign. "Each level of investment in the campaign will be paired with a certain number of trees planted that scales out as the investment scales," says Banks. "We have a goal as a company to plant a million trees, so everyone who invests with us in this campaign will be moving us towards that goal in leaps and bounds."
There are other perks to joining Kombucha Town at this stage in their growth, too. "We have some additional incentives to sweeten the deal," Banks says. "There's Kombucha Town gear, limited run exclusive Kombucha Town flavors, and specific Northwest getaway adventures. I'm really stoked on all that, plus the One Tree Planted partnership. I think we've been able to develop something really special."
Community support has always been a core ideal for Kombucha Town. "We're committed to being good for not just your health, but for your community and your planet," says Banks. "This is a way people can actually join us in making their dollars go further, and in the meantime support a business model that's poised for growth."
The funds from the campaign will contribute to Kombucha Town's growth and development, with a special focus on expanding access to healthy beverages. Their new Live Seltzer is representative of their belief that social justice and healthy food are inextricably linked. The goal through the launch of this product is to make healthy and affordable beverages accessible to all.
"We want to disrupt the concept that healthy food is only available at Whole Foods," Banks says. "One of the great things about seltzer is that its price point is lower. We'll be using funds to support that new product." They're also looking forward to further brand development and rebranding as they continue to grow into national markets.
If you're looking to be involved with a business that grows not just profits but also healthy individuals, communities, and environments, look no further—and welcome to Kombucha Town.
Sponsored