In the wake of the coronavirus pandemic, small businesses across the country have had to make changes to stay in operation. Bellingham Pediatric Dentistry has implemented new technology to not only better protect their patients from transmission of COVID-19, but to change kids' experience at the dentist altogether.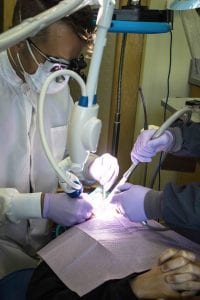 "We were closed down for two and a half months," says Dr. Sawyer Negro, pediatric dentist and owner of Bellingham Pediatric Dentistry, referring to the initial coronavirus lockdown in March and April. "It really gave us a good time to pivot and accelerate where I wanted my practice to go, so that I could be delivering the most compassionate care to all of my families and kids."
Part of Dr. Sawyer's business pivot was to implement use of the Solea dental laser. It's the first dental laser to be cleared by the FDA as safe and effective for both hard and soft tissues, meaning the hard enamel that covers teeth as well as the surrounding gums. Because of the type of energy the laser uses and the tiny wavelength at which it operates, the Solea allows Dr. Sawyer and his team at Bellingham Pediatric Dentistry to offer patients a safer and more comfortable dental experience.
Dr. Sawyer most frequently uses the laser for filling cavities and frenectomies, a procedure in which he operates on infants with a constriction in their tongue or lip that is inhibiting them from successfully breastfeeding. With the Solea laser, he is able perform the frenectomies knowing that infants will feel less post-operative discomfort. The way the laser energy penetrates into the tissue provides natural analgesia, causing the area to be numb for about four to six hours.
"Often these little one-month-olds come out of the procedure smiling," Dr. Sawyer says. "It's one of my favorite parts of my practice."
The natural numbing is true for most cases where Dr. Sawyer uses the Solea laser, which also helps him be more efficient in seeing his patients. Instead of having to give kids a shot of local anesthetic, wait until it takes effect, and then come back to administer a procedure—which takes more time and often ends up requiring more than one visit to the dentist—Dr. Sawyer can fill a cavity or do another simple procedure during a routine teeth-cleaning appointment.
The efficient and relatively pain-free nature of the Solea laser was a big motivator for its implementation.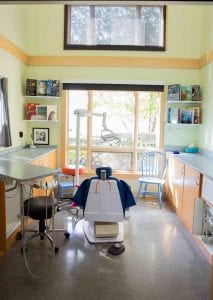 "I always try to view my patients as my own kids and how I would like to treat them," says Dr. Sawyer. "If I don't have to give my daughter the scariest part of the dental visit, of course I'm going to go for that option."
If he's able to take away the connotation that going to the dentist is scary or every time you go to the dentist you have to get a shot, that will be a success for Dr. Sawyer.
"I'm really trying to reshape the dental experience, so that these kids can grow up to be young adults with healthy smiles and low dental fear anxiety, so they don't have to dread it," he says. "There are so many adults who avoid going to the dentist and then end up with larger cavities that get out of control."
The Solea laser also allows Bellingham Pediatric Dentistry to lower the chance of coronavirus transmission within their office. The laser greatly reduces the aerosolization of particles from the mouth that could spread around the clinic, because it operates with about 75 percent less air pressure than a conventional hand drill.
The laser also kills any viruses or bacteria with which it comes into contact. The Solea uses thermal energy at a temperature that far exceeds the temperature required to kill viruses and bacteria. So if a patient were carrying the virus in their saliva, any saliva that gets pushed out of their mouth wouldn't still carry the virus.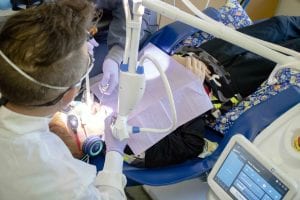 Dental lasers have existed within the industry for several decades, but this laser is the first FDA-certified laser for all tissues. By targeting collagen and hydroxyapatite—the main component of enamel—the Solea laser helps decrease potential bleeding after a surgery and provides the natural numbing.
While it doesn't mean he will never have to use a conventional drill or a numbing shot again, Dr. Sawyer is proud to be the first dentist in Whatcom County to be using a Solea laser.
"Just having this option [so] I can do work without having to get the kids numb is, I think, revolutionary," he says. "The technology is great, but it's really about their experience, and making sure they have a good experience to carry with them through the rest of their lives."