Deming, Washington is a long way from New Haven, Connecticut, but the differences between Mount Baker High School and Yale University seem even greater. It was that gap that 2020 Baker grad, Jason Lee, strived to cross with hard work—and gentle nudges from key people in his life.
The process of selecting a university can be daunting and academics were a top priority for Lee. The list of colleges he hoped to attend were University of Washington, Stanford, USC, Princeton, and Yale. He also hoped to continue his football career in college, but with a list of D-1 schools in front of him, that seemed unlikely. "The only schools that were looking at me throughout high school were some of the smaller local colleges," says Lee.
As Lee began applying to schools, he thought University of Washington was his most likely landing spot; his older sister, Jamie Lee, is a student there, so that path made sense. One of his teachers, however, had other ideas for Jason.
LaLani Pitts, an English and academic success teacher at Baker, encouraged Lee to apply for a scholarship that looked for students who stood out for both academics and extracurricular activities. Part of the application process is to include the schools that you want to attend and one of them must want you, in order to be awarded the scholarship. Pitts, known for bringing out the best in her students, encouraged Lee to put Yale on that list.
Lee's years of hard work and encouragement from his teacher paid off. He stood out amongst the crowd. Not only did Yale want him to attend their university, they offered him a full-ride academic scholarship.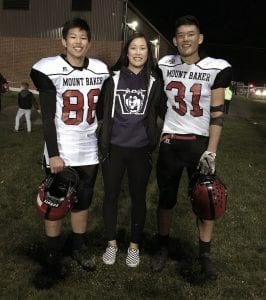 To say this is a big deal for a kid from Baker is a considerable understatement—and it goes to show that it doesn't matter where you come from. "It depends on how much work you put in," says Lee. For him, that dedication to hard work will continue as he plans to study computer science at Yale. The university's high academic standards would be enough for most, but Lee wants more.
The dream of playing football at the next level stayed with Lee. With encouragement from family friend, Harrison Whitmyre, and his high school football coach, Ron Lepper, Lee sent his film to the Yale football program.
And just as with academics, Lee's hard work in football paid off. He received a call from the running back coach with the news that they wanted him to join the football team.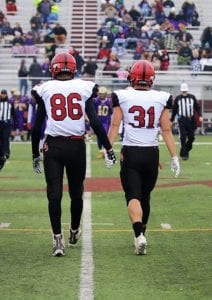 "Before I knew I was playing on the football team, I was most excited about going to Yale and all those resources," Lee says. "But now that I'm playing football, I'd say the thing I'm most excited about for sure is getting to continue my athletic career."
Lee's new journey kicks off at the end of August, but like so many things these days it will not start out exactly as planned. Lee will live on campus, but most classes will be held online. The football season has already been postponed, and will likely be cancelled for the upcoming school year. Lee is disappointed that he won't be in classrooms engaging with his teachers and classmates, but he does see a silver lining: this first year of football will not count against his eligibility, giving him time to train at the college level and get to know his teammates.
Lee played both offense and defense during his high school football years, as running back and safety. In his senior season, Lee rushed for 737 yards and 13 touchdowns while adding five interceptions. At a small school like Baker, it's common for players to play on both sides of the ball, but at Yale Lee will be solely focused on the running back position.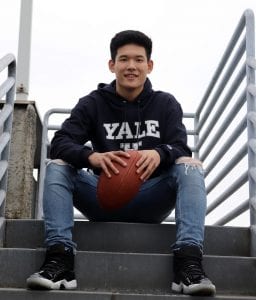 He's looking forward to creating bonds with new teammates and creating memories like those from high school. His favorite football memory is Baker's 2019 win against Lynden High School, where the team came together to get the school's first win over Lynden since 1990.
When Lee lands in Connecticut to begin creating these memories, it will be his first time visiting Yale. Due to COVID-19, Lee has been unable to make a campus visit, which would normally be part of the process. Nevertheless, he's excited for the opportunity and looking forward to making the Baker community proud.
"It makes me feel really happy to represent the Mount Baker community well," he says. Lee gives a lot of credit to being a part of this supportive group, but there's no doubt that his own hard work made this potential a reality.
Lee's high school football stats generously provided by www.whatcompreps.com