As William Carlos Williams' poem "The Red Wheelbarrow" goes: "so much depends upon/a red wheel barrow/glazed with rain water/beside the white chickens." These words take on new meaning for Red Wheelbarrow Writers: a loose affiliation of independent, dependable writers based in Bellingham.
Cami Ostman, Laura Kalpakian and Susan Tive founded Red Wheelbarrow Writers in 2010. More relaxed than a business or nonprofit, Red Wheelbarrow Writers welcomes participants to workshop fiction, creative nonfiction, memoir, essays, self-help, and poetry.
"We started out as three people, kind of with an idea of starting a business, but really the community formed rather organically," says Cami Ostman, who also runs The Narrative Project. "So we began as a couple of classes that we were giving, and then merged into becoming like a monthly happy hour, and then over time we decided to do some projects together."
Red Wheelbarrow Writers has grown to include over 300 writers, in and beyond Bellingham. New writers need only attend meetings or sign onto the mailing list to join. Red Wheelbarrow Writers has no fees, running on donations instead.
"We're fun, but we're supportive too," says Lisa Dailey, who runs Sidekick Press. "It's definitely an outlet for new writers and seasoned writers alike to really come and test out speaking in front of a group, where there's no judgment and no critique. It's just support."
Lively Gatherings
Every month, Red Wheelbarrow Writers hosts open mic nights where participants can read and discuss their work. Writers can ask questions, raise questions, and receive constructive feedback.
"We would meet at a bar or restaurant and we have a microphone and everybody gets there a little bit early and signs up," says Ostman. "We always like to say that we get together, read to one another, and drink together."
Through these meetings and the site's Useful Links page, mailing list, and Facebook page, Red Wheelbarrow Writers share invaluable resources and advice.
"I know that, for me, it's provided a wealth of information," says Dailey. "People are really connected and always willing to share different avenues that they find that could be helpful to the whole group of writers. They post open calls and they post different things locally and nationally—different articles that might concern all authors."
Many participants have made friends and support each other through various writing projects.
"I would say the biggest thing that we really offer each other is just a lot of cheerleading and support to keep writing," says Ostman.
Dailey adds, "If you find a group of people that are working on a similar project, oftentimes they'll get together and act as critique partners for each other. And that is extremely beneficial when you're writing, to have someone know kind of the genre that you're writing in and able to give really constructive feedback to help your work."
Collaborative Events
In addition to monthly meetings, Red Wheelbarrow Writers attend an array of regular and spontaneous events. Book clubs, classes, writers' retreats, conferences, and an annual garden party bring writers closer together.
"Sometimes we have 'Bored' meetings where we get together and talk about projects, but those are pretty random," says Dailey. The affectionate nickname is deliberately misleading, as Red Wheelbarrow Writers has no board—and leaves no one bored.
Red Wheelbarrow Writers' camaraderie drives their contributions to National Novel Writing Month (NaNoWriMo) every November. The group collectively writes a novel and holds a spirited reading in December. In April, Red Wheelbarrow Writers' poets join together for National Poetry Writing Month (NaPoWriMo).
Red Wheelbarrow Writers have published anthologies every two years, starting with Memoir Into Memory (2016) and So Much Depends Upon… (2018). Between 60 and 80 writers contributed memoirs to these collections.
"I couldn't even wager a guess on the percentage, but we have a lot of published authors who have completed full books of their own," says Ostman.
Building a Writing Community
"I would say that we're pretty well-connected in Whatcom County, in terms of other writing groups and organizations," Ostman says.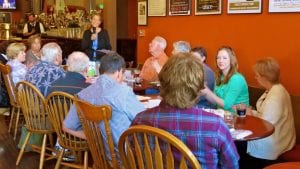 Since 2014, Red Wheelbarrow Writers have cosponsored Whatcom Memoir Writing Month (WaMemWriMo) every September with Village Books and Whatcom Community College. They publish their anthologies alongside Village Books, assist with WCC classes, and support Whatcom Writers and Publishers and Whatcom Literacy Council.
Distance is no barrier to joining Red Wheelbarrow Writers. They have kept in touch with writers outside Bellingham and even made the COVID-19 pandemic the subject of their fall 2020 poetry anthology.
"It's such a close and supportive group that even when people do move away, they stay connected," says Dailey. "I mean, even at our monthly meetings now that we've been on Zoom, we've had writers from Hawaii and North Dakota and the South, Arizona, all over the place, that still come and join."
Whether remotely or in their Northwestern home city glazed with rainwater, so much depends upon Red Wheelbarrow Writers.