Submitted by the Whatcom County Health Department
Whatcom County concluded its pilot COVID-19 drive-through testing program on Saturday afternoon, July 11. The testing site was located at Bellingham's Civic Field Complex, and ran Friday, July 10 and Saturday, July 11 from 9:30am until 3:30pm. The drive-through site provided COVID-19 testing for anyone who wanted it, with no physician referral, insurance, or appointment required.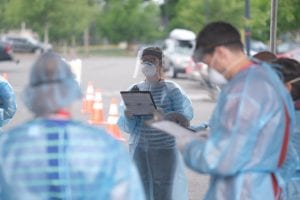 By Monday, we contacted everyone with their results, with the exception of a small number of people with incomplete contact information. Anyone who was tested at the drive-through site, but did not receive their results, should call us at (360) 778-6100.
Testing is free, at the drive-through testing site. It's also free anywhere else you choose to get tested, whether you have insurance or not. If you have insurance, insurance companies are required to waive co-pays or deductibles. If you do not have insurance, testing will still be provided at no cost to you.
Who Came to Get Tested?
The numbers here are accurate as of noon on Tuesday, July 14. Final numbers are still pending as we go through our usual data reconciliation and verification process.
We tested a total of 793 people during the 12 hours the testing site was open. Fewer than 1% of those tested had positive test results.
The pilot site was prepared to collect specimens to test about 250-300 people per day. Turnout was even higher than anticipated, and the testing team met the need. We tested 394 people on Friday and 399 people on Saturday.
Nearly everyone who was tested was between the ages of 18 and 79. Almost three-quarters of those tested reported living in Bellingham. Very few people came from outside of Whatcom County. You can see more details in the data tables, below.
Next Steps
We plan to provide another two days of drive-through testing at the Civic Field Stadium parking lot this Friday and Saturday, July 17 and 18 from 9:30am – 3:30pm. More details about how to get tested will be posted to our COVID-19 Testing page tomorrow.
Additional Testing Options
We are glad that so many residents were able to participate in our drive-through testing pilot program. If you think you need to get tested, you can access testing any day of the week through your regular healthcare provider.
If you have a provider, contact them to either make an appointment to talk with your doctor and collect a specimen or get a referral for a testing center. Northwest Labs in Bellingham offers drive-through testing by appointment if you have a doctor's referral. They typically have appointments available within 24 hours.
If you don't have a healthcare provider and need testing immediately, contact SeaMar for an appointment. If your testing need isn't urgent, now is a good time to get a doctor. If you have insurance, call your insurance provider or check their website to get a list of doctors in your provider network.
More information about testing options in Whatcom County can be found on our testing page.
Data Tables
The tables below provide information about who was tested on Friday and Saturday, by age group and location of residence.
Percentage of People Tested by Age Group
Age
Count
Percentage
0-17
54
7%
18-29
222
28%
30-49
194
24%
50-64
170
21%
65-79
139
18%
80+
14
2%
793
100%
Percentage of People Tested by Place of Residence
Location
Count
Percentage
Bellingham
575
73%
Ferndale
58
7%
Lynden
25
3%
Everson/Deming/Sumas
19
2%
Lummi Island
7
1%
Blaine/Custer/Birch Bay
40
5%
Maple Falls
8
1%
Seattle/Bellevue
9
1%
Skagit
8
1%
Other (outside of Whatcom)
38
5%
None Provided
6
1%


793
100%