Submitted by Thousand Acre Cider House
Craving a cold one in the sunshine now that Phase 2 is underway in Whatcom County? Consider picking a hard cider to quench your thirst. With over 200 options to choose from, Thousand Acre Cider House is your local one-stop shop for all things cider. 
We sat down with Thousand Acre's owner, Jenny Hagemann, to bust some cider myths, get the scoop on their adjustments for safety and service in Phase 2, and snag some recipes for cider cocktails. Following are her top five reasons to get 'excidered' to sip this summer.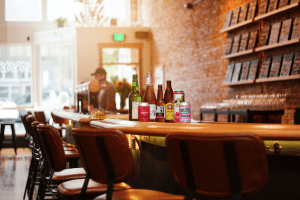 1. There's a Cider for Everyone
It's a common misconception that all cider is sweet. "We hear it all the time. 'I don't like cider. It's too sweet.' Then we sample them a well-balanced cider from our taps and it's so much fun to see their eyes light up and hear 'Oh. I didn't know cider could taste like to that!' That's the beauty of having such a large selection and offering samples and flights. We can find a cider for any taste," says Hagemann.
2. Cider is Hyper-Local
Did you know Whatcom is home to five production cideries? Thousand Acre is the only taproom and bottle shop to offer a rotating selection of cans, bottles, and drafts from Renaissance Orchards, Lost Giants Cider, Herb's Cider, Bellingham Cider, and Ciderhead.
"We prioritize local makers first as it's important for us to be complimentary to their growth. Customers also love these makers," says Hagemann.
Thousand Acre's top seller since opening is Renaissance's Black Plum Bourbon. "In addition to our Whatcom brands, we source from the greater PNW to offer ciders made in Washington, Oregon, and British Columbia," Hagemann says. "I'm also really proud of our imports from France, the UK, and Spain."
3. Sip Safely at Home or Onsite
Thousand Acre has adapted to COVID-19 restrictions in two ways: customers can shop their entire selection online for contactless curbside pickup, and those wanting to enjoy a drink in their beautiful space and new patio can do so safely. 
"We've taken CDC and local health authority guidelines very seriously," says Hagemann. The space's previous capacity of 95 has been reduced to 30 inside with generous spacing in addition to outdoor patio seating. "Masks have been enforced since before the governor's directive and we even produced a video to help folks understand what it looks like to go out these days."
4. Cider Reinvents Classic Cocktails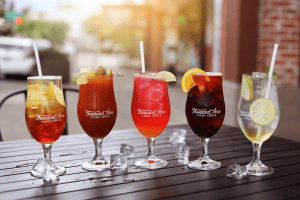 Thousand Acre embraced the concept of the cider cocktail—AKA cidertail—early on. "There's a trend for lower ABV beverages and cider is the perfect vehicle to lessen ABV of spirts-based cocktails without sacrificing flavor. In fact, with the right cider, a classic drink can take on a whole new and exciting sensory experience," says Hagemann. 
Their top selling cidertail is the Cider Sangria, a tasty blend of berry cider, pommeau (a fortified cider blended with apple brandy), and fresh fruit all served in a pouch with a straw. Envision an adult Capri Sun! You can explore all of Thousand Acre's Cidertails offerings online, and all are adapted for onsite consumption in pint glasses or to-go formats.
5. Partake in an Upcoming Subdued Cider Celebration
Thousand Acre Cider House opened August 7, 2019. The first year didn't go exactly as planned, with COVID-19 forcing closures and then limited service less than six months into business. However, Thousand Acre remains optimistic for the future and is planning a subdued and safe Anniversary party. "We will be celebrating online and in person as not to wrongly incentivize crowds, but we have a few things planned that will be really unique and fun," Hagemann teases. To follow along for details on their celebrations, please follow Thousand Acre on Facebook and Instagram.
All photos by Kristina Gray Photography