Bellingham's Matt Kinney always wanted to own his own business. The 45-year-old former retail manager and current refinery worker wasn't sure what that business would be, but if you'd asked him several years ago, 'recreational axe-throwing facility' wouldn't have come to mind.
But on June 13, 2020, Kinney opened Bellingham's first such business at 1414 Cornwall Avenue, in the basement of the historic BPOE Building. Bellingham Axe is the latest of a growing number of axe-throwing facilities popping up across the country, providing patrons a fun way to socialize and blow off steam—by throwing hatchets at circular wooden targets and adding up points based on where they stick.
Some people compare it to darts on steroids.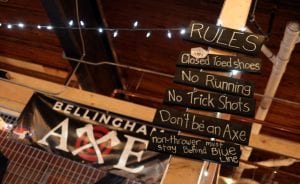 "It sounds like it's dangerous, but it's a safe way to get a little adrenaline," Kinney says. "It's just different. And it's a blast."
A Bellingham resident for more than 20 years, Kinney was introduced to axe-throwing when his brother booked them an appointment at a Seattle axe-throwing facility. He had an incredible amount of fun, and soon realized an axe-throwing business would be a great fit for Bellingham.
Forming the business last year, Kinney originally had two business partners. After they backed out, he continued solo into 2020, building his brand and searching for the right place to house it. In a stroke of exciting good luck, Kinney found the basement of the BPOE Building needing a tenant.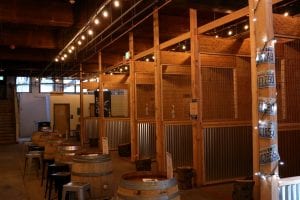 Built in 1912 by the Bellingham Elks Club, the historically registered building once contained a bowling alley in its basement. After the Elks left in 1971, the building served numerous uses, including as a dance studio. However, it's probably best known as the original home of Giuseppe's, a former beloved Italian restaurant.
By February, Kinney was in the space, utilizing local bundle design studio and Marker Construction to help him design and build the facility, which has 16 targeted throwing stalls and a picnic tabled banquet area. But just as construction was nearing completion, COVID-19 struck.
Kinney says he didn't qualify for any pandemic loans or financial assistance, but nevertheless, the work was finished, employees were hired, and Bellingham Axe is now open.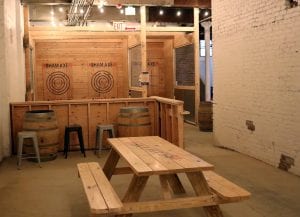 "That is not what I wanted," he says of opening a recreational business during a pandemic. "I'm happy with what customers I do have in the situation I'm in, but it sucks."
Bellingham Axe is abiding by proper health guidelines while open. Patrons must wear masks, and parties can be no larger than five people, with each axe-throwing group separated by six feet. Disinfecting of axes and surfaces is constant.
But even in the middle of a pandemic, walking into Bellingham Axe is walking into a decidedly chill vibe. The lighting is relaxed but not too dark, the roomy layout a mixture of wood and metal décor. There are speakers playing music, TVs showing professional axe-throwing on ESPN, and you can fling as many or as few hatchets as you want for $20 an hour.
There are many fun touches to the décor as well. Axe-related puns like "Kickin' Axe" are written onto various metal stools, and a large "Bham Axe" logo is painted onto one of the basement's brick walls. Several old license plates are also wrapped around a wooden pole next to the register. There's no real reason for this, Kinney says; he just wanted the plates out of his garage.
For now, Bellingham Axe is only open from Friday to Sunday, but will soon add Wednesday hours. And while currently only serving non-alcoholic beverages, Kinney hopes to add upstairs beer service in the future. In addition to the current mix of walk-in and by-appointment customers, Kinney says the facility hopes to hold team-building and work parties for local businesses.
The place is also World Axe Throwing League-certified, meaning that if you're somehow dreaming of being a professional axe-thrower (it's a thing), you can practice here knowing targets and throwing lanes are accurate to those standards. For less-than-professional customers, Kinney says anyone is welcome to bring in paper targets with images of exes, former bosses, or despised political figures.
"It's a great way to get out some aggression," Kinney says. The best way to get your axes to stick, he adds, (they wet the wooden targets to encourage success, but it's still often difficult) is to listen to the employees.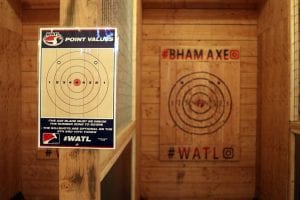 "You don't need to know how to throw an axe," he says. "When you come in, we'll give you a demonstration. If we see you're having issues, we'll give you some good pointers."
Like darts, there are multiple games that can be played, as well as a traditional adding up of points based on where your axe sticks in the target board. If you do manage to get a bullseye, employees will ring a loud bell to celebrate your achievement; bullseye contests for free merchandise like hats and shirts are also known to occur. Children under 18, by the way, are allowed at Bellingham Axe, but require strict adult supervision. Those younger than eight aren't recommended.
All in all, if the sound of axes impacting moistened wood sounds satisfying to you, then Bellingham Axe might be the best place for your next date night, hangout, or even work party.
For more information, check out their Facebook and Instagram pages.