COVID-19 has changed almost every aspect of our daily lives here in Whatcom County. It's affected business, social relationships, and the health and safety of our loved ones. It also reminds us of the strength of our community—Whatcom County has come together in unprecedented ways to support healthcare personnel, essential workers, and the most vulnerable members of our society.
Moving to Phase 3 depends on each of us
That unity has gotten us through Phase 1 and into Phase 2 with the help of Whatcom Unified Command and guidelines from the Whatcom County Health Department. That unity—along with respect for and adherence to the state's Safe Start reopening program—is what will get us to Phase 3. It's important to know that we will not move into Phase 3 until certain criteria are met.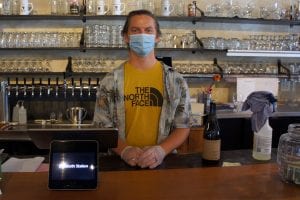 To help get us to Phase 3 as quickly as possible, Governor Inslee announced a statewide mandatory face covering order, effective June 26.
The Safe Start reopening program is designed to ensure that all Washington businesses, individuals, and families are safe and healthy for the long term. This isn't a switch from "off" to "on"; it is a dial that keeps us moving forward responsibly and steadily. And each of us has an important role to play in keeping us on track to further reopening. So what does that look like for you and me?
Wear a mask, wash your hands, and adhere to guidelines about social distancing.
Wearing a mask is like wearing a sign that says, 'I care about my friends, my family, myself, and my community.' These practices have gotten us to Phase 2, but we'll only get to Phase 3 if we keep following them. Otherwise, Phase 2 could extend well into the fall and even beyond. Phase 2 isn't a green light to suddenly return to 'life as normal.' In fact, it's that mindset that has caused cases to rise in recent weeks.
The goal of "the rules" is economic recovery
The best way to support the health of our loved ones and the health of our local economy is for every single one of us to follow the rules. The worst thing for the economy would be for businesses to go through the challenges of reopening, and then be forced to close again because we have to go back to Phase 1.
"The goal is to move forward and get people back to work," says Erika Lautenbach, the director of the Whatcom County Health Department. "A very distant goal is to get people to socialize." The phased approach is specifically designed to boost the economic side of our society and support economic recovery.
Businesses need your help in their efforts to comply and still serve
Cory Blackwood, manager at Sierra Trading Post, knows firsthand how much effort goes into preparing to do business during the pandemic. "We've had eight days of non-stop work just to get everything ready," he says. They were given a 177-page booklet on everything that needed to be completed and have received multiple shipments of personal protective equipment (PPE) and instructions on how to use them.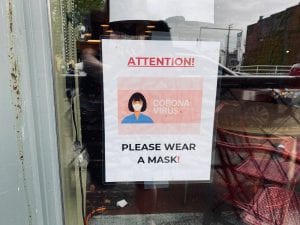 "No employee can start their shift before a temperature check," says Blackwood. "Following Governor Inslee's instructions, we're telling all customers they need to wear a mask to shop, though that's not something we can physically enforce."
Wearing a mask while visiting businesses protects employees. Workers take on extra risk simply by being in enclosed spaces for a full shift and if we, as patrons, wear masks, we help to greatly reduce that risk.
Blackwood is "cautiously optimistic" about continuing to make progress, asking for added patience and kindness as we navigate these challenging times together. And it helps to see his customers wearing masks. "It's comforting," he says. "The last thing I want to see is for us to have to close down again. My kids really want to go back to school in the fall."
Focusing on yourself IS helping the bigger picture
Thinking about our loved ones, children, and families can be a powerful force for fighting COVID-19 in Whatcom County. Caroline Spring, care coordinator at Sea Mar Bellingham Medical, has seen a lot of people put their own wants aside because they know that the moment COVID-19 affects someone they love, that desire will not have been worth it. "This may seem like a selfish desire—avoiding COVID only so it doesn't harm your family—but I believe people are recognizing what over 100,000 American families have experienced and want to stop the spread outright," she says.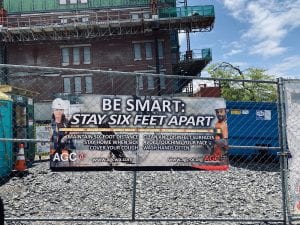 Adhering to guidelines like mask-wearing, keeping six feet apart, and staying home if you're even a little bit sick can help stop that spread. Spring adds, "I appreciate the effort made by those I see wearing masks because I know that person is visibly working alongside me to reduce the risk of spreading COVID-19." She also recognizes that a variety of factors impact people's comfort with wearing masks, and that "skepticism and misinformation, more than a will to do harm, is what discourages mask wearing."
Compassion and consideration are key as we move through Phase 2 and into Phase 3. "I see a lot of solidarity around making sure that people are not isolated," says Spring. "There's an impressive level of creative adjustment being made to accommodate people keeping their jobs or keeping their social networks alive."
We're not alone. We will all get to Phase 3 by working together as a community in unity.
Sponsored