"I always just think: I got really lucky and have great people!"

This is how Xtreme Bean Espresso owner, Ashley Boersma, modestly explains the success she and her business have had. Stationed at 3706 Mt. Baker Highway in Nugent's Corner, this little coffee shop is an institution for locals. Filled with a team of people that takes pride in knowing every regular's drink by heart, you're greeted with a smiling face and exceptional service. No matter how long the line, when you pull up to the window or walk inside, you know at that moment you're the most important customer.
Boersma may chalk it up to luck, but a group this good doesn't just happen. She's owned Xtreme Bean for just over 10 years, after purchasing the business, at age 20, from her then-employer. Her team is made up of eight people, including herself.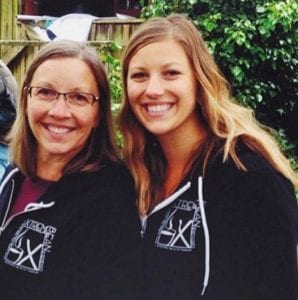 Incredibly, in the past decade, she's had a turnover of only five workers. In an industry known for high turnover, this is definitely unusual—and Boersma handpicks her Xtreme Bean's team members with the long game in mind. Often finding new hires by word of mouth, she finds people who are a little more settled in life, so not leaving for college or making big life changes that might pull them away.
To attract—and retain—these types of folks, Boersma strives to intentionally be accommodating and make employees' jobs work for their lifestyles. This is a useful lesson for any business owner; the proof is in this long-lasting team taking such pride in the work they do.
Boersma's hiring process is not complex, like some businesses, but it is extremely effective. It involves sitting down and having a conversation. "Talking face to face is our whole business." she says. Personal interaction is critical.
She also understands the needs of her business and makes sure those align with the individual she's hiring. A business that's open seven days a week won't be a good fit for everyone, but by understanding the individual's needs she can bring on employees with the that it can work for the new hire, the business, and the existing team.
Xtreme Bean's team has grown organically and is a group that's very much a part of their community; many of the employees have grown up in the area, and serve family and friends daily. "They're not just going to work at a coffee shop, they take pride in it," says Boersma. Taking pride in their work is a requirement to be employed at Xtreme Bean, but this was not a top-down directive—the team created this expectation. They all genuinely care and Boersma says that someone who didn't just wouldn't be a good match.
Boersma feels extremely fortunate to have such a capable crew, but it also adds pressure as a leader. If one person doesn't fit or care enough, it can bring down the whole team. She says the hardest part about leading is making sure everyone fits together.
This is a challenge for any leader, but Boersma makes it look easy. Scheduling, often a nightmare for similar businesses, isn't a problem at Xtreme Bean because of her group's selflessness. Boersma makes a schedule once a month and if life happens and someone needs a shift covered, coworkers step up and do it.
With such a strong team and successful business, it could be easy to let the little things slide. Boersma avoids this by making sure to check in regularly with everyone. If she doesn't work a shift with one of her employees for a while, she reached out to see if there have been any issues and of course check to see if a regular has changed their drink.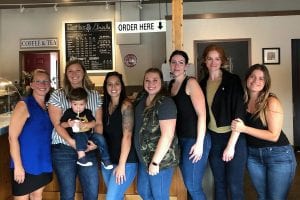 This attention to detail keeps people coming back for more. Boersma has created a culture where she doesn't have to say what the expectations are, the team just knows. She's chosen to lead by example and the method has worked wonderfully. No matter who's at the window, when you pull up, you're greeted with a smiling face and treated to exemplary service.
You might stop at Xtreme Bean Espresso to get your caffeine fix, grab a sandwich, or try one of their locally made pastries, but you'll return because of the excellent team made up of individuals who truly care.