With the Stay Home, Stay Safe order in place, the last couple of months have been a challenge for the historic Fairhaven district, a usually bustling corner of Bellingham. But the Fairhaven business owners won't stay down for long, and are already devising new ways to stay connected with the community.
"When the first stay home order came out, Fairhaven basically shut down," says Scott Ward, executive director of the Historic Fairhaven Association (HFA) and co-owner of Current and Furbish, a housewares and gift shop in the former Fairhaven Pharmacy building.
Ward knew he and the merchants in Fairhaven needed to take action to regain some momentum, so he devised a weekly online brainstorming session called "Destination Fairhaven." One of the group's first ideas implemented was a drone video entitled "Fairhaven Misses You."
In the video, shopkeepers and restauranteurs stand in their storefronts or hang out their windows, holding signs that say, "We miss you." Filming the video was an energizing moment for the Fairhaven businesspeople, who felt the camaraderie of gathering—in a socially distant manner—and uniting in the message.
"I think the video helped not just keep Fairhaven top of mind, but, for the business owners, it gave them a little hope that we're in this together. Initially, it felt like everybody was so alone," says Ward.
The video created a mindset shift for business owners, Ward says. "There's a greater sense of hope than there had been."
Following the success of the Fairhaven Misses You video, the HFA rolled out its "Tip of the Hat Chat" (the "hat" being a reference to the bowler hat of the father of Fairhaven himself, Dirty Dan Harris). The chat is a video production appearing on the Historic Fairhaven Facebook page each week. Ward interviews a member of the HFA and asks 13 questions to learn about the business and its offerings. Ultimately, each of the 120 member businesses in Fairhaven will be featured.
"Highlighting each individual business supports the idea of Fairhaven being that place that's intimate and personal," says Ward.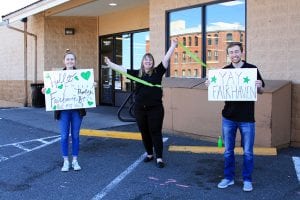 It hasn't just been brick-and-mortar businesses taking a hit due to coronavirus. Every spring brings two popular events to Fairhaven: Dirty Dan Day and the Fairhaven Festival. As organizer of the events, the HFA felt the financial impact. The Fairhaven Festival, which takes place Memorial Day weekend along with Ski to Sea, is the HFA's biggest event of the year and draws thousands of people.
Missing the event revenue is tough, Ward says, but not as dire for the HFA as it would be for organizations built around one event. What concerns Ward now is maintaining the sense of community that the events provide.
The HFA board is already hard at work looking at ways to pivot, such as considering ways to revamp this year's Wine Walk and restructuring parts of Winterfest. Ward says the HFA is working on a "big project" to help revitalize Fairhaven in the coming weeks, but won't say yet what it is—only that "We're all really excited about it."
Ward has also been working with city to come up with creative ways to support business during this time. For example, the city has purchased 200 green traffic cones to distribute to businesses throughout Fairhaven and downtown Bellingham to signify those offering curbside delivery.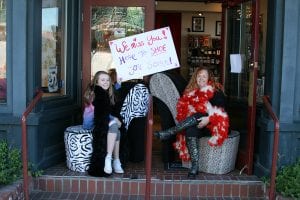 "I think that will make a big difference just to look down the street and see the cones and realize that Fairhaven is open to some capacity. You are able to still shop locally and support your local businesses."
Ward said the city is also examining ways to expand right of ways for parklets and food trucks as a way to allow for restaurants to have additional room to provide physical distancing. The city is also looking into the viability of purchasing masks and hand sanitizer to provide to merchants for customer use.
"The city has been fantastic as far as being available, connected and open to doing new things," Ward says.
As the state nears its Phase 2 for reopening select businesses—including restaurants, retail and professional services—Ward and the Fairhaven merchants are discussing what re-opening the shopping district will look like. Having all businesses offer masks and hand sanitizer, and posting the regulations for their use, offers a clear and consistent message, he says.
"I like this because it gives a unified understanding of what is expected in Fairhaven."
As the details for reopening restaurants and retail are hammered out on both state and local levels, Fairhaven's merchants are eager to get going.
"The reopening process is not going to be a challenge for us," says Ward. "Everyone is so ready to be open."
For updates on what's happening in Fairhaven, check out the Historic Fairhaven Facebook page.
Sponsored