When you go to the grocery store these days, do you notice the markings on the floor indicating where you should stand in order to protect yourself and others? How about the germ guards in front of cashiers? COVID-19 has changed so much of the social, economic, and physical landscape of our lives. It can be challenging to adapt, but Bellingham's Signs Plus has been helping ease the transition and make navigating this new reality a bit smoother.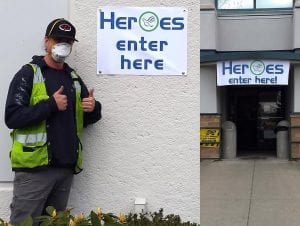 Signs Plus is an essential business that's pioneering the way local organizations can and should respond to the current public health crisis as we move forward. I spoke with owner Jim Sutterfield, who explained what he and his team have been doing for the community.
"We've been designing, manufacturing, fabricating, and installing COVID-related signage and germ screens for eight weeks now," he says. "There's not going to be much needed that we haven't already done—from details to put on your floor reminding people about six-foot distancing to cough or germ guards for the person at the cash register." Signs Plus is creating tons of these guards for local banks with a cut-out so papers can still be handed underneath. "We've installed hand sanitizing stations when you enter a building to mitigate the spread of germs."
Signs Plus hopes to be a valuable resource, so the business community doesn't have to start from scratch.
For example, if you're a restaurant owner and eventually want to open back up with limited seating, one of Signs Plus's experienced and innovative project managers can advise you on where to install a hand sanitizing station (before you touch the doorknob) and where and how to place floor markings. The same goes for contracting job sites; Signs Plus has been designing, fabricating, and installing signage for the construction community indicating what procedures need to be followed.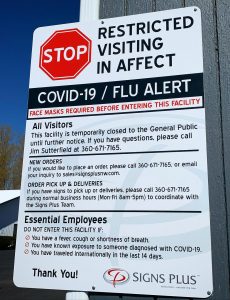 Signs Plus has been supporting local healthcare and public institutions, as well. "PeaceHealth came to [project manager] Sydney and had a big open room they wanted to convert to a patient room," Jim says. "They needed temporary patient room walls that had to fit in the elevator to reach the second floor, be portable, not permanent, comply with hospital sanitation requirements, and be fire rated—oh, and it needed to be ready in a week. Our design team sat down with Sydney and figured it all out."
The Signs Plus team has also partnered with the Whatcom Transportation Authority to help keep bus drivers, transit employees, and the general public safe. Sutterfield is proud of his team. "Paul, our director of operations, has been building signs for 35 years. He and Ken, a project manager, are looking at the buses and designing a swinging door that can open and close so that bus drivers can be protected while they're working. Our team is full of creative problem-solvers."
Signs Plus works with businesses looking to reopen their corporate offices. "Typically, you have cubicles and you're literally side-by side with your coworkers," Sutterfield says. "We're currently working on a project for a whole office building floor, figuring out how to divide cubicles with a six-foot distance. Eight or ten weeks ago, we never thought we'd have to be dealing with this stuff."
And while this is new territory for everyone—Signs Plus included—there's a reason for that 'Plus' in the name. Their 35-person team is exceptionally talented, creative, and experienced, and they're one of the largest sign companies in Washington state. Their signs welcome, guide, and instruct people at Whatcom Community College, Everett's Paine Field, Big Love Juice, Woods Coffee locations, and many more.
"People often ask what does 'Plus' mean?" Sutterfield says. "Our company is unique. The name Signs Plus was a little bit of an accident at the beginning [almost 30 years ago], but has become pretty fitting to us as a company. What makes us special is that we can take a project and see it through the entire process—from concept design to permitting to fabricating to installation—and we can do it all in-house."
Signs Plus will be a wayfinder for businesses, employers, contractors and more as we emerge into a stronger, safer community.
Sponsored