Like so many who are sheltering-in-place during the COVID-19 pandemic, Mari Wuellner wanted to do something to help—but initially felt pretty helpless.

"I was feeling very hands tied," she says. "You get all these ideas, but you can't leave your house."
Scrolling through her Instagram feed one day, she came across a photo from a good friend who works at Seattle Children's Hospital, showing 15 lattes with a caption that read: "Thank you so much for the donation! Night crew needed this boost."
Wuellner suggested to her husband, Tom, that they could do the same thing, and the idea quickly snowballed. What if they donated full meals? And what if even more people wanted to join them? She knew friends and family members were craving an outlet to donate—what if Wuellner could help create that outlet through meals and treats for frontline health workers?
Partnering with her sister, Jessie Bennett, of Jessie Bennett Photography, and with graphic designs generously donated by Kelci Douglas of Douglas Marketing, Wuellner launched a Go Fund Me with the goal of raising $400 to deliver one meal to workers at Seattle Children's Hospital.
Wuellner then reached out to her cousin, Libby Aker, who co-owns Seattle restaurant Pioneer Square D&E, to provide the meals (paid for with the donated funds). D&E blasted social media and rallied their community—which was looking for a way to support D&E—to help with the Go Fund Me. The response was immediate and a light bulb went off for Wuellner.
"I thought, this is so brilliant," says Wuellner. "This is a way for our community to rally around our restaurants and our frontline workers."
Quickly, her Go Fund Me goal grew into a much larger project, as they upped the plan to deliver meals and treats to other hospitals near Wuellner and her sister: PeaceHealth St. Joseph Medical Center in Bellingham, Skagit Valley Hospital, and Sedro-Woolley's PeaceHealth United General.
At the time of this writing, the Go Fund Me has surpassed $10,000.
It's a win-win that also supports delivery drivers who are paid from the fund. A car lot in Skagit County has even generously donated cars to restaurants so they're able to make deliveries.
Skagit restaurants who have been paid to deliver means include Skagit Valley Burgers, Max Dale's Steak & Chop House, Iron Mountain Bar & Grill, Ristretto Coffee Lounge & Wine Bar, The Fairhaven, The Edison Café, and Terramar Brewing. Big Scoop generously donated 100 meals, though restaurants are not asked to do so.
Whatcom eateries now involved include Leaf and Ladle, Morgan G Cookies, and Vitality Bowls.
Morgan Gaunt of Morgan G Cookies has twice supplied beautifully decorated (and delicious!) sugar cookies as a treat for healthcare workers at PeaceHealth St. Joseph Medical Center. Gaunt's mother, Linda Grosjean-Melim, and sister, Taylor Melim, co-own Leaf and Ladle, which has also lovingly crafted many meals to nourish staff as they weather incredible work challenges.
"It's an easy way to support multiple people—small restaurant owners and hospital employees," says Gaunt. "Restaurant owners aren't being asked to donate anything; they're being compensated. And that's so important right now when small, local restaurant owners are suffering."
Wuellner smiles as she talks about the pay-it-forward response from Go Fund Me donators and the passion of the restaurants who partner with her to make nutritious meals and also rally their customer base to help raise funds for the next meal delivery.
"Leaf and Ladle is delivering at 11:00 p.m. tonight," Wuellner says. "It's so selfless and such a sacrifice of their time. And if you look at the meals—all of them, all of the restaurants and all of the pictures—they're made with so much love."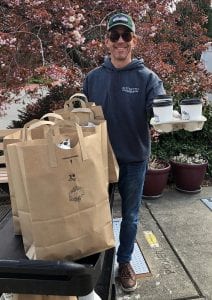 PeaceHealth St. Joseph Medical Center registered respiratory therapists and ICU staff were recent recipients of a Leaf and Ladle delivery. "They provided a very nice, nutritious and tasty lunch for healthcare workers at St. Joe's," says Shawn Buhler. "It was much appreciated and sustained us throughout the day."
Fellow registered respiratory therapist Shawn Buhler agrees. "It was a thoughtful and generous gift, appreciated by all who received lunch that day."
Wuellner grows emotional as she recounts a recent $10 donation from a friend of her daughter. "Even these 14-year-olds want to help," she says, her voice breaking. "Every post they now see, they know they had a hand in that."
When Wuellner started this, she had no idea it would grow into, essentially, another full-time job. She has decided to wrap it up in May—"unless there's someone who would like to take it over," she says, "and then I can hand it off. I would totally do that."
Whether or not the Food for the Front Lines project continues after May, one thing is certain: Wuellner and her partners have done a very good thing for both our frontline healthcare workers and our small, local restaurants—helping folks thrive at a difficult time when seemingly small things can make such a big difference.
Photo courtesy: Skagit Regional Health

Photo courtesy: PeaceHealth United General

Photo courtesy: PeaceHealth United General

Photo courtesy: PeaceHealth United General

Photo courtesy: Skagit Regional Health

Photo courtesy: Leaf and Ladle

Photo courtesy: Leaf and Ladle

Photo courtesy: Skagit Regional Health

Photo courtesy: Morgan G Cookies

Photo courtesy: Morgan G Cookies
Featured photo: PeaceHealth registered nurse Karis Carter accept a recent meal delivery from Linda Grosjean-Melim and Taylor Melim, co-owners of downtown Bellingham's Leaf and Ladle. Photo courtesy PeaceHealth