If one thing is certain, it's that things are uncertain right now. But it comes as no surprise that many Whatcom County businesses are rising to this unparalleled challenge, evolving to continue serving our community. Local healthcare providers are, too—thanks to telemedicine.
My son recently dealt with a fairly minor issue that had lingered long enough that we wanted a professional opinion—but we weren't comfortable with the increased risk of an in-office visit. I called our Family Care Network North Sound Family Medicine clinic at 8:00 a.m. on a Monday (a notoriously busy time to get through and schedule a visit), and a mere 15 minutes later my son and I were talking face-to-face, virtually, with a doctor.
The experience was simple and straightforward, technologically, and I closed the browser window feeling like we had a good plan in place, and larger worries placated.
I later speak on the phone with Dr. Ryan Honey of Bellingham's Family Health Associates—also part of Family Care Network (FCN)—to learn more about how they implemented telemedicine during the COVID-19 pandemic. On a break from seeing patients, Dr. Honey steps outside and removes his mask so he can walk in the fresh air while we chat.
"This is something Family Care Network has been working on for the past year and a half," Honey says. The plan had been to start a pilot in April 2020 at Family Care Network Bellingham Bay Family Medicine and work out all the kinks before implementing it across all FCN locations.
And then the coronavirus hit.
"Instead of doing it at one clinic," he says, "we decided to do it everywhere."
Any such large operational change across as many doctors and clinics as FCN has would expect bumps in the road and headaches. But Honey says that, overall, it's gone incredibly well—even better than anticipated.
"I was in clinic yesterday and saw 26 patients, which for me is a very busy day; 20 were telemedicine visits," he says. "Patients have not wanted to come to the doctor, which is totally reasonable, and telemedicine has really helped."
Two of the folks Dr. Honey saw the day before were longtime patients, and Honey smiles at the opportunity it gave to inadvertently introduce them to his kids and dogs. He was working from home and the patients could hear noise from the back yard and asked to see Honey's view.
"Next thing I know, they're out on their back decks, showing me their gardens," he says with a laugh. "It was really great."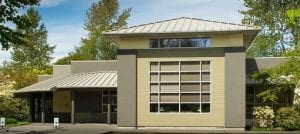 Dr. Kelly Casperson of Pacific Northwest Urology Specialists is receiving the same positive feedback—right down to also meeting patients' four-legged friends. "Our patients have been so happy," she says. "I've been able to see them while they're at work; I've even been able to meet one of their dogs. It's a game-changer and here to stay."
Obviously, not every type of appointment is conducive to telehealth, but many are—and Honey agrees that it's likely to change how many telemedicine visits happen moving forward. "I think, now that we've jumped in with both feet, it will continue."
For well-child checks, Honey has kids weigh themselves and parents measure them, to get heights and weights. Vaccines due? He offers a couple different options. "For a six-year-old, we can wait a couple months," he says. "But, for a two-month-old, I don't want to wait on their vaccines."
That's where car triage comes in, where vaccines can be administered by a provider or nurse in the parking lot. Honey understands that patients have varying comfort levels. Doctors and nurses are still seeing folks in clinic, with added precautions; if you need to be seen, you can be seen.
Michele Anderson, Family Care Network senior communications manager, stresses the increased safety implementations that happened early on in the COVID-19 pandemic across all clinics. "We responded very quickly in March with strong protective measures to keep our clinics safe for those who need to be seen in person," she says.
These measures include car triage (as mentioned above), a check-in process that reduces or eliminates time spent in the waiting room, a centralized COVID-19 testing location for patients who need a test following a telemedicine visit, an online self-scheduling tool for lab draws, and stringent cleaning protocols in all public areas and exam rooms. "All staff also are required to wear masks in the clinic at all times," Anderson says, "including Administration offices. And we practice appropriate social distancing while at work, as well."
But for those patients with situations that are a good fit for telemedicine visits, Dr. Honey has nothing but praise for the process.
"I don't want to minimize the physical exam in any way; it has its place and is really important. But there are many times where, even in the office, I don't do a detailed physical exam," he says. Listening to someone's heart and lungs when they're being seen for their ongoing diabetes isn't helpful to the doctor or the patient. "Now, if someone is short of breath or having trouble breathing—absolutely, we want to do a physical exam. But there are lots of situations where it's not absolutely necessary."
So much of a physician's work comes through looking at and observing patients. And today's technology—with high definition mobile phone cameras and 1080p webcams on computers, provides crystal clear images. Honey can see a patient on the screen and tell if they're having trouble and need to be seen in-person.
"Here's what I tell patients," he says, wrapping up his walk, readying his mask, and heading back toward the clinic. "For those patients who are more cautious, this is the best time to try it."
FCN has just launched a new on-demand service where patients can enter a virtual waiting room through its website to get a telemedicine visit with an available provider. The service is available days, evenings, and weekends and is open to FCN and non-FCN patients: Start your visit here. For more information on Family Care Network's telemedicine options, please visit their website.