Submitted by: Barron Heating and Air Conditioning
Ahhh…feel that? It's fresh, clean indoor air. Or it could be.
Research is finding that indoor air is substantially more polluted than outdoor air, even in the most populated and industrialized cities. And while our concerns for smog, smoke, germs and allergens outside our doors are valid, those same dangers—and many more—are trapped inside. 90% of our time is spent indoors (cpsc.gov), which means we're breathing it all, good and bad, for upwards of 22 hours a day.
Imagine your ductwork as the "lungs" of your home: continuously passing air through them—and their dirty contents—24-7. Those old mouse droppings behind your kitchen register, ignored by the previous homeowner? They're in there. Heavy pollen and dust from your neighbor's gravel driveway or last year's tile remodel? It's deep in your ductwork too. Then there's the mold, bacteria, and viruses, as well as the pollutants from cleaning products, pesticides and more. No wonder the effects, both short term and long term, are reflected in our health.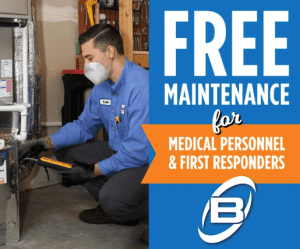 Ready to make a change? Professional duct cleaning is an excellent place to start. Our Barron Air Solutions Team packs a punch with full truck vacuums that are 600% stronger than the most powerful shop vacs. Each of our duct trucks come equipped with dual compressor systems: one large compressor for suction and another for blowing and powering a range of mechanical brushes and air whips. This dual-compressor approach gives us the NADCA-certified "Negative Air" cleaning process—the most robust duct cleaning process available today.
Certified by the National Air Duct Cleaners Association (NADCA), our Barron Air Solutions team will clean your existing ductwork and furnace to these high standards 100% of the time. And because cleaning and sanitizing your ducts is so important, we're currently offering a duct cleaning special: purchase our certified Air Duct Cleaning service and receive a sanitizing treatment for your ducts for free. This treatment uses the same virus-killing technology employed in our state-of-the-art air purifiers, leaving your home's "lungs" clean and worry-free.
Many customers are asking if now is also a good time to maintain their heating, venting, and air conditioning systems, or what we call "HVAC." The answer is, absolutely! With people spending so much more time in their homes, professional maintenance of these systems and bettering your air quality is now more essential to your health—and peace of mind—than ever.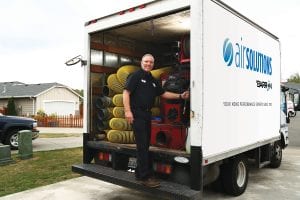 Conservative estimates suggest we are now spending at least 50 additional hours a week at home, per person. And spending that much more time in one place is understandably putting even more demand on the systems in your home. Think about your furnace, your filtration system…even your plumbing. That's a lot more load for those essential systems to handle.
Wear and tear is inevitable, but a Barron Essential Maintenance ensures your equipment is running safely, efficiently, and reliably. During this service, we will closely observe safety-first Contact-Free protocols, and will examine and change your air filters to ensure the best possible indoor air quality. For additional benefits, we offer a Barron Silver Shield Maintenance Plan, where our Preferred Customers enjoy annual maintenance with priority scheduling, no overtime fees, discounted repairs, and discounts on equipment replacement, including heating, cooling, electrical and plumbing.
Maintenance matters. So much so that Barron is now offering a courtesy HVAC Maintenance for any Medical Professional or First Responder through June 30, 2020. It's our way of expressing our "thanks" for taking care of our community, and ensuring those workers have a safe and comfortable sanctuary to come home to. And, if you are a new customer, we'd love to offer you 50% off your Essential Maintenance Service at this time.
Your home is now, more than ever, your everything. It's your office, your restaurant, your gym, your kids' school. Now is the time to make sure it's ready for the journey ahead. From improving indoor air quality to ensuring the safety and reliability of your essential HVAC systems, our Barron Team is here for you and your family. Give us a call to schedule your duct cleaning and Essential HVAC Maintenance. As always, we stand by our mission: Improving Lives.