After a month or more staying at home, there's a good chance someone in your house has read all the books they stockpiled before everything, including the libraries, shut down.
If you or someone you love is feeling the need for a good book to get lost in—or any kind of distraction to make it through this extended time at home—the Whatcom County Library System (WCLS) is doing its best to offer as many resources to patrons as possible. WCLS serves rural Whatcom County with 10 library branches and bookmobile service.
"Everybody's experience is different during this time," says WCLS Executive Director Christine Perkins. "There's a lot of stress on families…for many, staying home is a real limitation. We want to give opportunities for people to learn, grow and expand their minds."
Introducing WCLS@Home
When library buildings closed, staff quickly created the wcls.org/info page on the WCLS website to serve as a central hub for online library resources, COVID-19 information, and curated links to additional educational, news and entertainment sources, including the Whatcom Arts Project.
Library staff also began creating original content and sharing that programming via WCLS@Home. The weekly schedule of online programs is a way for the county libraries to be there for patrons, even when the physical buildings are closed. And library staff members have come up with all sorts of ways to keep us informed, amused and connected.
One staff favorite is "MatchBook," which takes place on Wednesdays from 7:00 p.m. to 8:00 p.m. at the WCLS Facebook page. Library staffers are on hand to match readers to books; simply tell them two titles you recently enjoyed reading and they'll give recommendations for two more. The staff can make recommendations for younger readers, too.
"It's a frenzy of book recommendations and book love," Perkins says.
Once you have your recommendation you can go online to WCLS.org and check out the eBook or eAudiobook. Perkins encourages patrons to place holds on a book if it's not available. It helps library staff know what titles to buy more of. And since lots of people are using eBooks right now—a 200% increase from March of 2019 to March of 2020—library staff are really paying attention to what readers are requesting.
Perkins says don't be discouraged if you encounter an especially long wait time for the book you want. WCLS is part of a digital consortium, so patrons are seeing the consortium wait times. But WCLS often has many more of the same titles exclusively for WCLS use, so actual wait times are often much shorter.
"Go ahead and put a hold on it," she says, "and you might be pleasantly surprised."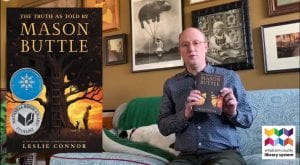 One beloved in-library activity that can't be completely replaced online is story time, but Youth Services Manager Thom Barthelmess and his staff are making every effort to keep children and teens engaged in reading during this time.
For early readers, WCLS@Home "Let's Practice" prompts for early literacy activities are posted on the WCLS Facebook page. Monday through Friday, family members can follow the prompts to help their emerging readers practice singing, talking, reading, writing, and playing to build early literacy skills. Families can share their experiences on social media with the #LetsPractice hashtag.
For older readers and families, Barthelmess suggests joining in as the community reads author Leslie Connor's book The Truth as Told by Mason Buttle. As part of WCLS@Home programming, library staff have arranged for unlimited digital copies of the eBook and eAudiobook for download with a library card. (Students enrolled in all Whatcom County school districts can use their student i.d. number as a library card if they don't have their own WCLS card.)
"Even as we move online, I still find there's something special about sharing the same book," Barthelmess says. And he finds this title to be one children as young as second and third grade will enjoy reading or listening to with their families.
Sign up to stay in the loop on all the activities around the book, from discussion questions to video chats with the author, at wcls.org/masonbuttle.
Online resources abound
If you've been missing your favorite library staffer, you may be able to see them appear in WCLS Staff@Home videos on both Facebook and YouTube, sharing some of their favorite online resources found at WCLS.org.
WCLS offers a variety of online resources that aren't associated with an "old-fashioned" library. Movies, music, crafting how-to's, language studies and more are offered, along with online versions of newspapers, magazines and reference materials.
Perkins recommends Kanopy, a streaming service for independent and foreign films and documentaries. Have you been meaning to find something other than what's offered on Netflix? "Why not do it now? It's free from the library," she says.
A new addition to the online offerings is Ancestry.com. Ancestry has been available to library patrons in the library for some time, but is now available online with your library card via WCLS.org.
If you're looking to make some budget-friendly cuts without giving up your tunes, Perkins suggests trying Freegal for music. This free music service offers the entire Sony recordings catalog, with new titles being added all the time.
Perkins' favorite new addition to their digital offerings is CreativeBug, where patrons can find well-produced how-to videos on sewing, art and crafting projects. Whether you want to learn to paint, crochet or do something crafty with all those wine corks you've been collecting, CreativeBug is your go-to resource. "They're all beautiful projects that could be in any magazine," Perkins says.
Need a library card so you can access all that WCLS offers online? The process is easy. Sign up online at WCLS.org or call 360-305-3600 and a card number will be issued via email so you can access digital resources right away. Physical library cards will be mailed.
Staying connected—to everyone
WCLS supplies not only resources such as eBooks and eAudiobook—it also gives access to information via the internet.
"The rural nature of Whatcom County means many people can't access the internet," says WCLS Deputy Directory Michael Cox, whether that's due to a lack of connectivity or because they don't have access to a device.
Typically, when the library is open, patrons can use the libraries' computers and internet connection, but that's not currently an option. WCLS has a solution. Phone lines are open every day from 1:00 p.m. to 5:00 p.m. and library staff members, working from home, can answer questions on library services, look up information via the internet, and even just provide the support of a voice on the other end of the telephone line.
"We been asked to read Bible verses or passages from the Alcoholics Anonymous Big Book," Cox says. "We're pleased they thought to call the library."
Cox shares the story of one patron without internet access who lost his job. With no way to get online, it's nearly impossible to do a job search, so a library staff member was able to help him search and provide business names and phone numbers to get him started. Library staff are also creating concise resource guides to help community members navigate issues related to COVID-19 such as unemployment information. The resource sheets can be read online at wcls.org/help or request a mailed resource guide.
One question Cox hears frequently is "When will the libraries reopen?" There's no timeline set for that now, but they are working on plans for a curbside pickup model that could serve as an interim measure when services ramp back up.
Cox wants everyone to know that while the libraries are closed, so are the book drops. If you have books that were checked out before the closures, hold on to them, he says. And don't fret about overdue fines; none will be charged because overdue fines were eliminated earlier this year.
Sponsored