About 10 years ago, Bellingham's Josh Bechtel had an idea to create the most simplified bicycle possible: one with no shifters, cables or chains. He sketched a number of possibilities on Post-it Notes, in spare moments during his work days of graphic and product design, and eventually chose a prototype.

Today, the result is "bicymple," a boutique bicycle brand that creates two-wheeled contraptions unlike any you've ever ridden before.
The company is co-owned by Bechtel and his friend Gabe Starbuck, who are also bicymple's only official employees. They produce several bike models, each wonderfully unique, fun, and low-maintenance. The primary model allows both the front and rear wheels to steer at the same time.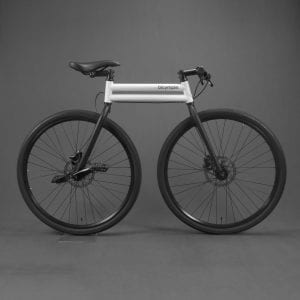 "It's a bike for aficionados," Bechtel says. "It's not going to be the only bike you own."
Making such a niche bicycle, he adds, is less about being superior to other bike designs and more about having fun.
"I don't think that the sole purpose of design is to be better than something else," he says. "I think sometimes things can exist just for the sake of existing."
No Chains Required
Bechtel, 41, has been obsessed with bicycles for 25 years. In high school, he'd sketch out frame designs for mountain bikes. In 1998, while attending college, Bechtel built a full-suspension mountain bike, cutting the frame's tubes and hiring someone else to weld them together. The next year, he ran a downhill race with his build, finishing in the top 10 and outrunning people who rode bikes worth thousands of dollars.
After college, Bechtel spent a decade as a teacher, moving from California to Bellingham in 2002. He eventually changed careers, going into marketing and product design. In 2010, after sketching his ideal prototype for bicymple, he used the cheap welding unit he owned to turn his idea into reality.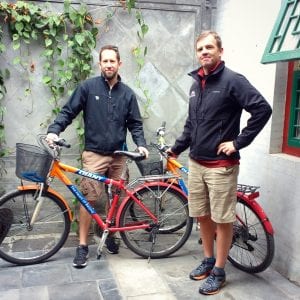 Bechtel also created a professional-looking website for the bike, figuring he'd add it to his design portfolio just for fun. He had no intention of the site being seen or taken seriously, but that's not what happened.
He started getting dozens of emails a day, some from people in other countries. What was it like to ride the bicymple, and more so, where could they get one? A New York City bike blog wrote a critical opinion of the bike he'd built, and publicity continued growing.
"It was fun to enjoy that viral wave, and not have anything attached to it," he says. "For me, it was a fun portfolio piece; a fun bike that hung out in my garage. But it definitely got me thinking."
He reached out to Starbuck, who'd recently left his job at Western Washington University and was looking at starting his own business. The two collaborated, setting up a Kickstarter page to raise money to build more bikes. They also uploaded a YouTube video of Bechtel riding the bike: it promptly received several hundred thousand views.
Gliding on viral momentum, the Kickstarter raised $45,000, which was used to build the first batch of 42 bikes in 2012. The two men handled design and assembly of the bikes, while soliciting help from Whatcom County artisans in welding, powder coating and machine shop work.
Selling for about $1,000 apiece but costing just as much to make, it became clear that making a profit would mean selling each bike for an increasing exorbitant price, Bechtel says. It wasn't a route they wanted to pursue.
After speaking with around a dozen domestic manufacturers across the country, they found producing their product outside Whatcom County would cost even more. The last option was outsourcing to another country like China (something common in the bicycle industry), but that too, Bechtel says, felt infeasible. It also felt unethical, as Bechtel had previously worked for a company that outsourced its manufacturing needs to some wildly unsafe Chinese factories.
It all changed in 2015, when they met a Gig Harbor man who'd recently expatriated to Taiwan with his family. The man had prior bicycle production experience, and had a bicycle assembly shop in the country.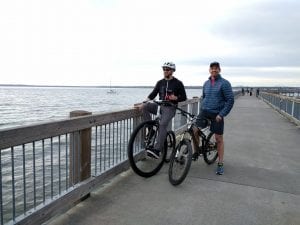 Bechtel says he and Starbuck clicked with the man, and after rounds of emails, they eventually made a trip to see his facility. It alleviated any ethical concerns they had, and the man's company now manufactures all bicymple models. The move slashed their production costs by a third, Bechtel says.
It takes about 100 days to manufacture each batch of bikes, and the company currently sells about six a month on average. So far, they've shipped bikes not just across the United States, but across the world. Sales have come in from Japan, Australia, India, the United Kingdom, and even Qatar.
Bechtel still personally handles final assembly and shipping of the bikes, dissembling the generic bike wheels and attaching specialty-build two-speed hubs on respective models. He also assembles the wheels for each bike.
"It's a really soothing thing for me to do," he says. "There's a magical moment when you're building a bike wheel and you get all the spokes in. It's like knitting or something; it's this repetitive process, and then all of a sudden you've got 36 spokes in there, and you start tensioning them, and all of a sudden it becomes a wheel. I don't ever get tired of it."
How to bicymple
Bechtel says their bikes are easier to ride than his first prototype, and each of the three models has its perks.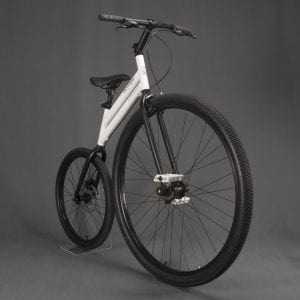 The "Play" is symmetrical, with front and rear steering. The "Go" looks just like the "Play" but utilizes a two-speed hub and steers normally from the front. The "Penny Farthing" is a nod to the big front-wheeled novelty bicycles of long ago, with a 36-inch-wide front wheel. Paired with a two-speed hub, it offers riders decent stability with the chance to still pedal relatively fast. Shifting on all three bikes is done with the heel of the foot. Bicymple has also designed custom unicycles for several customers, but currently lacks a one-wheeled product line.
Compared to riding a regular bike, Bechtel says a bicymple ride is quirky and very, very nimble. Still, he points out that you probably shouldn't take one mountain biking.
"For me, it's a bike that I'm going to ride around in my alley, and hang out with friends," he says.
With both men still holding day jobs—Starbuck does remote software work while Bechtel works for a pickleball paddle company—they don't see their venture as anything other than a fun side project. Although that could one day change, the two men are satisfied keeping bicymple as simple as possible.
"I'm curious to see where it takes us," Bechtel says, "but I'm pretty happy with where it's at."