Spring of 2020 saw the beginning of two periods: the Stay Home, Stay Healthy order, and gardening season. As garden season always arrives whether we're ready for it or not, it was a timely reminder that we really are good—and experienced—at responding to things out of our control.
We can't regulate the changing seasons, but we can create beauty and food by doling out small, appropriate actions, day by day, with the changing weather as a reliable partner (rather than a racing clock).
So, if you're exploring self-reliance, wanting a calming new hobby, or looking to deepen the green of your thumb—there's something special about gardening during the COVID-19 outbreak. Find information below on availability of materials, tips for beginners, and stretch goals for experts.
Garden Supply Access During COVID-19
Nathan Weston, co-owner of Joe's Gardens in Bellingham, says it is hard to gauge whether there are more people getting into gardening or whether the increased demand is from existing growers. But the bottom line is, they are busy.
"We have both a retail nursery and 90 wholesale accounts," says Weston, "and we're seeing huge demand in both places."
For Weston, efforts to keep people supplied with goods for their gardens must be balanced by keeping his crew socially distanced from one another for their safety, and focused controls for production can mean more people rather than less in a process. But Joe's Gardens, and many other local nurseries, are rising to the challenge with phone and web ordering and curbside pickup.
Jenny Gunderson, owner of Bellingham's My Garden Nursery, says that while they have shortened hours, they're serving customers in many ways. "Because we have so much space, we're enforcing a seven-foot rule, and the cashiers do a bit of a dance with the customers so they're never near one another. But we're also offering curbside pick-up and deliveries."
In sum: Garden starts and supplies are available. You might need to plan your purchase anywhere from one to 48 hours in advance at some places, but local distribution is still happening from wholesale to retail. Call around to find what you're looking for.
New to Gardening?
"The number one thing I would say to someone who has never gardened is that it's a lot easier than you think," says Weston. "It's amazing what you can do with a small area."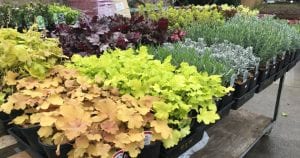 Whether you have materials to make a raised box, or just a small patch of earth, here's Weston's advice on how to ease into a great little garden:
"Plant no plant before its time." You can ask your nursery what is safe to go into the ground when you buy seeds or starts, but a bit of planning with a timing chart for plants in our climate goes a long way. Here's a resource from the Bellingham Food Bank (chart on page 9).


In keeping with the first point, remember that you don't plant your whole garden at once. Either leave room to put in later season plants or keep early crops on one end so you can replace them mid-season.


Put taller plants in the "back" (north end, away from the sun), mid-height plants in the middle, and smallest plants close to the sun.


Be realistic about what grows here. While you can grow lettuce all season long, you're unlikely to be successful with most peppers. Also, "don't grow corn," says Weston, "you'll do so much work tending the plants all season and then get maybe 4 ears, it isn't a good time investment."


Avoid the two biggest mistakes: Not watering properly, and failure to fertilize. Weston says the water needs of different plants run a spectrum, so just aim for soil to stay "moist." On fertilization, he urges new gardeners to think of fertilizer as a "multi-day vitamin for plants." Choose something "vegetable grade" and organic and apply it on the schedule it recommends.
While Weston champions the ease of growing food, he also stresses to cut yourself slack because mistakes happen. "We accidentally killed 4,000 tomato plants this spring, and that is after 40+ years of experience," says Weston. "We're all learning."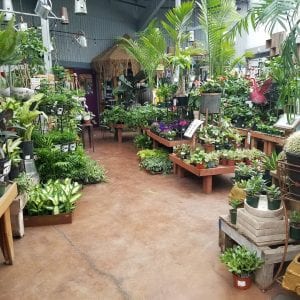 Gunderson says that an unexpected upside of this period is there's so much soil amendment happening—which not only helps your garden but is good "in the big picture for the earth." If you're new: know you can buy packaged compost or soil amendments to mix with current soil or fill in raised beds—creating a naturally rich and ripe ground for planting.
Bringing the Outdoors In
Greening up the inside of your living space—even if it's just a rented room—can help "clean the air, beautify your environment, and give you something to care for," says Gunderson. She adds there has been a lot of demand for indoor plants, especially from young people. She welcomes anyone to take advantage of advice from her staff to help create indoor plant environments that are good for both the people and the plants.
Thoughts for Experienced Gardeners
Both Weston and Gunderson recommended expanding—one in types of food, and the other in scale.
"Life is too short to grow russet potatoes," says Weston. "Grow things that are fun!"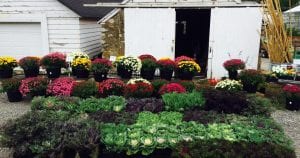 Sometimes you get a rhythm down, and then don't explore new plantings. Weston urges everyone to try something new in their gardens this year. "We're always testing new varieties and crops," he says, "the ones we sell at the farm we've tested ourselves and we know local people have had good luck with."
His list for gardeners looking to expand past staples like carrots and lettuce:
broccolini
Romano pole beans
long Italian red peppers
You might think all peppers need the support of a greenhouse, but Weston says there are four or five varieties that can grow outside in this climate—including jalapenos. For best success, he recommends mimicking a desert. He says he waters peppers heavily to create the experience of a monsoon season for the first part of the planting season, and then at the end of July cuts the water off—like a dry period in a desert.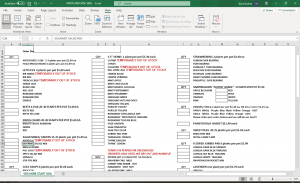 Gunderson says her staff is taking calls and sharing images back and forth on email to help folks plan and implement their ideal gardens. "We've been working with people who are doing entire new areas in their garden—maybe it's something they've always wanted to create but just hadn't gotten to yet," she says.
If you want to plan out a new area in your personal oasis, Gunderson says her staff can help guide you via phone or email, and then they can have everything you need to succeed ready for you in a pick-up order.
If you need help dreaming, check out their Pinterest Boards.
Other goals for gardeners this year might include:
expanding your current crops to lessen your demand for outside produce shopping
upping production to donate food to local food banks
changing your yard to all native species
planting specialized areas: an all-herb garden, an area dedicated to pollinators, or a house grown out of giant sunflowers
Contributors:
Nathan Weston, Joe's Garden | 360-671-7639
Jenny Gunderson, My Garden Nursery | 360-366-8406