Unity Care NW—well-known to residents of Whatcom County as a provider of top-notch health, dental and behavioral care—has recently added a new member to its team. CEO Jodi Joyce brings a lifetime of education and experience tailored to improving the quality of health care available to her community.
Joyce grew up in the northwest of Ohio, in Van Wert, with a population of about 10,000, before her father took a job in Southern California. After high school, she returned to the Midwest, where she obtained a degree in science from Wheaton College and a degree in nursing from Northwestern University. "I knew I wanted to work in health care, but I wasn't sure of the role. While I was at Wheaton I realized that nursing was a great way to quickly get to the front line of what health care delivery is all about."
Joyce returned to California to begin her career, but it wasn't long before she noticed a trend that led her to attend Stanford Business School. "As I was working—first as a bedside nurse, then as a nurse manager—I observed that the influencers in the hospitals I worked in were really the business types, and not the clinical types," she says. "My personal motto is about making a difference that matters, and that lasts. To really make that kind of difference in health care, I needed to hone my business skills."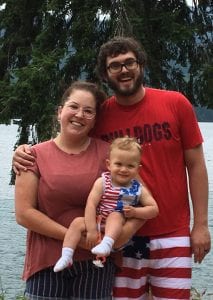 With her schooling complete, Joyce built a family with her husband Will, and continued moving northward, closer to her eventual home in Bellingham. "After business school, I went to work in the California Bay Area, first for a health care consulting firm, and then for Kaiser Permanente," she says. The Kaiser move brought her to the Portland area. "Both of our kids graduated from high school in Vancouver and chose schools in Washington state—our older son, Matt, at Gonzaga, and our younger son, Ryan, at Western."
They first glimpsed Bellingham while visiting Ryan, but there was still another move in the cards for the Joyces. "When I was in Vancouver, working for Legacy Health System, we made these huge improvements in patient care," Joyce says. Those improvements were detailed in then-health care journal Health Affairs, and caught the eye of the Academic Medical Center at the University of Illinois. "Chicago called and said, 'Would you come to the University of Illinois, and do for us what you did for Legacy?'"
Jodi and Will left Washington for Illinois, and made the occasional trip back to the West Coast to visit their sons. But one day the phone rang, and the message brought them out west to stay. "Our older son got married, and settled in Bellingham, and we got a phone call saying 'Lauren's developed a high-risk pregnancy and she's been admitted to University of Washington.' Both our daughter-in-law and our grandson were in Seattle, and our son was trying to hold together a job and a house and everything else," Joyce says. "My husband and I looked at each other and said, 'You know what, we're not moving to Bellingham when we retire—we're moving to Bellingham now.'"
The couple became Bellingham residents in the summer of 2018, and set about transitioning their lives here, while Jodi was still flying to Chicago every week. "The commitment we made was, 'We're not going to find the next job, we're going to find the right job.'" And in a fortuitous series of circumstances, she learned about the opportunity at Unity Care.
After a year and a half of commuting halfway across the country, she found a position that used her specialized skill set, and also dovetailed with the mission of her career so far—providing quality health care to socially and financially vulnerable communities.
"Surprisingly, there are a lot of gaps in the quality safety of health care. I saw that first as a nurse, and then as a manager," Joyce says. She realized the need to think bigger. "Einstein is attributed with saying that problems can't be solved at the level at which they were created, so you have to step up and step back to design something different, and something better."
To Joyce, Unity Care is well-positioned to make those strategic adjustments. "Our vision is for everyone to have the opportunity to live their healthiest life, and improving the number of years of healthy life."
Unity Care NW provides care for all who need it, regardless of ability to pay, and patients range from people who have very limited means, to people who choose us among many options because of the quality of the care that they deliver.
Two popular Unity Care NW programs—Veggie Rx, prescribing vegetables to patients and providing them with financial support to get fresh produce on a regular basis, and 'Parks Rx,' prescribing and helping organize recreational activities—help people take care of themselves. "It's not just traditional health care," says Joyce, "but supporting healthy lifestyles and healthy self-care."
Joyce has plenty of good things to say about her new home, as well. "One of the things that's so compelling about this community is how socially minded people are, and the deep roots there are around amazing organizations. From the Opportunity Council, to the Whatcom Center for Philanthropy, to Whatcom Women in Business, I think it's amazing that there are so many organizations trying to solve problems together."