North Kitsap shot lights out in the fourth quarter to erase a double-digit deficit, but once King's High School, which seemed to be punching well above its weight the entire postseason, gained momentum, there was no slowing the upstart Knights down.
When looking at this year's boys state basketball tournament in the 2A and 1A classifications, those two factors loomed large in preventing both Lynden and Lynden Christian from once again claiming state titles.
The Lyncs and Lions each added impressive hardware to their already abundant trophy collections, but that's not to say they didn't experience some heartache at the Yakima SunDome as both programs suffered slim losses to eventual state champions.
Lynden Christian finished second at the 1A state tournament, losing to No. 14 King's in overtime, 70-67, in the title contest.
Lynden, which entered the 2A tournament as the top seed, finished third, defeating No. 4 Lindbergh, 72-58, in the placing round. That victory came after the Lions fell to No. 3 North Kitsap the day before in the semifinals after leading by 14 points in the second half. The Vikings would go on to claim the state crown with a 56-53 win over Clarkston.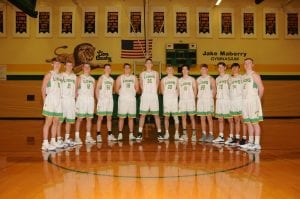 The high placings at state capped outstanding seasons for both squads. Lynden Christian finished the year with a record of 22-6 and placed in the top 5 at state for a fourth consecutive season. The Lyncs won the 1A title in 2018 and finished fifth in 2017 and fourth last year.
Lynden, which was seeking to become the first program in 2A history to win three straight state titles, went 24-3 and registered a top 3 finish at state for a fifth straight year. In addition to winning back-to-back state titles the last two seasons, Lynden also finished third in 2016 and 2017.
In the 1A title game, Lynden Christian's Jaden DeBoer scored a game-high 28 points. The junior's two free throws put the Lyncs up 59-56 with 14 seconds to play, but King's senior Jordan Hansen drained a 3-pointer on the following possession to send the contest into overtime.
Once in the extra session, it was all King's early on as they opened overtime on a 7-1 run to grab a 66-60 lead with 42 seconds remaining.
Despite falling behind, DeBoer nearly provided some late heroics as the guard second 7 points over a quick 22-second span with his free throw with 6 seconds to play inching the Lyncs within a point at 68-67. Lynden Christian would not get any closer as a pair of free throws from Hansen in the closing seconds sealed the state title for King's (19-10).
The Lyncs also received 14 points from Logan Dykstra and 12 points and 12 rebounds from Zach Sipma in championship game.
King's opened its run toward the state title by knocking off No. 3 Zillah (68-59) in an opening round loser-out game. The Knights then bested No. 4 River View (76-41) in the quarterfinals before stopping No. 1 Seattle Academy in overtime (68-66) in the semifinals.
DeBoer also struck for 28 points during the Lyncs' 71-58 semifinal victory over La Salle. Andrew DeVries added 18 points for Lynden Christian, which went 22 of 30 from the field (73.3 percent) during the final three quarters.
Lynden Christian knocked off Northwest League rival Meridian, 62-53, in the quarterfinals, getting 17 points from both DeBoer and Sipma.
Lynden defeated No. 2 Toppenish, 73-55, in the 2A quarterfinals with Jordan Medcalf scoring 21 points and Clay Kochuten scoring 15, but saw hopes of a third straight state title end in its semifinal loss to North Kitsap.
Trailing 47-33 after three quarters, North Kitsap simply couldn't miss from the field in the final frame, hitting all 10 of their shots, including going a perfect 5 for 5 from 3s. The only miscue the Vikings made in the fourth quarter was on a free throw attempt—the team went 4 for 5 from the line over the final 8 minutes—but that lone miss did little to slow down their momentum as they closed out the game on a 10-0 run.
Medcalf scored a team-high 17 points in the loss. The Lions also received 16 points apiece from Brock Heppner and Liam Hanenburg, who also pulled down 11 boards.
The Lions quickly rebounded from the setback with the 14-point season-ending victory over Lindbergh.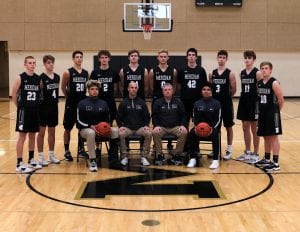 The Eagles had no answer for Hanenburg in the paint as the 6-foot-11 junior finished with 25 points and 14 rebounds. Lynden also received 13 points and 12 rebounds from Heppner and 14 points from Kochuten.
Meridian, which was making its first state tournament appearance since finishing second in 2010, opened tourney play by upsetting No. 5 Bellevue Christian, 61-49, in a loser-out game.
Jackson Short was one of three Trojans to score in double digits, finishing with a game-high 17 points. Meridian also received 13 points from Joe Plagerman and 12 from Ryan Johnson.
Jordan Veenstra paced the Trojans in their quarterfinal loss to Lynden Christian, scoring 16 points, while Johnson added 14 points.
Meridian (20-10) saw its season come to an end in a 62-56 defeat to No. 2 Cashmere.