After her first few months as executive director of the Ferndale Chamber of Commerce, Anya Milton and her Chamber board of directors have determined 2020 is the perfect time to take stock of how the Chamber is doing and where it should go in the future to best serve its members.
In a letter to Chamber members at the beginning of the year, Milton wrote that it is time to "build an infrastructure for sustained success."
"We want to add more value to our members and have greater impact on our community," she said in an interview.
Milton said chambers of commerce have historically served as change agents for the communities they represent, and she wants the Ferndale Chamber of Commerce to follow in that tradition.
To find out just what members want and the community needs, Milton, the board members and Chamber ambassadors will be asking lots of questions—and then listening closely to the answers. They will use the information to help create a two-year strategic plan with a five-year vision to serve in guiding the organization's priorities.
Bridge Year Looks to Future
They're calling it the Chamber's "2020 Bridge Year," and, yes, that is a tongue-and-cheek nod to Ferndale's "Metallica Bridge."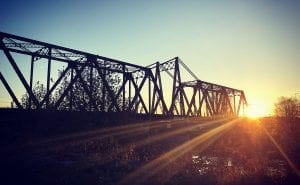 For those not familiar with this local icon, the Metallica Bridge is a train trestle that runs parallel to downtown. For years, unknown community members have been painting the bridge with the logo of heavy-metal band Metallica.
Local graphic design company and Chamber member Teamwear Designs has created a logo for the bridge and promotes it as a unifying image for the community. The Chamber had licensed the image for the 2019 Street Festival and the 2020 Annual General Meeting. Milton says it represents "spanning what we were in the past and where we are going in the future."
While the goal is to devise a strategic two-year plan for the Ferndale Chamber of Commerce, the discovery and planning will take a more holistic look at Ferndale and its future as it grows.
Milton says she starts that process by looking to the Chamber's mission as a "unifying force where community and economic vitality connect."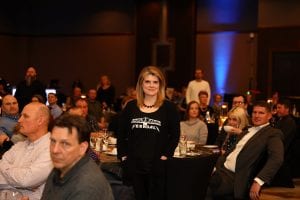 One concrete way Milton has been able to do this is by facilitating introductions of Chamber members whose best practices may be helpful to another member. When Seeking Heath was looking to level up their philanthropic game, Milton connected them to Superfeet to review what their charitable programs looked like. From that meeting, Seeking Health generated new ideas on how to be an active community supporter.
"That's the type of connection we hope to make," Milton says.
Milton says she also wants to continue to build strong relationships with the city, and help to support projects such as the downtown revitalization Catalyst program. The first project of this program will bring mixed-use development with retail and housing to a site along the Riverwalk.
It's a project Milton is enthusiastic about because it will bring economic vitality to the downtown core.
Another area where Milton sees the Chamber can step up is in advocating for schools. It's vital for Ferndale's workforce development to have a supply of prepared young adults ready to work.
"We need to take a stand, and we stand for Ferndale schools," Milton said.
Developing an Impactful Plan
Milton says past strategic plans for the Chamber have really only risen to the level of goal setting, and a true strategic plan goes further.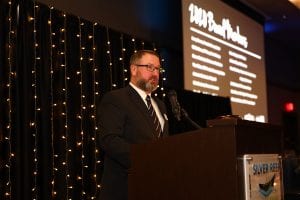 "It's long term, has deep impact and it's data informed," she says.
That's why Milton and the board of directors are digging in to gather insights from Chamber members and to look for efficiencies in the way the Chamber carries out its duties, such as running the Visitors Information Center.
In recent years, the Chamber has sent out a digital survey to its members, but Milton says she knows the return rate on those kinds of communications is relatively low. So, in addition, they will be coming to members at luncheons and other networking events with a set of focused questions on a range of topics.
A special ad hoc committee for tourism, in addition to standing business advocacy and policy oversight committees, will look at those areas specifically.
The board will use this data to create its two-year strategic plan and a five-year "vision forecast, " which will be presented at the Chamber's annual meeting next January.
The Chamber continues watching the growth of the Ferndale community and the number of businesses setting up shop in Ferndale, and devising ways to help support that growth.
The Chamber reported 297 members at the end of 2019; 32 of those members joined last year. It's terrific momentum that Milton hopes to build on.
"We're here to help Ferndale businesses grow and develop for a more prosperous future."
Sponsored