Many couples get engaged over the December holidays, and as the year changes and festivities die down, January and February see the start of wedding planning season.
If you're one of those lucky couples, or you're a friend or family member of such, you'll have heard how difficult it is to track down every single thing that needs to get done. Well, not anymore—this handy guide was made so you only have to look in one place: right here.
Coordinator
If hours spent on Google searching things like "Whatcom County wedding venues" or "wheelchair-accessible wedding venues" has you seeing red, it might be time to consider some help. There are plenty of local wedding coordinators who are knowledgeable and eager to help you plan your big day. You can choose from an assortment of packages, like day-of coordinating, partial planning, or full-service. Depending on your budget and how much stress you're ready to relinquish, the right coordinator and plan is out there for everyone.
Lacey Larsen, Evergreen Weddings
Larsen's three-tiered system, with each package named after our beautiful trees here in Washington, creates a list of the perfect options for each couple. The Spruce package is your standard day-of coordinating services. Next is the Juniper, which features assistance at the beginning of your planning, a break in the middle, and more work together as the wedding approaches. The final package is the Grand Fir, which is the whole shebang: full planning and assistance from start to finish.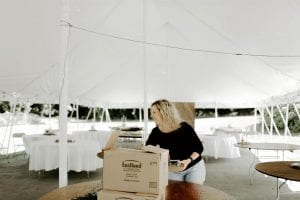 Zeina Evans, Ever After Events
In addition to two coordinating packages—full planning and day-of—Evans offers a catering service, floral design, and event staffing. You can choose all or any number of these services for your big day, but when she does it all, she does it well. Also, how can you go wrong with a pasta bar?
Kim Anderson, Alder and Blossom
Offering the standard three options (day-of coordinating, partial planning, and full planning), Anderson also prides herself on her ability to plan all manner of events, from weddings to celebrations of life. Alder and Blossom also offers bartending services and other rentals.
Venue
Broadway Hall
This historic building is a great option for indoor-only weddings. Built in 1905, guests enter through the main foyer with feature a large fireplace and grand piano. The ceremony typically takes place downstairs against the backdrop of the stage, which is the ideal place for the bride and groom to stand. Then, moving up the grand staircase, you find the large room meant for the reception.
Lairmont Manor
The Lairmont Manor, located near Fairhaven, is a Bellingham icon. The 25-room mansion was built in 1914 and renovated in the 1960s and '70s. The old-world glam preserved in the history of the building, combined with the elegant gardens and landscaping, make this a lovely destination for a wedding. In the summer month, the Manor can accommodate up to 250 people. In the cooler months, however, can only fit 100 (more like 85, comfortably).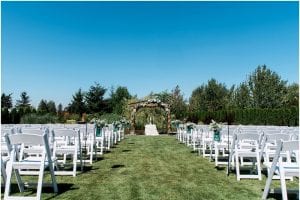 Axton Events
This beautiful venue boasts a wide expanse of green lawns, manicured gardens, and gorgeous natural scenery. The rental fee includes tables and chairs, which is a great time- and money-saver. Be aware that because this is an outdoor-only venue, it's only available the first weekend in June through the second weekend in September.
Photographers
Lisa Aamot, Meraki Photography
You'll notice on Aamot's website that her photography style is light and breezy. In addition to weddings, Aamot offers unique services like a First 48 session—a shoot in which she arrives at the hospital after the birth of a new baby, and covers the first 48 hours of that child's life. She also does boudoir photos, engagements, anniversaries, and much more.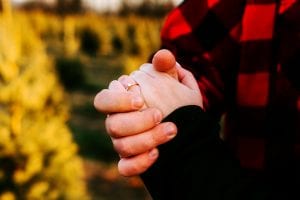 Kiana Lindsey, Kiana Lindsey Photography
Kiana Lindsey, based in Lynden, is a mom of two—soon to be three!—sweet kids. Her photography style is very nature-based; you'll see on her website snowy mountain settings and Christmas tree farms. She'll also help you choose your outfits for your engagement shoot, texting photos of wardrobe ideas. The best part? She currently offers a complimentary engagement session when you book her for your wedding.
Katy Moran – Kathryn Moran Photography
Katy Moran is no stranger to the photography world. A frequent winner of Bellingham Alive magazine's Best of the Northwest in the photography category, Moran covers everything from business branding to weddings. Her extensive experience ensures that each wedding album is unique, and reflects the distinct personalities and story of the couple.
Once you have these three main components down (coordinator, venue, photographer), you've set yourself up to coast through the rest of your planning. A lot of venues have required, preferred, or recommended caterers, so choosing your venue can be really helpful for other things down the line. Your photographer will help you create your day-of timeline, so they know when to be there and you know what you want to make sure they capture. Your coordinator will be able to tell you which florists can create that perfect bouquet you found on Pinterest. Once you have these three foundational pieces, it's smooth sailing for the rest of the planning.