Submitted by: Bellingham Public Schools
Bellingham Public Schools Superintendent Dr. Greg Baker has been named the state's 2020 superintendent of the year by the Washington Association of School Administrators. The announcement was made Saturday at WASA's superintendent meeting in Bellevue.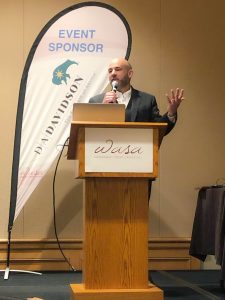 The award recognizes outstanding leadership of active, front-line superintendents and pays tribute to those who lead Washington's public schools.
"It's an honor to receive this recognition. I would like to acknowledge that it really represents the hard work of so many others," Dr. Baker said. "In Bellingham, we have a united focus on The Bellingham Promise, our commitment to the students of our district. To achieve what we have thus far, it takes a high performing and equity-focused school board, district leadership team, teachers, staff, labor leaders, all supported by an incredible community, with a deep love toward our nearly 12,000 exceptional students," he said.
"During the past nine years as superintendent, Greg Baker has provided visionary and principled leadership that has produced extraordinary results for the students in the Bellingham Public Schools," said WASA Executive Director Joel Aune. "Dr. Baker brings a high degree of integrity and courage to the work, willing to ask difficult questions and make tough decisions in the best interest of the children and young people in his schools. He also understands that culture and systems are the foundation upon which a great school district is built. Under his leadership, a student-centered culture and systems that ensure all students have access and opportunity has produced great things for kids."
Aune added, "Dr. Baker is highly respected by his peers across the entire state, and he exemplifies the very best in leadership, public education, and the superintendency. We congratulate him on this well-deserved honor and appreciate his unwavering commitment to children and young people. He represents the superintendency and WASA in the finest fashion imaginable."
"Providing equitable access to high-quality education for each and every student has been a top priority since Dr. Baker became superintendent of the Bellingham Public Schools nine years ago. This has been accomplished through a system-wide belief that increasing opportunities and reducing barriers is key to achieving this priority," Aune said.
The creation of "The Bellingham Promise," developed in partnership with the community, compels staff, families, and community to think about the nearly 12,000 students attending 22 different schools as one group, or One Schoolhouse, equally deserving of educational opportunities. Along with the district's board of directors, Dr. Baker engaged the community and key stakeholders in difficult conversations, including the notion of differentiated funding based on student need and seeking win-win situations through community partnerships. This work, over an extended period of time, has yielded extraordinary results for student learning and achievement in Bellingham Public Schools.
"This award is also representative of all superintendents in our state who work so tirelessly, often under intense scrutiny, to ensure outstanding educational opportunities for all students," Dr. Baker said. "On behalf of myself, the board, staff, students, families, and our entire Bellingham community, thank you!"
Dr. Baker joined the district as superintendent in 2010. Previously, he served as a deputy superintendent for Portland Public Schools, an intern and special assistant to the superintendent of Boston Public Schools, and as an administrator for Spokane Public Schools. Dr. Baker received his doctorate from Harvard University; master's degree in Administration, Planning and Social Policy from Harvard University; and a master's degree in Secondary Education from Western Washington University; and a bachelor's degree from Gonzaga University.
In addition to his district responsibilities, Dr. Baker serves on the boards of the Chuckanut Health Foundation, Bellingham Public Schools Foundation, and the Rotary Club of Bellingham.
As the state's Superintendent of the Year, Dr. Baker will be a candidate for the 2020 American Association of School Administrators' National Superintendent of the Year Award. The national award will be announced in February at the AASA National Conference on Education in San Diego.
In conjunction with the award, Washington's Superintendent of the Year will receive a $1,000 check from D.A. Davidson & Company to use toward a school or educational program of their choice.